Hi Friends,
In our fast paced life, we often feel the need of things which makes our life little bit easier. For example,Most of us love to eat and make delicious foods for our loved ones but don't get enough time in our busy schedule.Sometimes its those sudden hungry guests,Or a beautiful evening with family and friends or may be those lazy days when we need something instant for cooking which takes less time and effort yet delicious.
Mother's Recipe is doing an excellent job on achieving that purpose. They have variety of instant Mixes,Ready to cook items,Pickles,Masala Paste,Papads which saves our time and effort.At the same time these are very delicious,healthy and easy to make.You can find the products here.
Being a long time user of Mother's Recipe products, I was really excited when they selected me to enter their contest Mother's Recipe: Innovative Recipe Challenge.The next exciting part was,they sent me a hamper with their assorted products.To participate in the contest,I was asked to come up with an unique innovative recipe using these assorted products.After some brainstorming I came up with an easy and delicious Recipe – "Poha / Chirer Kebab with Mother's Recipe Instant Poha Mix".
I wanted to go with the theme of Mother's Recipe – "Healthy Recipes in Minutes".Likewise Poha / Chirer kebab is an easy to make recipe and take few minutes to prepare.It is a great appetizer or can be served as a tea time snacks.
Let's take a look into the ingredients and the procedure to make these yummy Poha Kebabs.
Cooking Time : 15 minutes  Serve – 4
Ingredients
1 large boiled potato.
Bread Crumbs – 3/4 cup
Very little oil/butter to fry the kebabs.
Garam Masala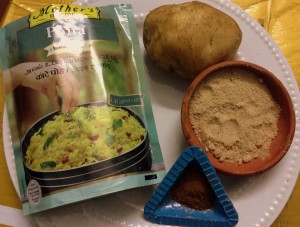 Yes, We only need those few ingredients because Mother's Instant Poha Mix already contains all the necessary spices and salt.
Procedure :
In a mixing bowl pour the contents of the Mother's Recipe instant Poha Mix packet.To this add 1 cup of hot water.Keep aside for 10 minutes.
After 10 minutes, Add mashed boiled potato,garam masala powder,Bread crumbs to this mixture.
Mix the mixture properly and make sure it's not very moist.
Make a dough. Divide the dough into balls,Flatten them on your palm to give the shape of kebabs.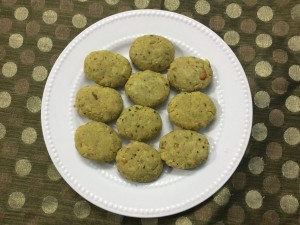 Melt 2 tbspoon of butter/veg oil in a skillet or Frying Pan.
Place the kebabs on the skillet. Shallow fry on slow heat till they turn brown on both sides.
Once done, put the kebabs on tissue paper to soak excess oil.
Garnish the kebabs with veggies of your choice.I have used green peas and carrots here.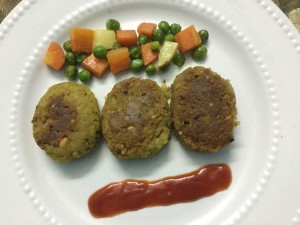 Serve the kebabs with sauce/ketchup.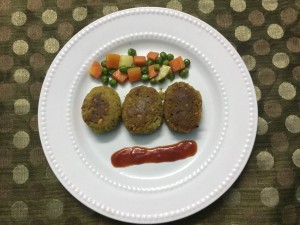 Please try this super quick and easy recipe at home and let me know how it turned out.
I also want to thank Mother's Recipe team to let me be the part of their family.I am looking forward to try more and more products from this brand.
That's all for the day.I will see you another day with another yummy recipe.
You can visit my other entries in Mother's Recipe Contest for Starter/Appetizer in Minutes and Quick Desert Recipe below:
Also Please don't forget to check out Mother's Recipe site for these awesome products and give them a thumbs up in their facebook page. Links are below :
https://www.facebook.com/imissmymothersrecipe?fref=ts
Till then bye..