Hi Friends,
This is my third entry to Mother's Recipe: Innovative Recipe Challenge contest.And this entry is on "Quick Desert Theme".You can visit my previous entries for Starter/Appetizer in Minutes and Quick Main Course Combo below:
So,I have got another great instant mix pack "Mother's Recipe Vermicelli Payasam Mix" in my Mother's Recipe hamper.Like always my main aim was to come up with recipes which saves our time and effort and at the same time satisfies our taste buds. So I decided to give the payasam an innovative twist. I made yummy,juicy Malpuas out of it.
Yes friends,The Malpuas came out really well. They are great as dessert in parties,festivals and different occasions. You can make it in less than 30 minutes with very few ingredients.
And now,I will show you how to make Instant Malpua with Mother's Recipe Vermicelli Payasam Mix.
Cooking time – 30 minutes.  Serve – 4
Ingredients –
Flour – 2 cup
Sugar – 1 cups.
Water – 1 cup.
White oil / Ghee  for deep frying.
Yes we need only these few ingredients to make Malpuas. Mother's Recipe Vermicelli Payasam Mix already contains – Milk, Vemiceli,Sugar,Cardamom,Cashwenut,Raisin.So we don't have to put any extra sugar or flavor in the malpuas.This is truly instant!
Procedure –
In a bowl pour 1 cup of Vermicelli Payasam Mix from the packet. Add 2 cups of water to it. Boil the Mixture in medium flame for 8-10 minutes until the vermicelli is cooked properly.Cool down the mixture in room temperature
Once the mixture cools down completely, Add 2 cups of flour into it. Add water little by little and mix and beat well to make a smooth batter. The batter should be a smooth pouring consistency.
Now make the sugar syrup. Take sugar and water in a pan. Boil and stir. Simmer to obtain one thread consistency (or simmer until it reduces to 1/2 its quantity). Keep it aside.
Heat oil/ghee in a frying pan [Please Note,The Mix already has ghee in it, so you won't need much oil/ghee to fry]. When the oil becomes hot, reduce the heat. Take 1/3 cup of batter, pour circular movement into the hot oil to form a small circle of 3-4 inch diameter.
On medium heat fry till light brown on both sides. Fry one malpua at a time. Remove the fried malpua from the oil and put directly in the sugar syrup. Keep in sugar syrup for 2 minutes only.This step makes them soft [Please note, we don't have to put malpuas into sugar syrup for longer time as the mix already contains sugar in it.]
Fry all malpuas and keep in sugar syrup. Shift the malpuas in a serving bowl and garnish with cherries or any fruits you like .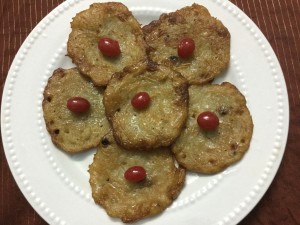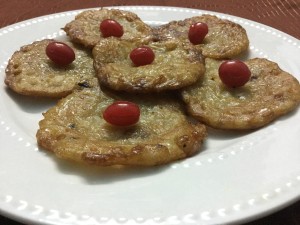 Our delicious Malpua is ready now. I hope you will like it a lot. It's fast and delicious.Please make sure to try this at home and show me the pictures.
One again, many thanks to Mother's Recipe team for making me the part of this amazing contest.I had lots of fun making the recipes. I will link down my other recipes below.Please make sure to check them out!
And, if anyone wants to see the amazing products of Mother's Recipe here you can find. Make sure to give them a thumbs up in the facebook page.
That's all for today.See you some other day with some other delicious recipes…..