Hi Friends
Today I am sharing with you a stew recipe made with Water Lily Stems. It is a traditional Bengali recipe, very quick and easy to prepare and with few ingredients. In Bengal it is called Shaplar Shukto. The dish is very simple but very tasty to eat and also nutritious.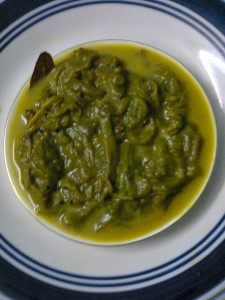 Cooking time – 25 minutes.  Serve – 4.
Ingredients –
1.Shapla – 1 bunch (500 grams)
2.Mustard seeds – 1/2 tsp.
3.Fenugreek seeds – 1/4 tsp.
4.Ginger paste – 1/2 tsp.
5.Bay leaves – 2.
6.Turmeric powder – a pinch.
7.Salt to taste.
8.Sugar – 1/4 tsp.
9.Oil – 1 tbsp.
10.Ghee – 1 tsp.
Method –
Remove the flowers and thin skins of the stems and cut into long pieces. Wash well and keep in a colander. Heat oil in a frying pan,add mustard seeds. When crackling add fenugreek seeds and bay leaves, fry for 30 seconds. Add the Shapla stems,saute for 2 minutes. Add Turmeric powder,sugar and ginger paste and saute for 2 minutes. Add 1 to 11/2 cups of water and sugar, let it bring to boil. When the gravy starts thickening remove pan from the heat. Add ghee,mix well. Cover and give 10 minutes standing time.
Tasty and healthy Shaplar Shukto is ready. Serve with steamed Rice as a first item for Lunch.