Hi Friends,
Today I am posting a very simple side dish recipe made with banana flowers and flattened rice. It is an authentic Bengali recipe, very popular in Bengal. It is a veg.dish (without onion and garlic) and takes few minutes to prepare. It is a dry dish and goes well with white rice or roti. In this recipe you can add chopped cashew nuts.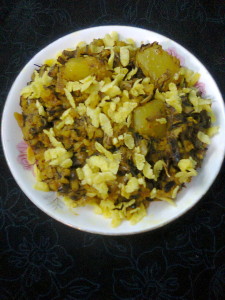 Cooking time – 30 minutes.  Serve – 4.
Ingredients –
1.Banana flower – 1
2.Flattened rice – 100 grams.
3.Potato (large) – 1 (peeled and cut into cubes)
4.Dry red chilly – 2
5.Cumin seeds – 1/2 tsp.
6.Bay leaf – 1
7.Turmeric powder – 1/2 tsp.
8.Chilly powder – 1/2 tsp.
9.Cumin powder – 1/2 tsp.
10.Ginger paste – 1/2 tsp.
11.Slit green chilly – 4.
12.Oil – 1/2 cup.
13.Ghee – 1 tbsp.
14.Garam masala powder – 1/2 tsp.
15.Salt to taste.
16.Sugar – 1 tsp.
17.Raisins – 25 grams.
For cutting banana flower see here.
Method –
1.Chop the banana blossoms finely and soak in water for 15 minutes and drain. By adding 1 tbsp.of salt boil the chopped blossoms for 5 minutes. Remove pan from heat,allow to cool completely.Drain the excess water.Mash the boiled blossoms lightly with hand.Keep aside.
2.Heat oil in a frying pan.Group the flattened rice into two batches.Fry each batch in high flame and takeout immediately with a slotted spoon.Keep aside.
3.Add dry red chilly in the remaining oil.Fry till light brown.Add cumin seeds.When the cumin looks brown,add bay leaf and cubed potatoes.Fry for 2 minutes.Add tumeric,chilly,ginger paste and half a cup of water.Saute for 2 minutes.Add the mashed banana blossoms and half a cup of water.Saute for 2-3 minutes.Add 2 cups of water,salt,sugar,raisins and slit green chilly.Cook for 4-5 minutes.When the gravy starts thickening,add the fried flattened rice.Mix well and cook for 1-2 minutes.
4. Remove pan from the heat.Mix ghee (clarified butter),garam masala powder.Cover the pan and give 10 minutes of standing time.By this time, the flattened rice will soak up all the water from the gravy and the gravy will become semi dry.
Mocha-Chirer ghonto is ready to serve. Enjoy this veg delicious dish with basmati rice/roti- paratha.