Hi friends,
Today I am sharing with you a delicious vegetarian side dish recipe made with Banana Flower, it is Banana flower curry.In Bengal it is called Mochar Ghanto. It is a traditional Bengali recipe, very tasty to eat.It is a dry curry, nutritious and easy to prepare.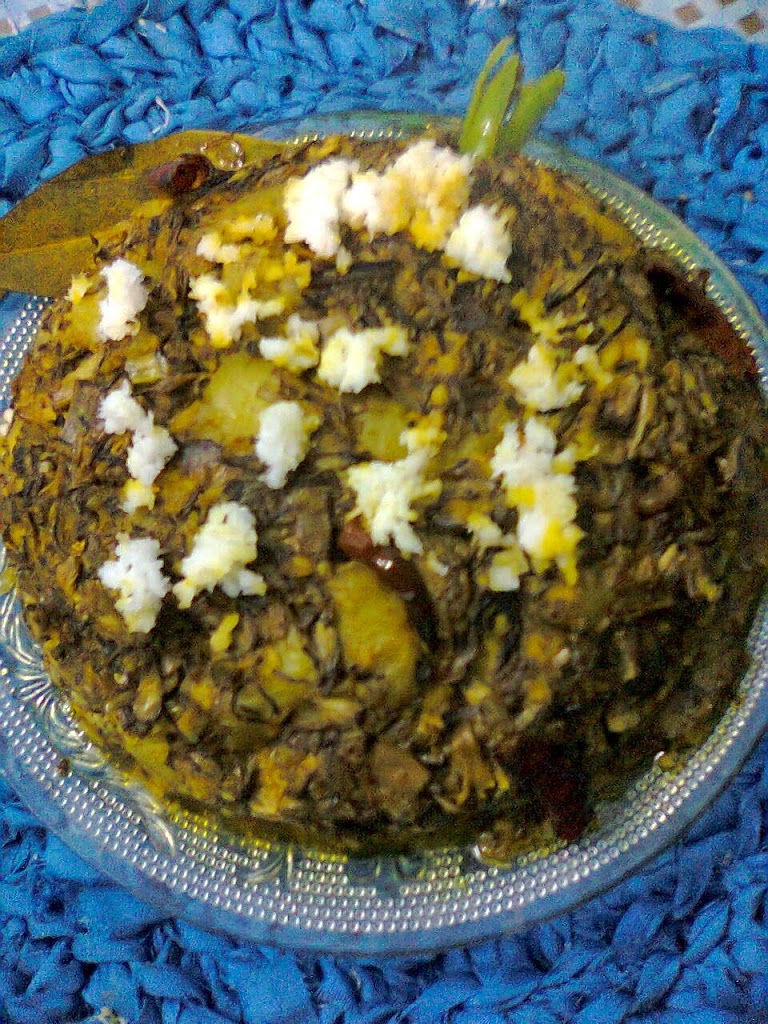 Cooking time – 40 minutes. Serve – 4
Ingredients –
1.Banana flower – 1
2.Potato – 150 grams (peeled and cut into small cubes.)
3.Shredded coconut – 4 tbsp.
4.Cumin seeds – 1/2 tsp.
5.Dry red chilly – 1
6.Bay leaf – 1
7.Ginger paste – 1/2 tsp.
8.Turmeric powder – 12 tsp.
9.Chilly powder 1/4 tsp.
10.Cumin powder – 1/2 tsp.
11.Sugar – 1/2 tsp.
12.Salt to taste.
13 Ghee – 1 tsp.
14 Garam masala powder – 1/2 tsp.
15.Wheat flower – 1 tbsp.
16.Oil – 5 tbsp.
Method –
1.Take the banana flower and remove all the purple color outer leaves and keep the flowers (blossoms) in a tray. While taking out the layer of outer leaves you will go towards heart of the banana flower. Here you will see a conical portion (yellow color), here the leaves can not be peeled off. Reserve the conical portion. Soak the cubed potato in water for 10 minutes, Drain and keep aside. In a small bowl add ginger,turmeric,chilly,cumin powder and 1/2 cup of water, mix well and keep the masala mix aside.
2.Take the flowers from the tray one by one and remove the transparent casing and stigma from each flower. Chop the flowers finely and chop the conical portion also. ( you can make fritters with the conical portion, it is also very popular in Bengal). Soak the chopped flower in water by adding 1 tsp.of salt and a pinch of turmeric powder for 30 minutes. After 30 minutes drain the water and boil the flower in normal water for 5 to 6 minutes. Transfer the boiled flower to a strainer.
3.Heat oil in a frying pan and fry the potato cubes till tender, remove from oil and keep aside. In the remaining oil fry the dry red chilly until brown. Reduce the heat, add bay leaf and cumin seeds.When cumin looks brown add the masala mix and saute until the raw smell of the masala disappears. Add the boiled flowers,salt and 1/2 cup of water, saute for 5 minutes on slow flame. Add fried potato, sugar and coconut, mix well. Cook for 2 minutes. Add 1 cup of water and cook for 5 minutes. Add wheat flower,mix well and cook until there is no liquid left (stir continuously) Remove the pan from heat,add ghee,green chilly and garam masala powder, Cover the pan,give 10 minutes standing time.Garnish with shredded coconut. Serve with steamed Rice or Roti.