Hi Friends,
Today I am sharing with you a delicious side dish recipe made with Banana Flowers and Shrimp. It is a traditional Bengali recipe,very popular all over Bengal. The process of making the dish is very easy and takes few minutes to prepare.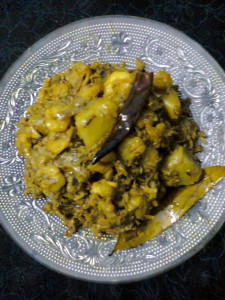 Cooking time – 40 minutes.  Serve – 4.
Ingredients –
1.Banana Flower – 1.
2.Potato – 1 (peeled and cut into cubes)
3.Shrimp – 250 grams (cleaned and washed)
4.Dry red chilly – 2.
5.Cumin seeds – 1/2 tsp.
6.Bay leaves – 2.
7.Turmeric powder – 1/2 tsp.
8.Cumin powder – 1/2 tsp.
9.Chilly powder – 1/4 tsp.
10.Salt to taste.
11.Sugar – 1/4 tsp.
12.Slit green chilly – 4.
13.Wheat flour – 1 tsp.
14.Oil – 5 tsp.
15.Ghee – 1 tsp.
16.Garam masala powder – 1/2 tsp.
17.Coriander powder – 1/2 tsp.
[For cutting the Banana Flower see here]
Method –
1.Chop the Blossoms (Flowers) finely. By adding 1 tbsp.of salt soak in water for 15 minutes and drain. Boil them in water for 5 to 6 minutes. Transfer to a colander and squeeze out excess water. Mash the flowers lightly. Marinate the Shrimp with 1/4 tsp.of salt and a pinch of turmeric powder, keep aside. Take a bowl add turmeric,cumin,red chilly,coriander powder and 1/2 cup of water, keep the masala mix aside.
2.Heat 2 tbsp.of oil in a frying pan. When hot reduce the heat,add Shrimp and fry lightly on both sides. Take out the shrimps from the pan,keep aside.
3.Add 3 tbsp.of oil in the same pan. Add dry red chilly and cumin seeds. When the cumin seeds look brown,add potato cubes and bay leaves.Stir fry for 2 minutes. Add the masala mix, saute for 2  to 3 minutes. Add the Banana Flowers,salt and mix well. Saute for 3 to 4 minutes with stirring continuously. Add 1 cup of water,fried Shrimps,sugar and slit green chilly. Keep cooking till all the water evaporates. Sprinkle wheat flour,mix well. Cook for 1+1/2 to 2 minutes with stirring constantly.
Remove pan from heat, mix ghee and garam masala powder. Cover the pan,give 10 minutes standing time. Delicious Banana Flowers Curry is ready, serve as a side dish for Lunch.