Hi Friends,
Today I am posting popular dish Dalma recipe from Odia cuisine. It is a veg. version. There is is no onion  in this recipe. It is also very delicious. I have used winter vegetables. You can use any vegetables you have in hand. It is very quick and easy to prepare in pressure cooker. You can use frying pan also. This non spicy  beautiful dish is very nutritious. It goes well with rice/roti or paratha.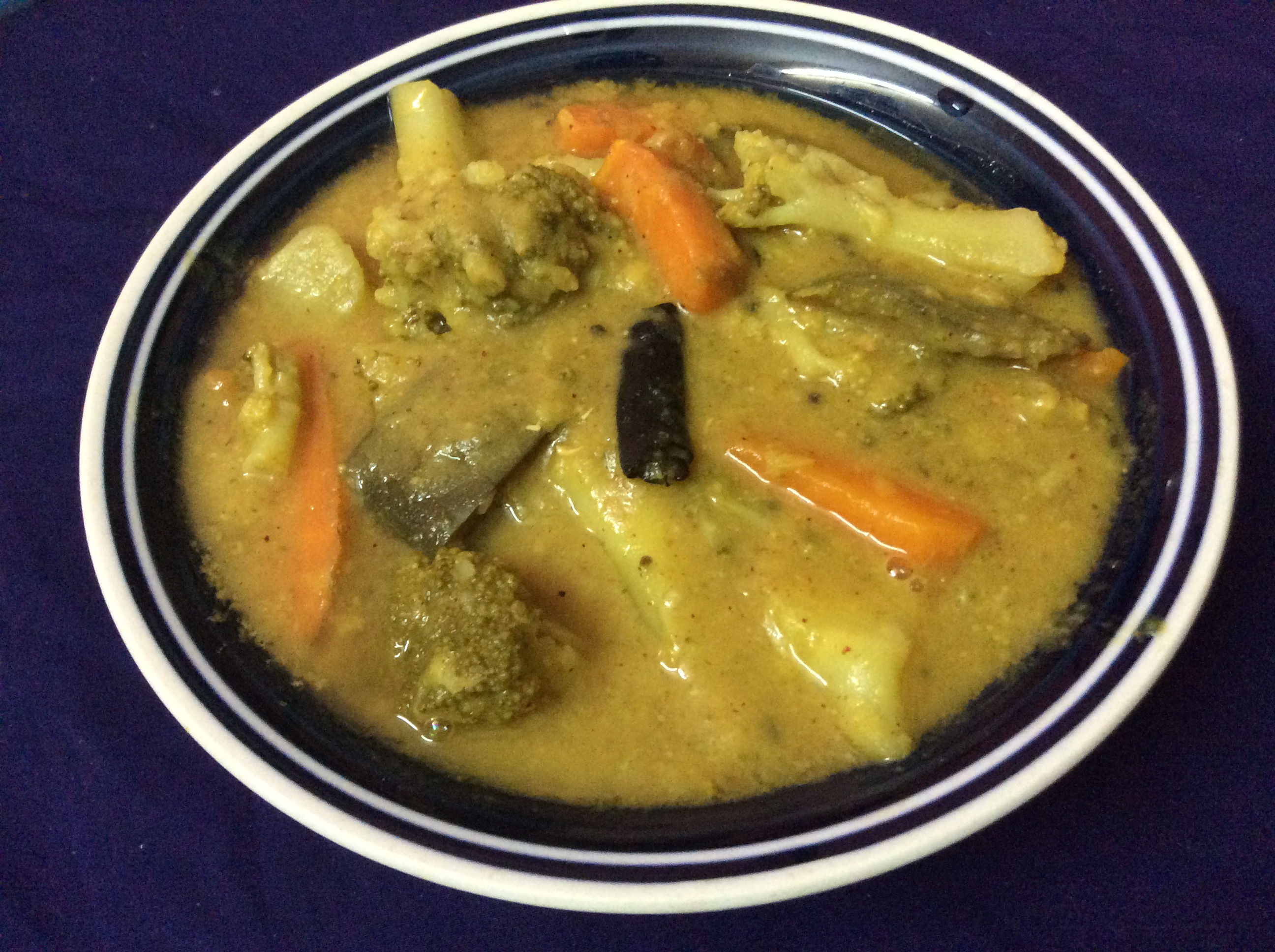 Cooking time –30 minutes (in pressure cooker)   Serve – 4
Ingredients –
Arhar dal (pigeon peas) – 250 grams.
Chopped vegetables – 1 bowl(broccoli,carrot,beans,eggplant,potato tomato)
Hing (asafoetida) – 1/4 tsp.
Ginger (grated) – 1 tsp.
Cumin seeds – 1/2 tsp.
Mustard seeds – 1 tsp.
Turmeric powder – 1/2 tsp.
Red chilly – 2.
Bay leaves – 2.
Salt to taste.
Sugar – 1/2 tsp.
Oil – 2 tbsp.
Ghee – 1 tsp.
Slit green chilly –4
Roasted masala powder – 1 tbsp.
Instructions  –
Roasted masala – Place a pan on slow heat. Add Cumin seeds (1/2 tsp), coriander seeds(1 tsp.)dry red chilly(1 no.). Dry roast the masalas until they give out their aromas (stir continuously). Cool the spice mixture. Grind them into a powder. Transfer to a small bowl, cover and keep aside.
Wash the dal. By adding 1 tbsp.of salt, turmeric powder and 4 cups of water pressure cook for 1 whistle.Allow to cool naturally. Add the chopped vegetables. Again pressure cook on high heat for 1 whistle. Release the pressure quickly.
Heat oil in a frying pan,add red chilly and cumin seeds. Fry till brown. Add mustard seeds and bay leaves. When the mustard seeds start to pop add hing and ginger. Stir for few seconds. Add the boiled dal with vegetables, green chilly, sugar. Stir well. If needed add salt and water. Cook for 5 to 6 minutes.Stir in between.
Remove pan from the heat, add ghee and roasted masala powder. Mix well. Cover the pan,give 10 minutes standing time.
Tasty and healthy Veg. Dalma is ready. Serve hot as a side dish with rice/roti/paratha.