Hi Friends,
Today I am posting a very delicious side dish recipe made with Shrimp and Taro leaves.It is a traditional Bengali recipe and very popular in Bengal and Bangladesh.It is one of the best recipe of shrimp. You need simple ingredients. The process is very easy and takes few minutes to prepare. You can make this beautiful dish with any types of taro leaves (it is better to use dudh kochu pata).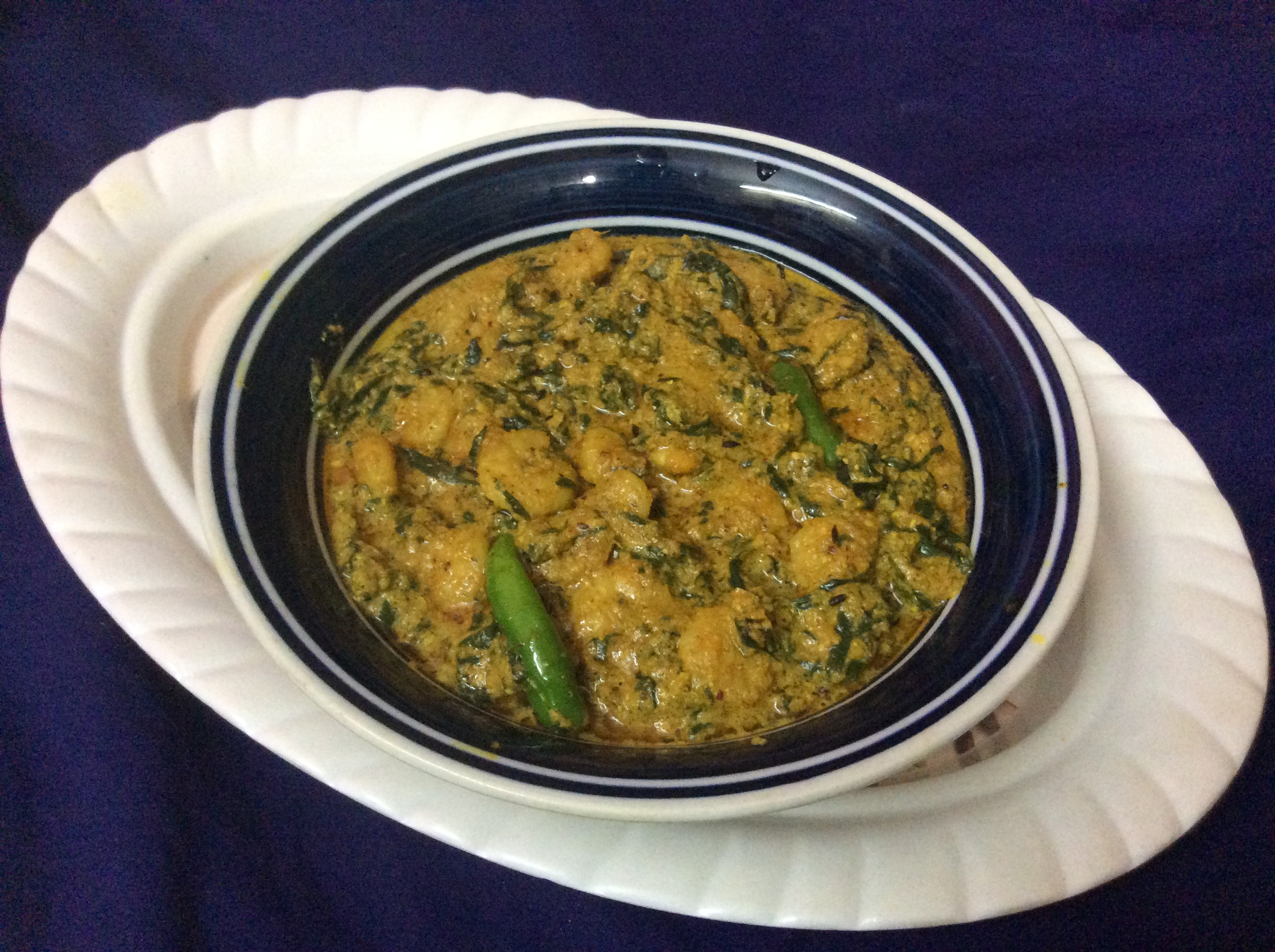 Cooking time – 30 minutes.  Serve – 4
Ingredients –
Shrimp – 250 grams.
Kochu pata – 1 bunch.
Cumin seeds – 1/2 tsp.
Turmeric powder – 1/2 tsp.
Red chilly powder – 1/2 tsp.
Coriander powder – 1/2 tsp.
Sugar – 1/2 tsp.
Salt to taste
Onion (small) – 1
Garlic cloves – 2.
Grated ginger – 1/4 tsp.
Tomato – 1 (chopped)
Mustard seeds – 1 tbsp.
Poppy seeds – 1 tsp.
Grated coconut – 2 tbsp.
Oil– 2 ladleful
Lemon juice – 2 tbsp.
Slit green chilly – 4
Instructions –
Wash the kochu pata and chop finely (as fine as possible). Put in a bowl. to this mix 1 tbsp.of salt and lemon juice. Rub and keep aside for few minutes. Wash the pata again with fresh water and by adding 4 cups of water boil for 3 to 4 minutes. Transfer the boiled pata to a colander.By adding 1/2 cup of water grind mustard seeds,poppy seeds and grated coconut into a paste. Keep the paste aside.
Clean and wash the shrimp,marinate with 1/2 tsp.of salt and a pinch of turmeric powder. Keep aside. Grind onion,garlic,ginger and tomato into a paste. To this add turmeric,red chilly,coriander powders and 1/2 cup of water. keep the masala mix aside.
Heat oil in a frying pan, add the shrimp and fry very lightly. Take out from the oil,keep aside. Add cumin seeds in the remaining oil, fry till light brown. Add the masala mix. Saute till the raw smell goes off.Add the mustard seeds –poppy seeds-coconut paste and 1/2 cup of water. Saute for 2 minutes. Add boiled kochu pata, fried shrimp, sugar, salt and 1/2 cup of water. Saute for 2 minutes. Add 1 to 1+1/2 cups of water,slit green chilly and mix well. Cover the pan,cook for 4 to 5 mnutes(stir in between). When the gravy starts thickening remove pan from the heat. Cover the pan and give 10 minutes standing time.
Delicious Bengali recipe—–Shrimp with kochu pata is ready, serve with steamed rice.