Hi Friends,
Today I am sharing youth you a delicious and unique Cauliflower Manchurian recipe. It is very quick and easy to prepare. It is a dry dish,can be served as a tea time snacks or appetizer. If you want to serve as a side dish with roti/paratha, make some gravy. Add more corn flour+water to make  Cauliflower Manchurian gravy.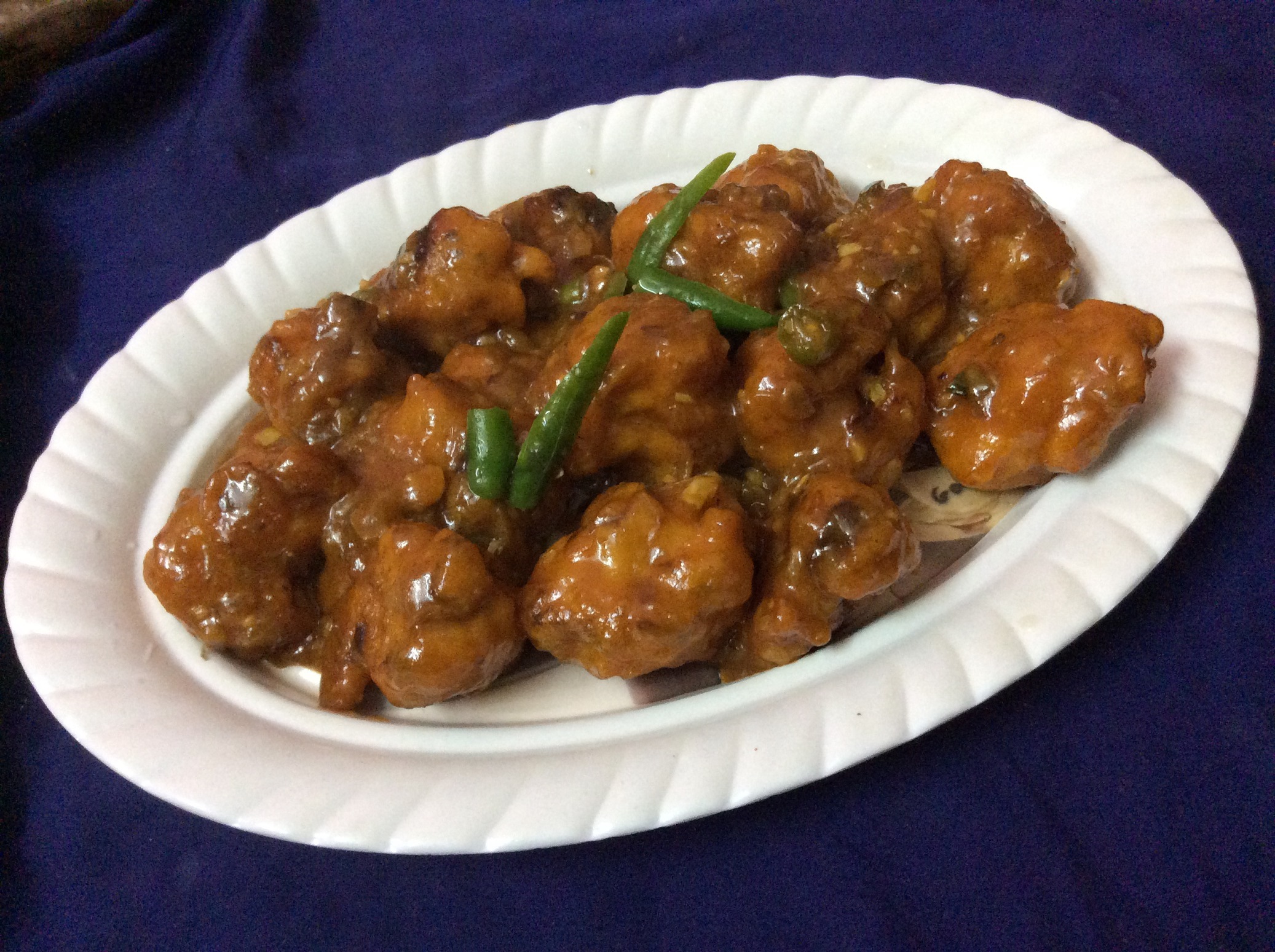 Cooking time –30 minutes.  Serve – 4
Ingredients –[ For the nuggets]
Cauliflower (medium)  – 1(cut into small florets)
Onion (medium) – 1
Garlic cloves – 4
Green chilly – 2
Coriander powder – 1/2 tsp.
Flour(maida) – 1 cup(small)
Corn flour – 1 cup(small)
Garam masala powder – 1/4 tsp.
Salt to taste.
White oil —–for deep frying.
Instructions –
By adding 1 tsp.of salt boil the cauliflower for 5 to 6 minutes, drain and pat dry. Grind onion,garlic, green chilly into a paste. Transfer the paste to a large mixing bowl. To this add coriander powder,flour,corn flour,garam masala powder and salt. Add water and mix well to make a thick batter(like pakora batter). Now add the cauliflower florets, mix gently. Coat all the florets with the batter.
Heat enough oil in a frying pan. Reduce the heat. Add 5 to 6 coated florets into the hot oil. Fry on slow flame till brown on both sides. Increase the heat, take out the fried florets with a slotted spoon,keep aside. Again reduce the heat ,start the next batch. In this way fry all the florets.
Ingredients – (for the sauce)
Onion (large) –1 (finely chopped)
Garlic cloves – 7/8 (finely chopped)
Green chilly – 4 (chopped)
Soya sauce – 2 tbsp.
Tomato sauce – 1 tbsp.
Sugar – 1/2 tsp.
Salt to taste.
Pepper powder – 1 tsp.
Corn flour – 2 tbsp.
White oil – 2 tbsp.
Instructions –
Heat 2 tbsp.of oil in a frying pan. Add chopped onion,garlic,chilly. Fry on medium heat for 1 minute.Add soya sauce,tomato sauce,salt and sugar.Saute for 2 minutes. Dissolve corn flour in 1 cup of water and add to the pan. Stir for 3 minutes. Add the fried cauliflower florets, stir gently and quickly take out the pan from the heat. Mix pepper powder.
Delicious Cauliflower Manchurian is ready, serve hot immediately.