Hi Friends,
Today I am posting Indian popular sweet malpua recipe with date palm jaggery. It is a traditional Bengali recipe, generally made in winter. It is very quick and easy to prepare and incredibly delicious.  In this recipe I have not added fennel seeds (mouri) or any kind of flavor. Because they will suppress the flavor of nolen gur (date palm jaggery).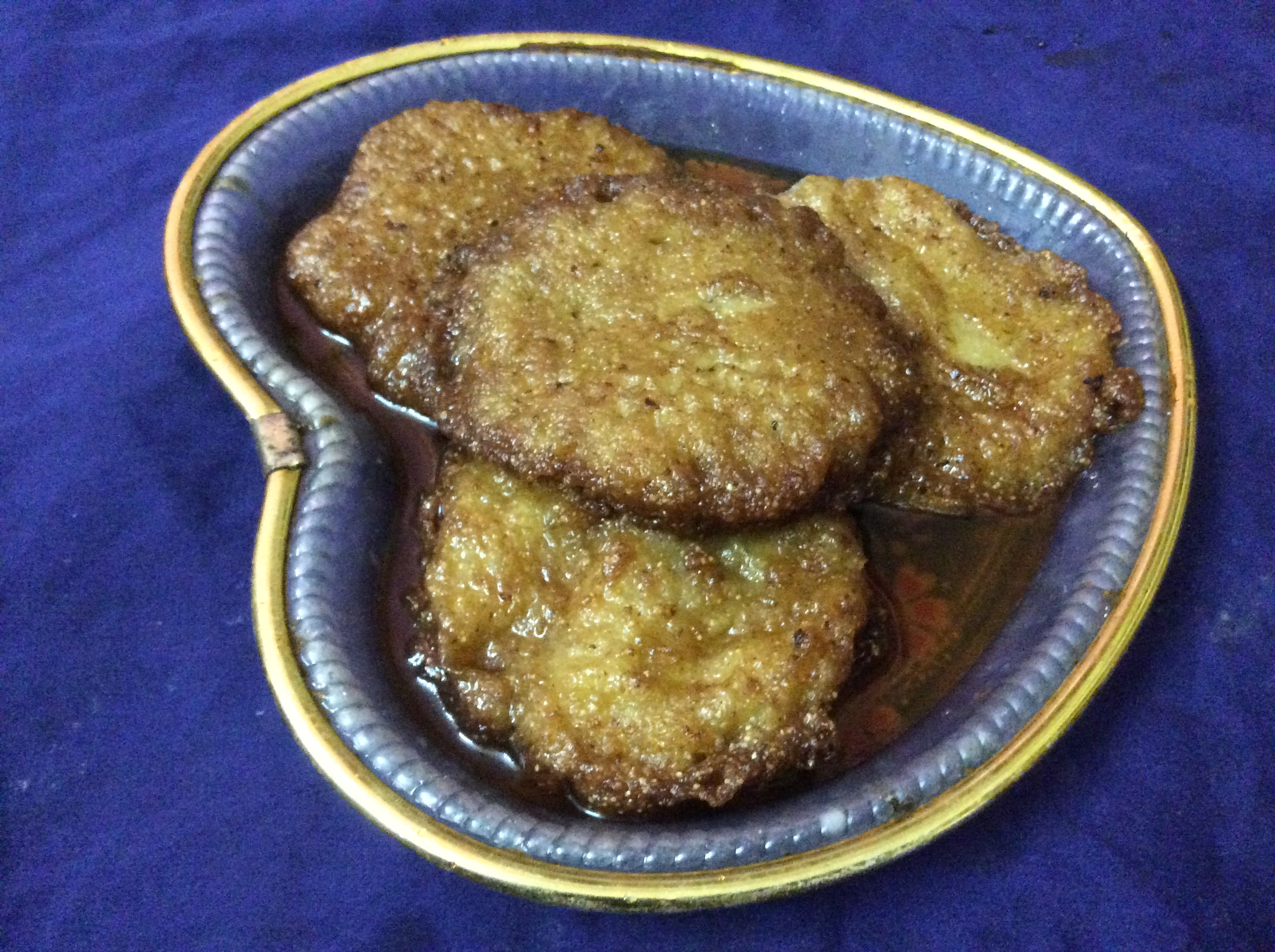 Cooking time – 40 minutes.    Serve – 4
Ingredients –
Flour (maida) – 1+1/2 cups.
Semolina (suji) – 1/2 cup.
Milk powder – 50 grams.
Baking powder – 1/2 tsp.
White oil/ghee – for deep frying
For the sweet syrup-  Take liquid jaggery – 2 cups.  OR  Solid jaggery(patali gur) – 1+1/2 cups(crushed)
Instructions –
In a large bowl take flour,semolina,milk powder and baking powder. Mix well. Add water little by little and make a smooth batter. The batter should be lump free and pouring consistency. Cover the bowl, keep aside for at least 10 minutes.
For syrup–  (liquid jaggery)
Take jaggery and 1/2 cup of water in a pan, mix well. place the pan on medium heat.Boil and stir and cook until it reduces to half its quantity. Keep aside.
For syrup— (solid jaggery/patali gur) –
Crush the patali gur. Take crushed gur and 1 cup of water in a pan. Place the pan on medium heat. Stir well and simmer until it reduces to half its quantity.
Take the batter, add few drops of water. Beat the batter very well. Heat oil or ghee (you can use oil+ghee) in a frying pan. Now reduce the heat. Take ladleful of batter ,pour circular movement into the hot oil. Fry  till light brown on both sides. Increase the heat, take out the fried malpua with a slotted spoon and put directly in the jaggery syrup for 4 to 5 minutes. Take out from the syrup, keep on serving tray.
Again reduce the heat and fry the 2nd malpua.
Delicious Nolen Gurer Malpua is ready, serve hot or cold as a winter dessert.