Hi Friends,
Today I am posting Helencha shukto recipe. It is a traditional Bengali recipe, nutritious and very tasty. In this recipe I  used some diabetic friendly vegetables. You can add various vegetables like—different types of gourds, beans etc. The dish is very simple to prepare and with few ingredients. it is slightly bitter in taste, so serve this healthy dish as a first item for lunch with plain rice.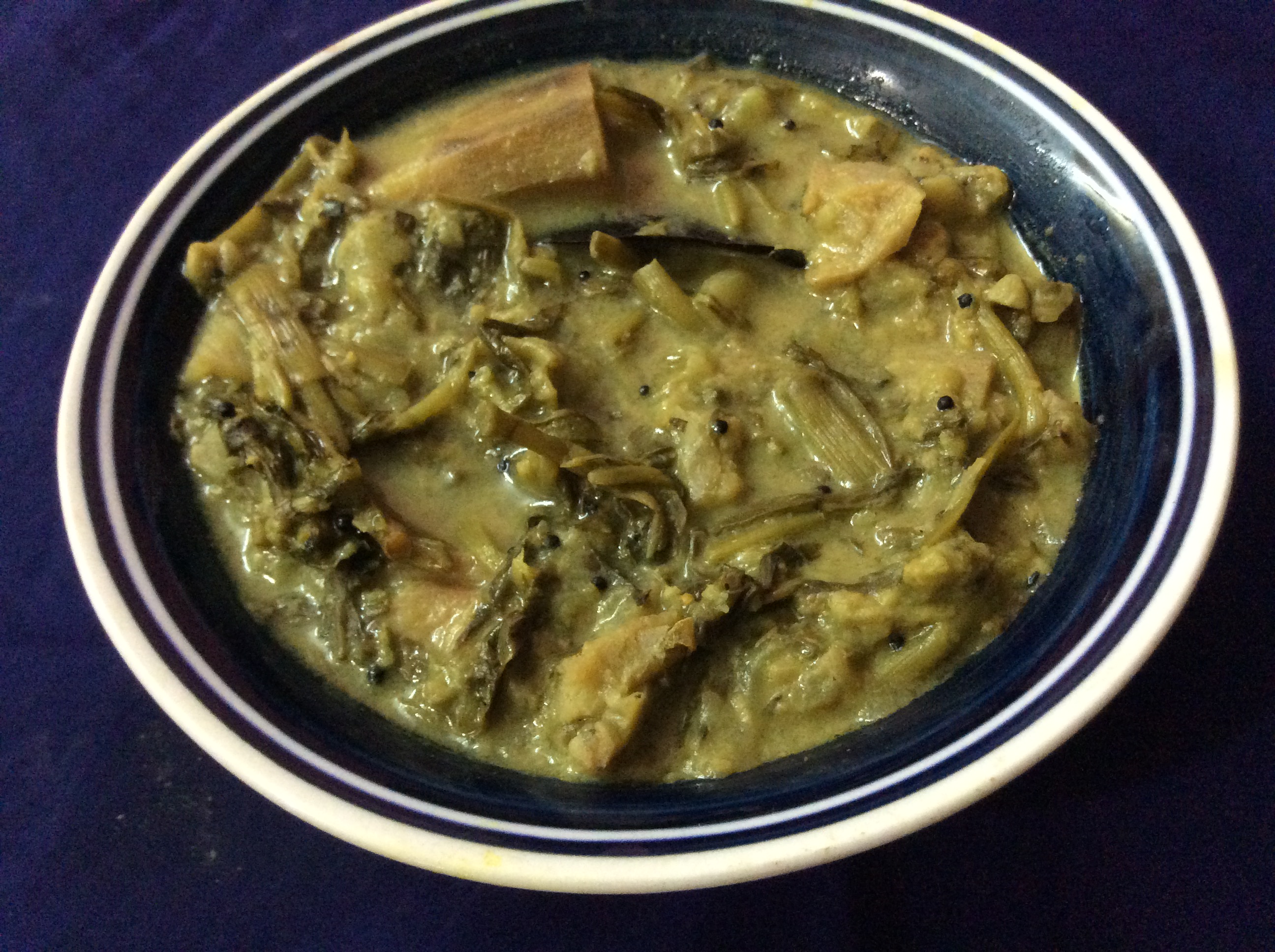 Cooking time – 25 minutes,  Serve – 4
Ingredients –
Helencha – 1 bunch
Mustard seeds – 1 tsp.
Bay leaf – 1
Grated ginger – 1/2 tsp.
Raw banana (small) – 1
Papaya (small) – 1
Eggplant (small) –1
Sweet potato (small) –1
Cucumber – 1
Turmeric powder – 1/4 tsp.
Salt to taste
Wheat flour 1 tbsp.
Oil – 1 tsp.
Ghee – 1/4 tsp.(optional)
Instructions –
Take Helencha, break only the soft steams with leaves (top portions) and wash well. Peel and cut the vegetables and wash. Heat oil in a frying pan, add mustard seeds. When the seeds start to pop, add bay leaf,vegetables, Helencha, salt,ginger and turmeric powder. Mix all the ingredients very well. Reduce the heat. Cover the pan and cook on slow flame for 5 to 7 minutes (stir in between). Add 2 cups of water and cover the pan. increase the heat and cook on medium heat till all the vegetables are soft. Add water if needed.
Dissolve wheat flour in 1 cup of water and add to the pan. Stir well. Cook for 3 to 4 minutes. Remove pan from the heat, mix ghee, cover the pan and give 5 minutes standing time.
Tasty and healthy Helenca Shukto is ready, serve with white rice.