Hi Friends,
Today I  am posting a delicious snacks — Crispy Crepes Roll recipe. It is a simple recipe, tasty and very easy to prepare. You can take it as a evening snacks with a cup of tea. It is perfect for a party.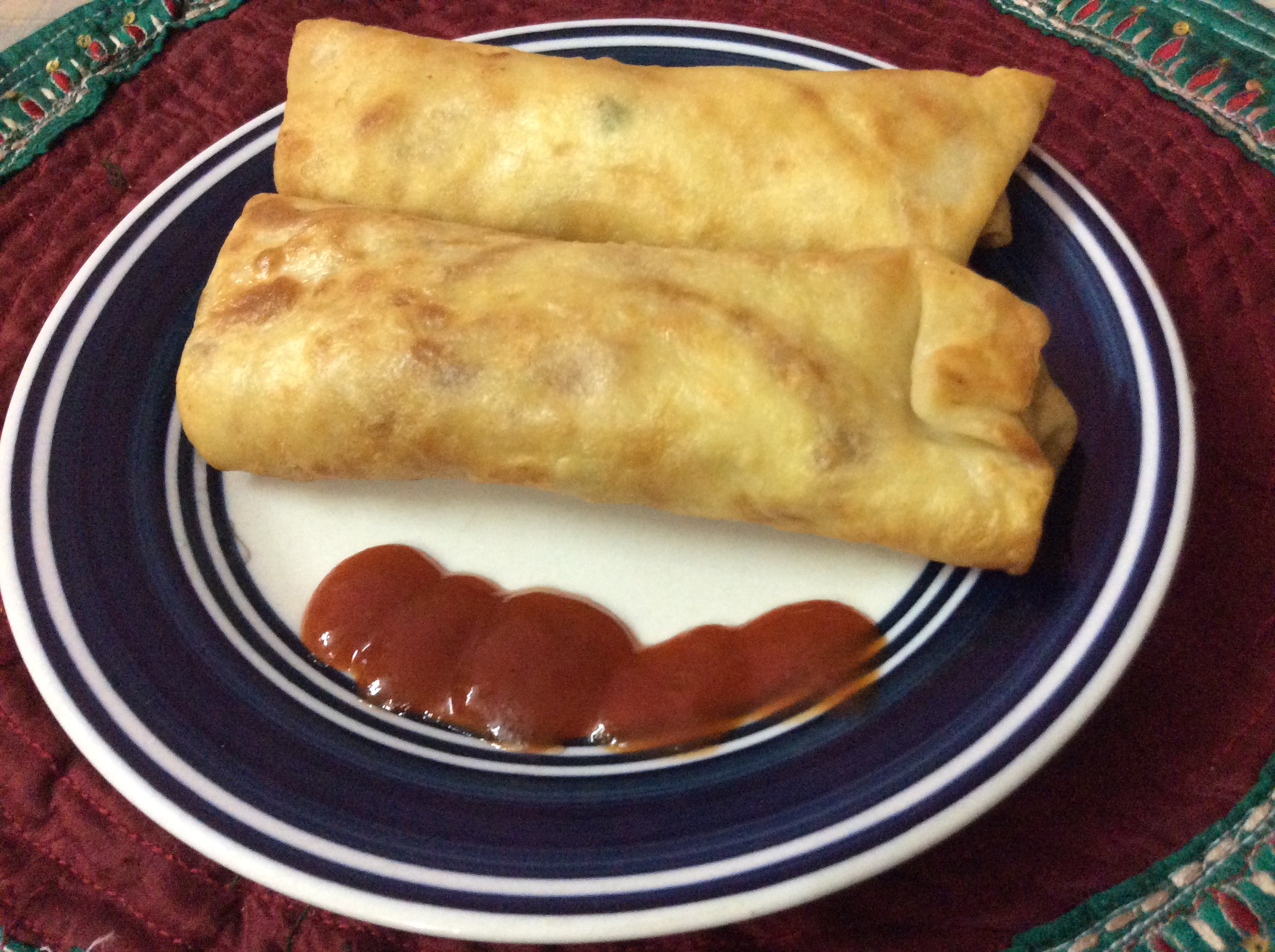 Cooking time – 50 minutes.  Serve – 6
Ingredients – (For the crepes)
Flour (maida) – 1 cup.
Corn flour – 2 tbsp.
White oil – 1 tsp.
Salt – a pinch.
Garam masala powder – 1/2 tsp.
Beaten egg – 1
Instructions –  Put all the ingredients in a large mixing bowl, mix well. Add water little by little and make a medium thin batter. The batter should be lump free. Place a non-stick griddle on medium heat.  Brush oil on the surface of the griddle. Pour one ladleful of batter on it. Spread the batter in a circular shape. Allow the batter to set until the crepe turns light brown. Turn the crepe and cook the other side for few seconds. Take out the crepe from the griddle ,keep aside.  Repeat the process with rest of the batter.
Ingredients – (For the stuffing)
Boiled potato (large) – 1 (peeled and mashed)
Egg  – 2
Tomato sauce/ketchup-  1 tbsp.
Onion – 1 (finely chopped)
Grated ginger – 1/2 tsp.
Garlic cloves – 4/5 (finely chopped)
Green chilly – 2 /3 (chopped)
Salt to taste.
Sugar – a pinch.
Garam masala powder – 1/4 tsp.
Pepper powder – 1/2 tsp.
oil – 1 tbsp.
Instructions –  Heat oil in a frying pan, add ginger,garlic and onion. Fry for 1 minute. Add the mashed potato,salt,sugar and mix well. Stir and saute for 2 minutes. Remove pan from the heat. Now add tomato sauce, green chilly and pepper powder. Mix very well. Allow to cool for 10 minutes. After 10 minutes mix the beaten eggs. Mix all the ingredients with a whisk/ ladle. The semi-liquid stuffing is ready.
Take one crepe, put one tbsp.of stuffing (lengthwise) at front/near side , fold the crepe little at right and left side, then roll the crepe completely. In this way make all the stuffed roll.
Heat oil in a frying pan,reduce the heat. Add one stuffed roll.Fry on slow flame till crispy and brown on both sides. Increase the heat,take out the fried roll with a slotted spoon,keep on paper towels. Fry 2 to 3 rolls at a time. Again reduce the heat and start the next batch.
Delicious Crispy Crepes Roll is ready. Serve hot with sauce/ketchup /chutney. Enjoy.