Happy Diwali to all my friends,
Today I am sharing with you famous Indian dessert Shahi tukra recipe. It is a special sweet of Hyderabad and very popular in India. You can make this delicious sweet in simple and easy way. You need only few ingredients to prepare this sweet dish.I used microwave, but it is optional.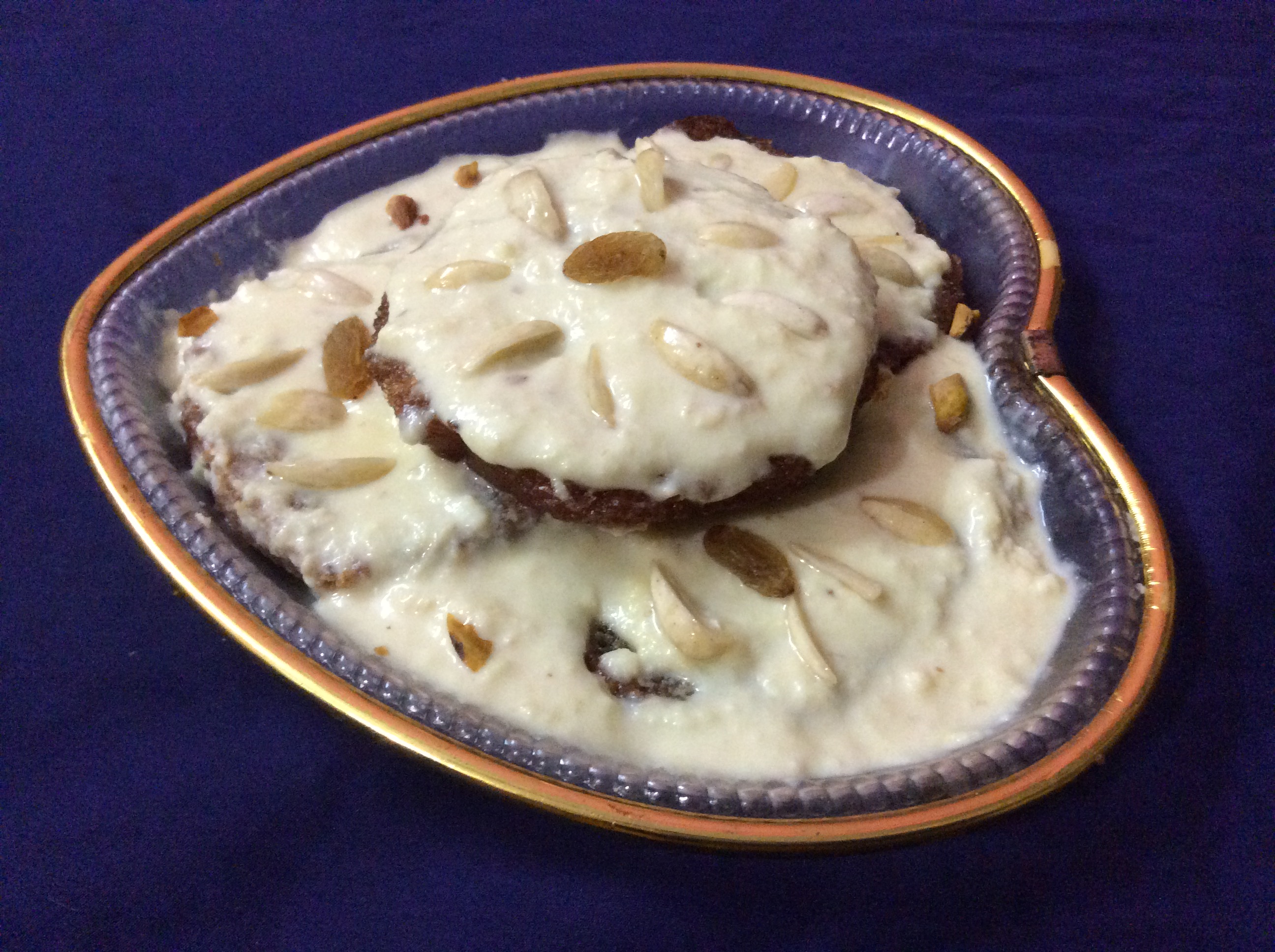 Cooking time – 45 minutes   Serve-  4
Ingredients –
Full fat milk – 1 lit.
Powdered  milk- 2 tbsp.
Sugar – 2 tbsp.
Bread (white/brown)- 8 slices.
White oil – 1 cup.
Rose water – 1 tbsp.
Raisins/dry fruits —for garnishing.
Instructions –
Boil the  milk in a heavy bottomed pan on medium heat.Stir continuously to prevent it burning at the bottom. Cook till half the quantity is left. Add sugar and powdered milk, whisk or stir well till sugar is dissolves.Take out the pan from the heat,keep aside.
Cut the sides of the bread slices. Using a round lid cut each slices into round shape. Heat white oil in a frying pan. Now reduce the heat. Fry the round slices until crispy and golden brown on both sides. Take out the slices with a slotted spoon ,keep on paper towels.
Pour 1/2 portion of the milk in a microwave safe dish, arrange the fried slices in a layer. Spread the remaining portion of the milk over it.Sprinkle rose water. Microwave at high power for 1/2 to 1 minute. This process will help to soft the sweet slightly.
Delicious Shahi Tukra is ready, garnish with Raisins/dry fruits and serve. Hope you will like it, ENJOY.