Hi Friends,
Today I am sharing with you a beautiful,delicious fish gravy recipe made with milk. It is a non spicy dish, has little gravy and very quick and easy to prepare. this nutritious dish is perfect for everyone, specially kids. It goes well with plain rice,pulao, fried rice.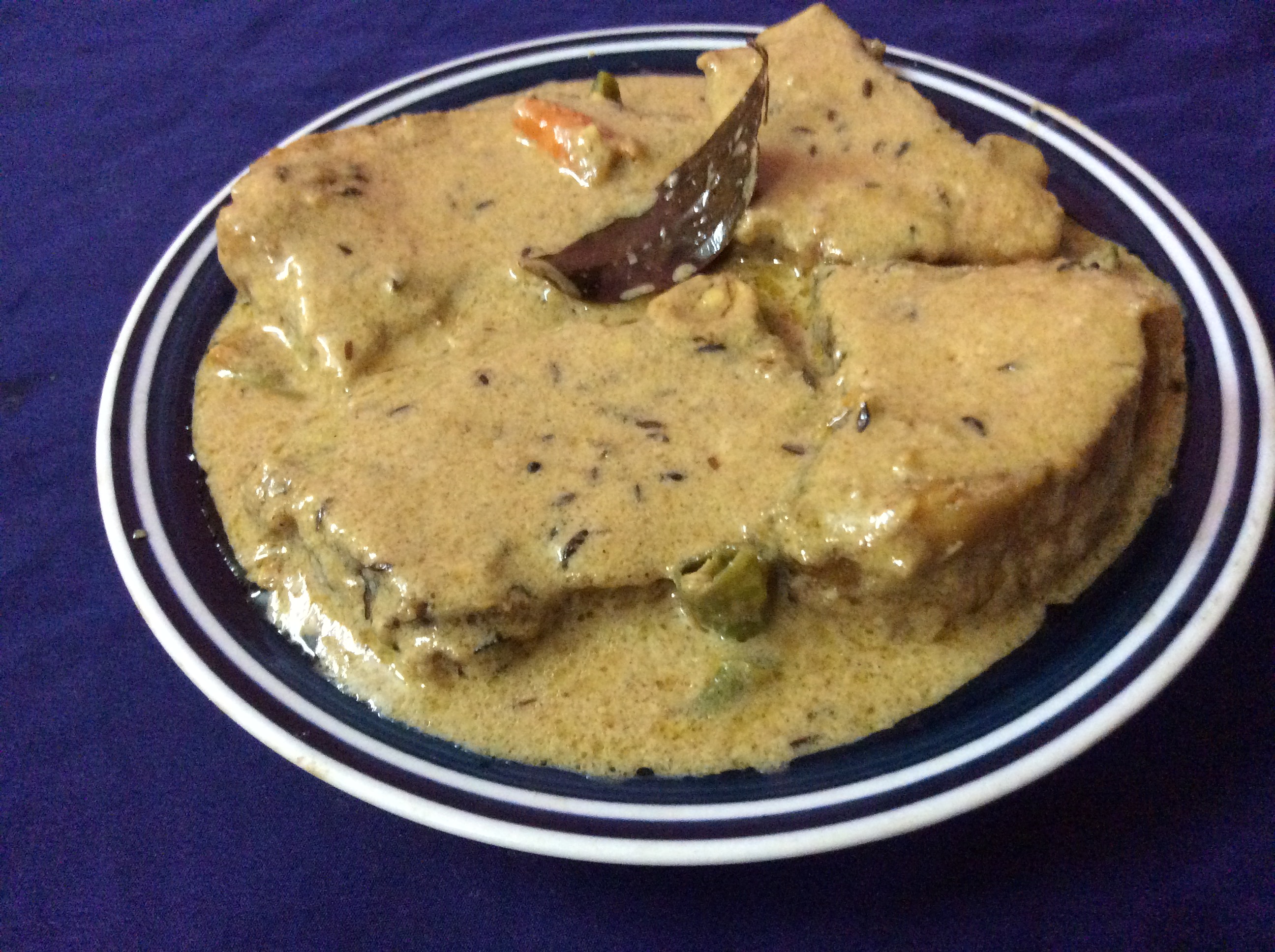 Cooking time 30 minutes.  Serve – 4
Ingredients –
Fish – 4 pieces.
Milk – 1 cup.
Cumin seeds – 1/2 tsp.
Bay leaf – 1
Grated ginger – 1/2 tsp.
Onion (small) –1
Tomato(small) –1 (optional OR use sweet variety)
Coriander powder – 1 tsp.
Slit green chilly – 4
Salt to taste.
Oil – 2 ladleful
Garam masala powder – a pinch.
Instructions –
Marinate the fish with 1/2 tsp.of salt,keep aside. Using 1/2 cup of water grind ginger,onion and tomato into a smooth paste. Using a strainer strain the paste and collect the juice. Add cumin powder and garam masala powder to the juice, mix well. Cover the bowl,keep aside
Heat oil,fry the fish pieces on medium heat till light brown on both sides. Take out from the oil,keep aside. Add cumin seeds and bay leaf in the remaining oil. on medium heat fry the cumin seeds till light brown.Add the juice mix, saute till oil separates. Add 1 cup of water,slit green and salt. Let it brings to boil. Add the fried fish. Cook on medium heat till all the water evaporates. Now add milk. mix well. Cook for 3 to 4 minutes. When the gravy starts thickening, mix ghee. Remove pan from the heat,cover and give 10 minutes standing time.
Delicious FISH GRAVY is ready, serve with rice/fried rice/pulao…