Hi Friends,
Today I am sharing with you a delicious dal recipe made with urad (biuli) dal and fish head. It is an authentic Bengali recipe and one of the best recipe of urad dal. Generally Aar and Boal fish head is used in this recipe. The process of making this dish is very easy and takes few minutes to prepare. It goes well with plain white rice.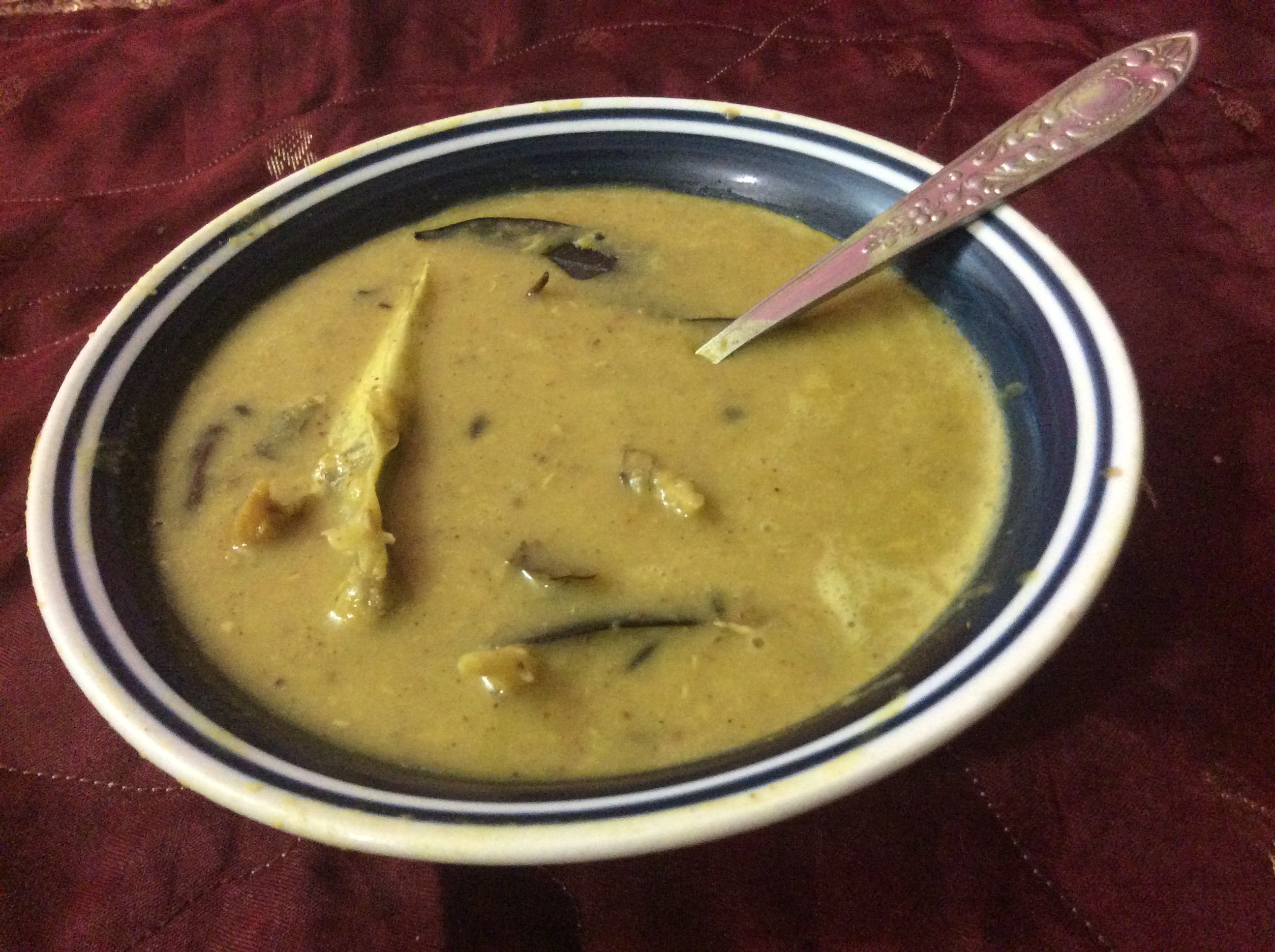 Cooking time – 40 minutes – serve – 4.
Ingredients –
Urad dal (skinless) – 200 grams.
Fish head (boal) – 1
Fennel seeds – 3 tsp.
Red chilly – 2 .
Bay leaves – 2.
Asafoetida (hing) – 1/4 tsp.
Ginger paste – 1/2 tsp.
Turmeric powder – 1/2 tsp.
Red chilly powder – 1/2 tsp.
Salt to taste.
Sugar – 1 tsp.
Oil – 2 rice spoon.
Slit green chilly – 4.
Ghee – 1 tsp.
Instructions –
Cut the fish head into pieces, wash well and marinate with 1/2 tsp.of salt and a pinch of turmeric powder. Keep aside. By adding 3 to 4 tbsp.of water grind 2 tbsp.of fennel seeds into a paste. Place a pan on slow flame,add the urad dal. Dry roast the dal till very light brown (with stirring continuously). Remove pan from the heat. Wash the roasted dal and by adding 2 tsp.of salt,turmeric powder and 2 bowls of water pressure cook the dal until soft (for 3 to 4 whistle on slow flame). Remove the pressure from the heat,allow it to cool naturally.Mash the dal slightly with the back of the ladle.
Heat oil in a frying pan,add the fish head pieces. Fry till light brown, take out from the oil,keep aside. Add dry red chilly in the remaining oil,fry until brown. Reduce the heat,add 1 tsp.of fennel seeds,fry until light brown. Add hing and bay leaves, stir for 1 second. Add ginger paste,fennel seeds paste and red chilly powder. Saute for 1 minute. Add the fried fish head and 1 cup of water,saute for 2 minutes. Now add the boiled dal,sugar and stir well. Add extra warm water if the dal is too dry. Cook for 7 to 8 minutes (stir occasionally). When the dal reached desired thickness, Add slit green chilly. Check the seasoning. Remove pan from the heat,mix ghee, cover the pan and give 10 minutes standing time (it is compulsory).
Delicious Bengali delicacy Urad Dal With Fish Head is ready, Serve with hot plain rice.