Hi Friends,
Today I am posting a very simple side dish recipe made with jackfruit seeds. It is a traditional Bengali recipe, very quick and easy to prepare. It is a budget friendly recipe,needs only a few ingredients. It is a tasty  dish, you can eat as a side dish with plain white rice or roti/paratha.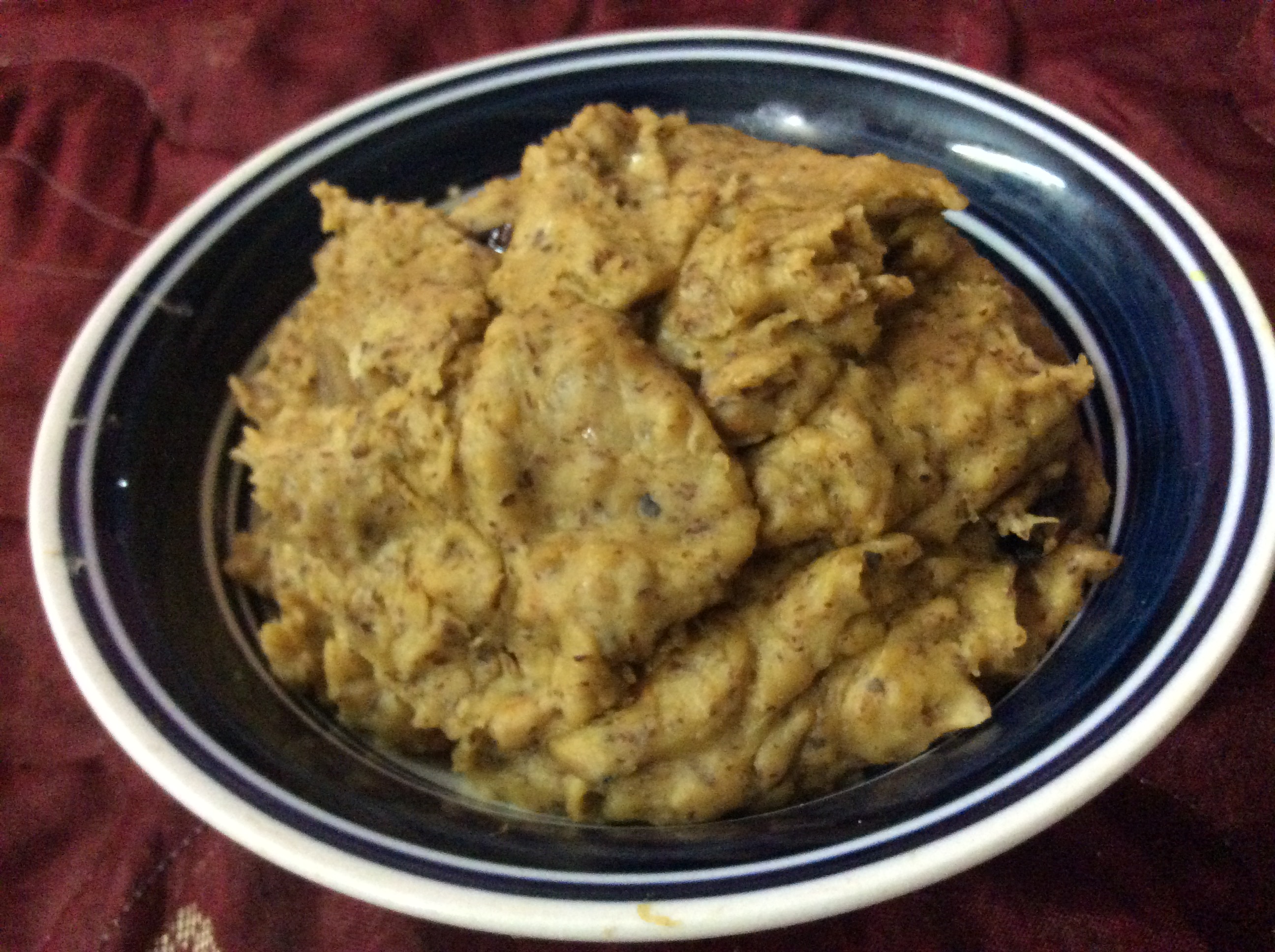 Cooking time – 30 minutes.  Serve – 4
Ingredients –
Jackfruit seeds – 400 grams.
Dry red chilly – 2
Onion (large) – 1 (finely chopped)
Garlic cloves – 6. (finely chopped)
Green chilly – 4.
Slit green chilly – 4
Salt to taste.
Sugar – 1/2 tsp.
Oil – 2 tbsp.
Tomato – 1 (chopped)
Instructions –
Take the dried seeds, remove the white skins and cut into halves. Soak the seeds in water for 10 minutes and drain. By using 1 tsp.of salt boil them until soft (pressure cook for 1 whistle). By using 1 cup of water and 4 green chilly grind the seeds into a paste. Keep aside.
Heat oil in a frying pan,add dry red chilly and fry until brown. Add chopped onion and garlic. Fry till light brown. Add chopped tomato,saute for 1 minute. Add the seeds paste, salt and sugar. stir well. Reduce the heat, cook for few minutes (stir occasionally). Mix slit green chilly. When the paste leaves the side of the pan ,remove pan from the heat,cover and give few minutes standing time.
Delicious Mashed Jackfruit Seeds is ready to serve. You can mix 1 tsp.of ghee but it is optional. Serve with hot rice or roti/paratha. Hope you will like the simple recipe.