Hi Friends,
Today I am sharing with you a delicious veg. side dish recipe made with moong dal and jackfruit seeds. It is a traditional Bengali recipe and very popular all over Bengal. It is a simple recipe,easy to prepare and also nutritious. It goes well with rice/roti or paratha.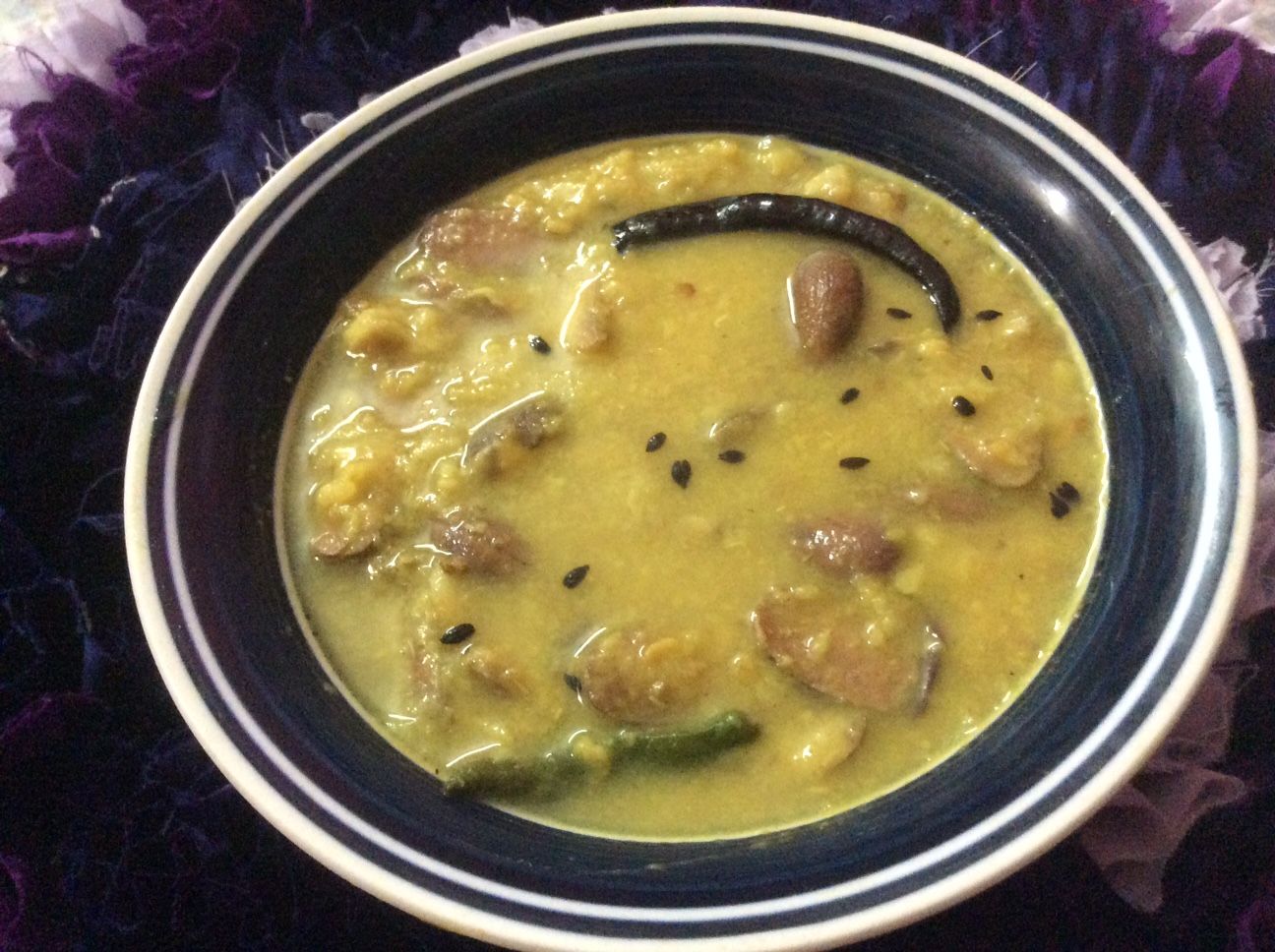 Cooking time – 40 minutes.
Serve – 4
Ingredients –
Moong dal – 200 grams.
Jackfruit seeds – 15 to 16 nos.
Grated ginger – 1/2 tsp.
Dry red chilly – 2.
Turmeric powder – 1/2 tsp.
Nigella seeds (kalonji) – 1/2 tsp.
Slit green chilly – 4
Salt to taste.
Sugar – 1/2 tsp.
Oil – 2 tbsp.
Ghee – 1 tsp.(optional)
Instructions –
On slow heat roast the dal till light brown (with stirring constantly). Wash the dal,put in pressure cooker. Add 4 cups of water,1 tsp.of salt and turmeric powder. On slow heat pressure cook the dal until soft. Mash the dal slightly with the back of the ladle. Keep aside.
Cut each sun-dried jackfruit seeds to half and remove the white skin. (For this see my previous post.) Soak in water for 10 minutes. Boil the seeds in water for 5 to 6 minutes and drain.
Heat 2 tbsp.of oil in a frying pan,add dry red chilly. fry until brown. Reduce the heat,add kalonji. Fry for 1/2 minute. Add boiled seeds and ginger , saute for 2 minutes. Add the boiled dal,green chilly,sugar and little salt. Add water if needed. Mix well and allow it to boil. Cook until the dal reached desired thickness. You can add warm water to make the dal more soupy. Check the seasoning.
Remove pan from the heat,mix ghee. Cover the pan,give 10 minutes standing time. Delicious Moong dal is ready,serve hot with rice/roti/paratha.