Hi Friends,
Today I am sharing with you a special type of boondi recipe made with urad dal and flour –it is white boondi. The recipe is very simple and takes few minutes to prepare. This white boondi is found in some districts of West Bengal. You can easily prepare this delicious sweet any time at home.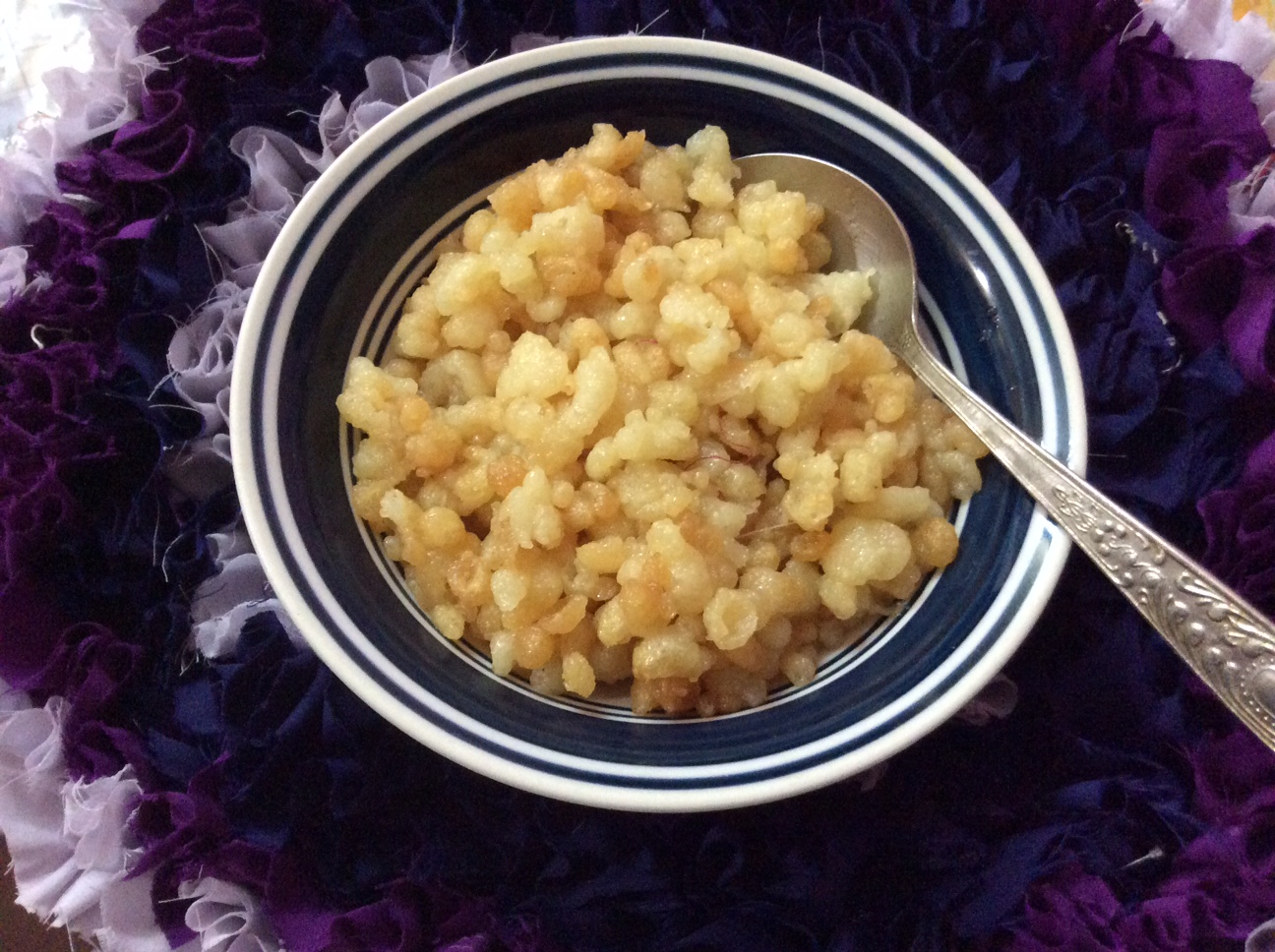 Cooking time – 40 minutes.  Serve – 4
Ingredients –
Skinless urad dal (beuli) – 50 grams.
Flour (maida)- 100 grams.
Curd – 2 tbsp.
Sugar – 2 cups.
Water – 1 cup.
Black or green cardamom seeds – 1 tbsp.
White oil for deep frying.
Instructions –
Clean and wash the urad dal and soak in water for at least 4 hours. Drain and by adding little water grind to a smooth paste. You can use urad dal powder also, add little water to make a paste. Put the dal paste in a large mixing bowl. To this add flour,curd and 1/2 cup of water and mix well. Beat it for for 5 to 6 minutes. Now add little water to make a thick batter (like cake batter). Cover the pan,allow it to rest for 10 minutes.
Boil sugar and water in a pan. Reduce the heat. Stir until sugar is dissolved in water. Boil the sugar syrup until it reaches single thread consistency. Remove pan from the heat,add cardamom seeds and cover the pan.
Heat enough oil in a wide pan. Using a perforated spoon drop small balls of urad dal batter. Reduce the heat and fry them till crispy. Take out the fried boondi with a slotted spoon,keep on paper towels. Start the next batch.
Warm the sugar syrup and add the fried boondi into the warm syrup for 10 minutes.. Stir slowly. Take out the soaked boondi from the syrup and put in serving bowl and serve hot. Enjoy.