Hi Friends,
Today I am sharing with you a simple side recipe made with drumsticks. It is an easy to make recipe,few ingredients requirement for this dish and takes few minutes to prepare. This tasty,non spicy veg. dish is perfect for summer. It goes well with rice,roti or paratha.You can make the dish in pressure cooker also.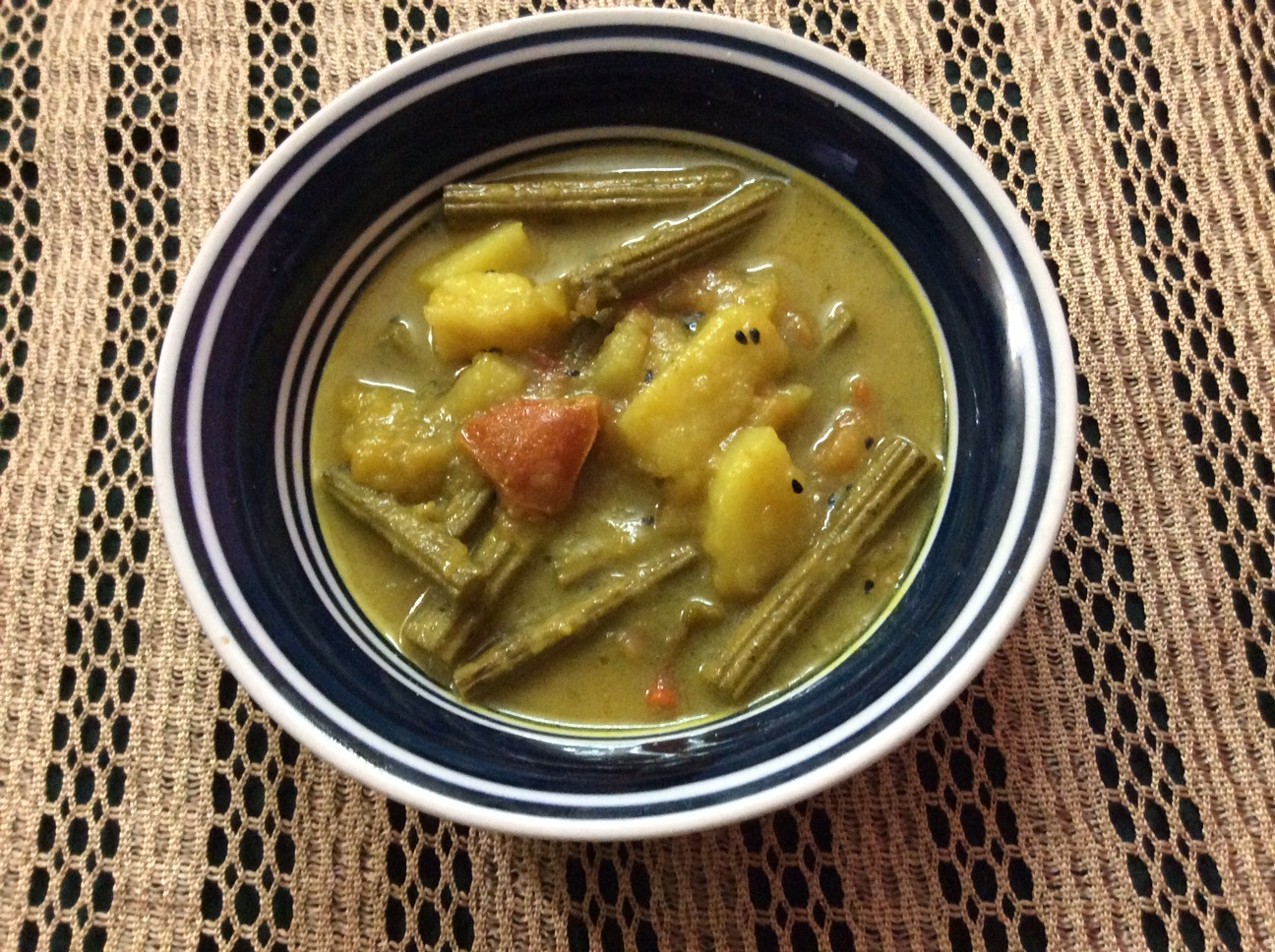 Cooking time – 25 minutes.  (10 minutes in pressure cooker)
Serve – 4
Ingredients –
Drumsticks – 250 grams (cut into long pieces)
Potato (large) – 1(peeled and cut into small cubes)
Boiled potato (medium) –1
Tomato – 1 (chopped)
Nigella seeds (kalojeera) – 1/2 tsp.
Turmeric powder – 1/2 tsp.
Salt to taste.
Sugar – 1/2 tsp.
Green chilly – 2.
Slit green chilly – 4
Oil  – 4 tbsp.
Instructions –
Take the boiled potato,peel the skin off and mash well. To this add 2 cups of water, mix well to make a batter (you can use whisk). Keep the potato batter aside. Grind tomato and 2 green chilly into a paste.
Heat oil in a frying pan. Reduce the heat, add nigella seeds. Fry for 30 seconds. Add the cubed potato and fry for 2 to 3 minutes. Add drumsticks, turmeric powder,1 tsp.of salt and mix well. Saute for 2 minutes.Add chilly-tomato paste and sugar.Saute for 2 minutes. Add 2 to 3 cups of water. Cover the pan. Cook over medium flame until the vegetables are soft (stir in between). Now add the potato batter,4 slit green chilly and little salt. Mix well. Cook for 3 to 5 minutes. When the gravy starts thickening,remove pan from the heat, cover and give few minutes standing time.
Delicious veg drumsticks curry is ready to serve. Hope you will like the recipe.