Hi Friends,
Today I am posting a quick and easy to make sweet snacks recipe made with sweet potato. Sweet potato is inexpensive, healthy and easily available. It is a budget friendly recipe. You can prepare this sweet snacks any time at home.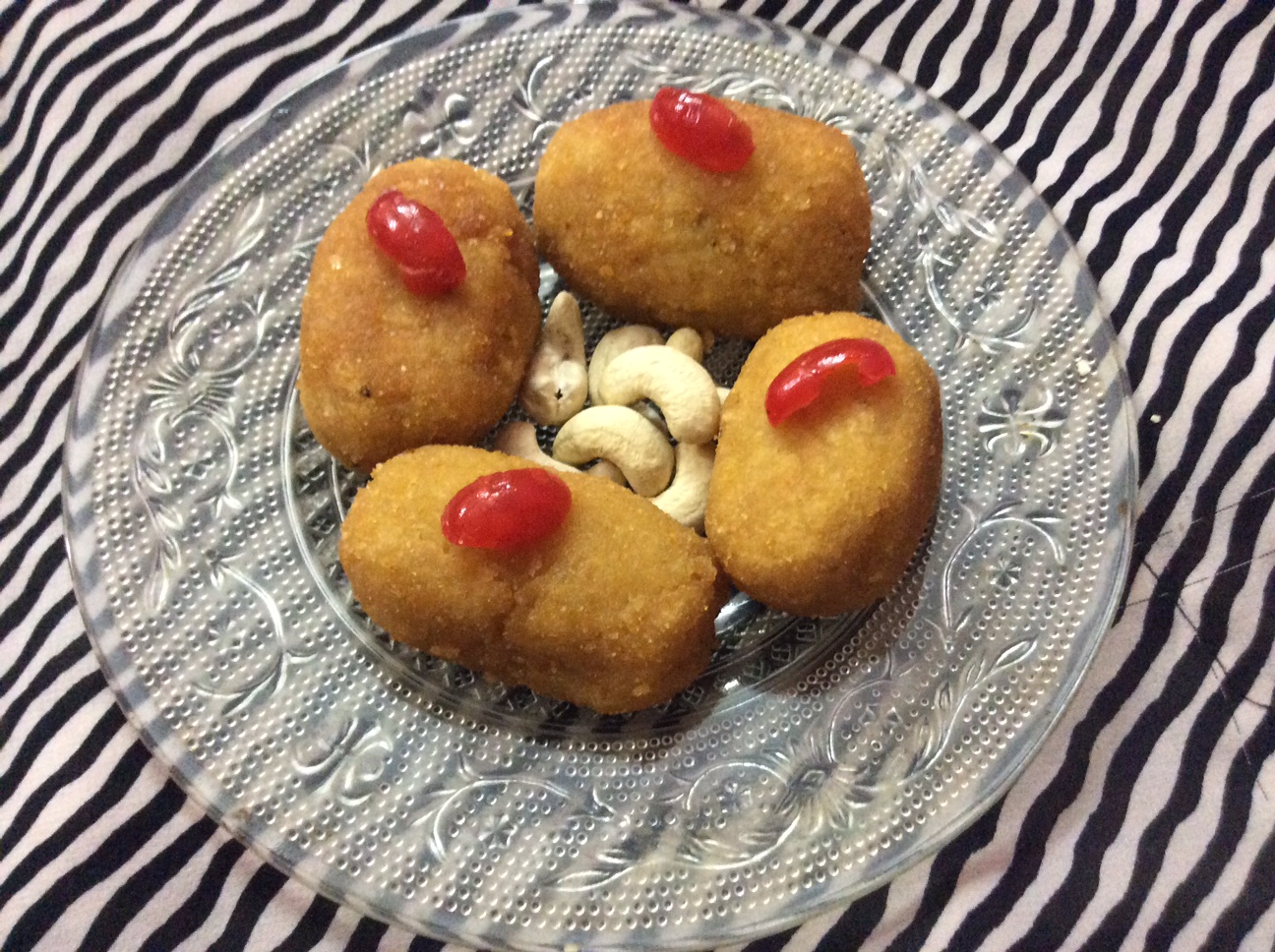 Cooking time – 40 minutes.  Serve – 4
Ingredients –
Sweet potato – 500 grams.
Powdered sugar – 2 tbsp.(or as per taste)
Grated coconut – 2 tbsp.(optional)
Roasted peanuts – 2 tbsp.(crushed)
Cardamom powder – 1/2 tsp.
Flour (maida) – 2 tbsp.
Bread crumbs – 1 cup.
Ghee – 1 tbsp.
White oil – for deep frying.
Instructions –
Wash and pressure cook the sweet potatoes (with skins) until soft. Let them cool. Peel the skins off. Put the boiled potatoes in a large mixing bowl and mash well with palm or potato masher. To this add sugar, peanuts and coconut. Mix well. Melt ghee in a non stick frying pan, add the potato mixture. Stir continuously on low flame till the potato mixture becomes dry (about 2 to 3 minutes). Remove pan from the heat and allow it to cool. Now mix  cardamom powder and make a dough. Divide the dough into small balls. Give the balls into oblong shape. In a bowl mix flour and 1/2 cup of water and make a thin batter.
Grind the store bought bread crumbs into powder and spread in a dish.Dip the potato balls in the flour and coat the balls with bread crumbs. Heat oil in a frying pan. when the oil becomes hot reduce the heat. Add 2 to 3 potato balls in the hot oil. Fry on low flame until brown on all sides. Increase the heat, take out the fried balls with a slotted spoon,keep on paper towels. Again reduce the heat and start the next batch.
Delicious Sweet Potato dessert is ready, garnish and serve. Enjoy.