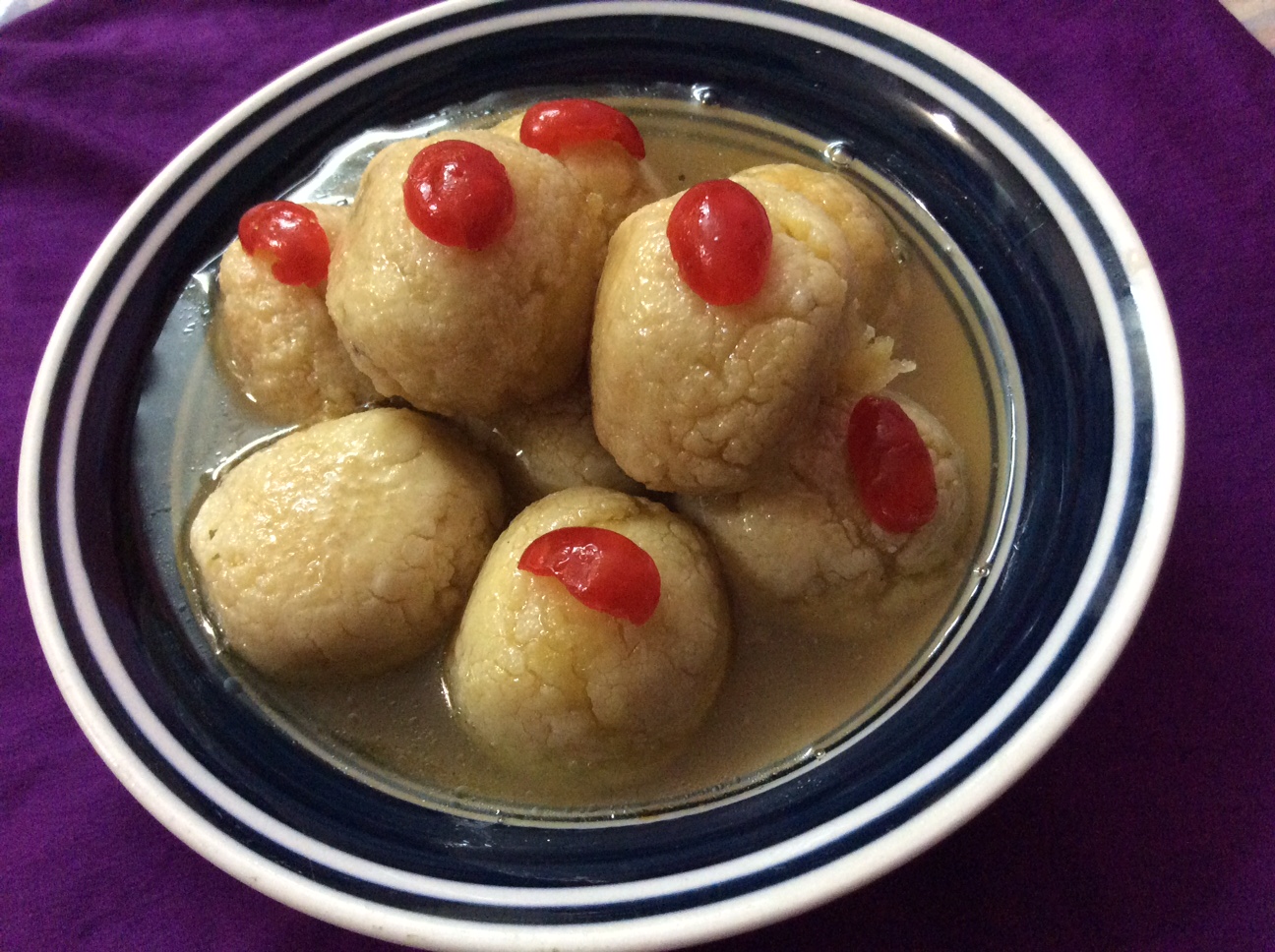 Subho Nababarsha to all of my Friends,
Today I am sharing with you a delicious home made sweet recipe made with chana dal. It is a deep fried sugary sweet, very simple to prepare and budget friendly. You can make this sweet easily at home and with few ingredients.
Cooking time – 40 minutes.  Serve – 4
Ingredients –
Chana dal – 1 cup.
Corn flour – 2 tbsp.
Nutmeg powder – a pinch.
Black cardamom seeds – from one pod.
Ghee – 2 tsp.
Sugar – 2 cups +2 tbsp.
Water – 1 cup.
White oil for frying.
Instructions –
Sugar syrup – Put 2 cups of sugar and 1 cup of water in a pan. Place the pan on medium heat.Stir till sugar dissolves. Cook for few minutes till a thick syrup is found. There should be no thread formation in the syrup.Remove pan from the heat,keep aside.
Wash the dal well. By adding 3 cups of water pressure cook the dal for 4 to 5 whistle (on slow heat) or till the dal is cooked well but not mushy. Transfer the dal to a strainer to drain water completely. Put the dal in a large bowl and mash well. To this add nutmeg powder and 2 tbsp.of sugar. Mix well. On slow flame heat 2 tsp.of ghee in a non stick frying pan, add the dal mixture. Stir well. Cook till the dal becomes dry (stir continuously). Remove pan from the heat. Mix black cardamom seeds and allow it to cool naturally.
Make small balls from the chana dal mix. Spread corn flour in a dish. Coat the balls with corn flour. Heat oil in a frying pan.When the oil becomes hot,reduce the heat.Add 3 to 4 balls. Fry on slow flame for few minutes. Increase the heat and take out the fried balls with a slotted spoon,keep on paper towels. Again reduce the heat and start the next batch.
Warm the sugar syrup slightly. Remove pan from the heat. Drop the fried balls into the sugar syrup for 1 hour. If the balls are not soaking the sugar syrup, place the pan on heat and warm it.
Home made Chana Dal sweet is ready,garnish and serve. Enjoy.