Hi Friends,
Today I am sharing with you a quick and easy to make side dish recipe made with raw banana. It is a simple recipe, less spicy, tasty and nutritious also. It can be served with rice/roti/paratha. (Do not through away the banana skin,you can make many side dishes with the banana skins).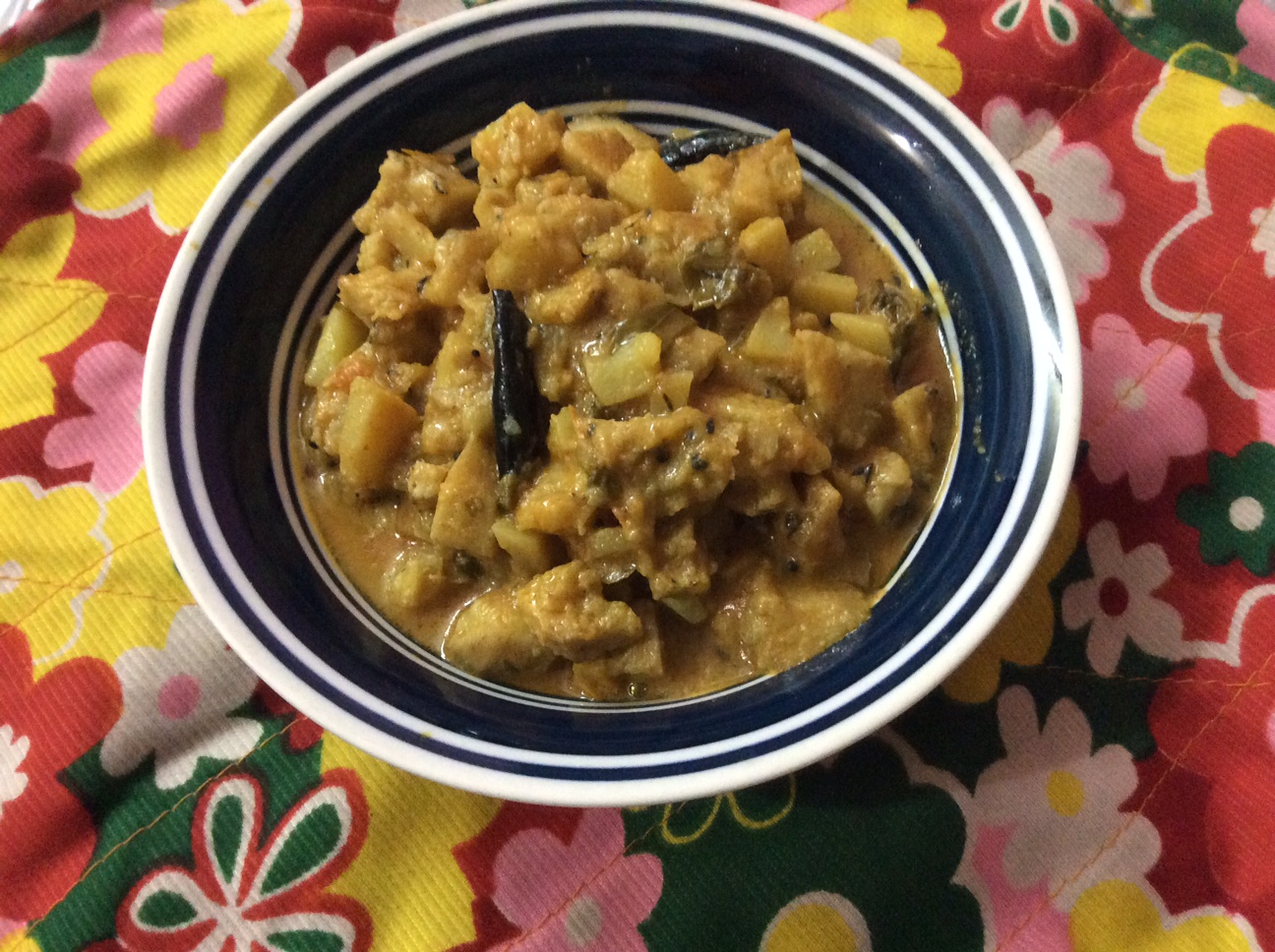 Cooking time – 25 minutes.  Serve – 4.
Ingredients –
Raw banana – 4 (peeled and cut into pieces)
Potato – 1 (peeled and cut into small cubes)
Tomato – 1 (chopped)
Onion – 1 (finely chopped)
Garlic cloves – 2 (chopped)
Dry red chilly – 1
Cumin seeds – 1/2 tsp.
Mustard seeds – 1/2 tsp.
Curry leaves – 10/12
Slit green chilly – 4.
Turmeric powder – 1/2 tsp.
Salt to taste.
Sugar 1/2 tsp.
Oil – 2 tbsp.
Instructions –
Soak the banana pieces in water for 10 minutes and drain. Heat oil in a frying pan. When hot reduce the heat. Add dry red chilly,fry till brown. Add cumin seeds and fry. When the cumin looks brown add mustard seeds. When crackling add chopped onion,garlic,slit green chilly and curry leaves. Fry for 2 minutes. Add potato,banana and 1 tbsp.of salt. Mix well. Cover the pan and cook for 3 to 4 minutes. (Stir in between). Add turmeric powder,chopped tomato and sugar. Mix well. Cook for 2 minutes. Add 2 cups of water and little salt (if needed). Cover the pan and cook till the vegetables are soft. If needed add little water and cook for few minutes. When the gravy starts thickening remove pan from the heat,cover the pan and give few minutes standing time.
Tasty and healthy Raw Banana Curry is ready,serve as a side dish with rice/roti/paratha.