Hi Friends,
Today I am sharing with you a very quick and easy to make diabetes friendly vegetable muffin recipe. Diabetes diet is a healthy eating plan that is naturally rich in nutrients,low in fat and calories. Protein foods are an important part of a diabetes diet chart. To this recipe  I used  vegetables and egg whites. It is not only a perfect recipe for diabetes, it is a healthy diet for anyone. I made the dish in microwave. You can make it in Air fryer/Microwave oven (convection) or Pressure cooker (for steamed muffin).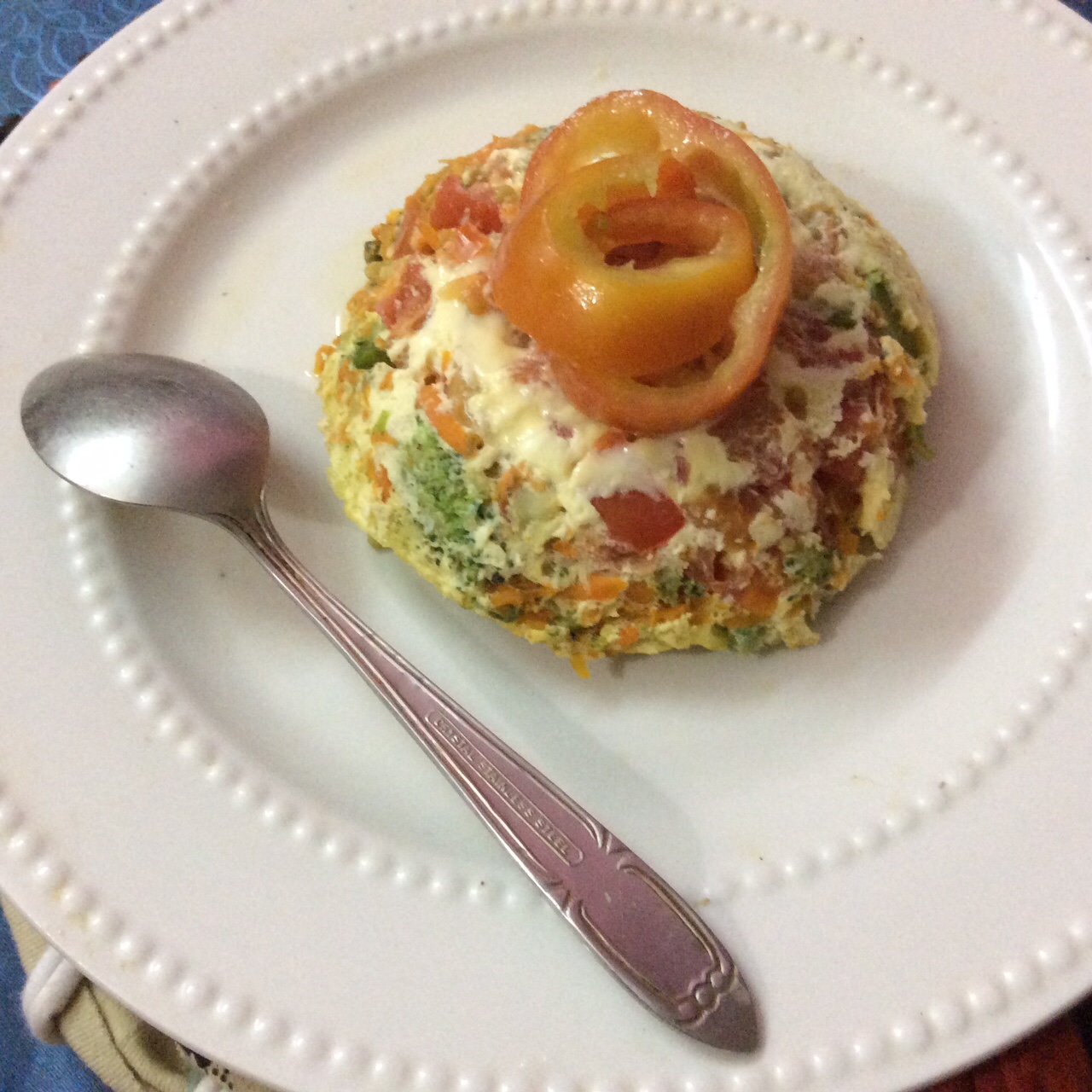 Cooking time – 10 to 12 minutes.
Serve – 4
Ingredients –
Carrot – 1 (grated)
French bean – 4 (chopped)
Chopped broccoli florets – 1/2 cup.
Tomato (large) –1 (discard seeds and chop the outer portion)
Onion – 1 (finely chopped.)
Garlic cloves – 2 (finely chopped)
capsicum –1 Chopped.
Salt to taste.
Pepper powder – 1 tsp.
White oil/veg.oil – 1/2 tsp.(for greasing)
Egg white – from 6 eggs.
Roasted peanuts – 2 tbsp.
Fat free milk – 1/2 cup.
Chopped coriander leaves – 2 tbsp.
Instructions –
Grease a non stick pan with a drop of oil and place on low heat. Add all the vegetables (from 1 to 7) and 1/4 tsp.of salt.Cover the pan and saute on slow heat for 3 to 4 minutes (stir in between).
Take out the covered pan from the heat, allow to cool. Whisk egg whites in a large mixing bowl. To this add the sauted vegetables, little salt (if needed),pepper powder, peanuts,milk and coriander leaves. Mix all the ingredients properly. Transfer the mixture to a greased microwave safe bowl. Tap the bowl .Microwave at high power for 5 to 8 minutes.(Depends on the power of microwave).
Healthy veg. muffin is ready. Run a knife around the bowl,invert on a plate. Serve hot, enjoy.