Hi Friends,
Today I am sharing with you a nutritious dish recipe made with mustard leaves. It is a simple recipe,takes few minutes to prepare and with few ingredients. It is a popular Bengali side dish,has slightly bitter flavor.Serve the healthy dish as a first item for lunch.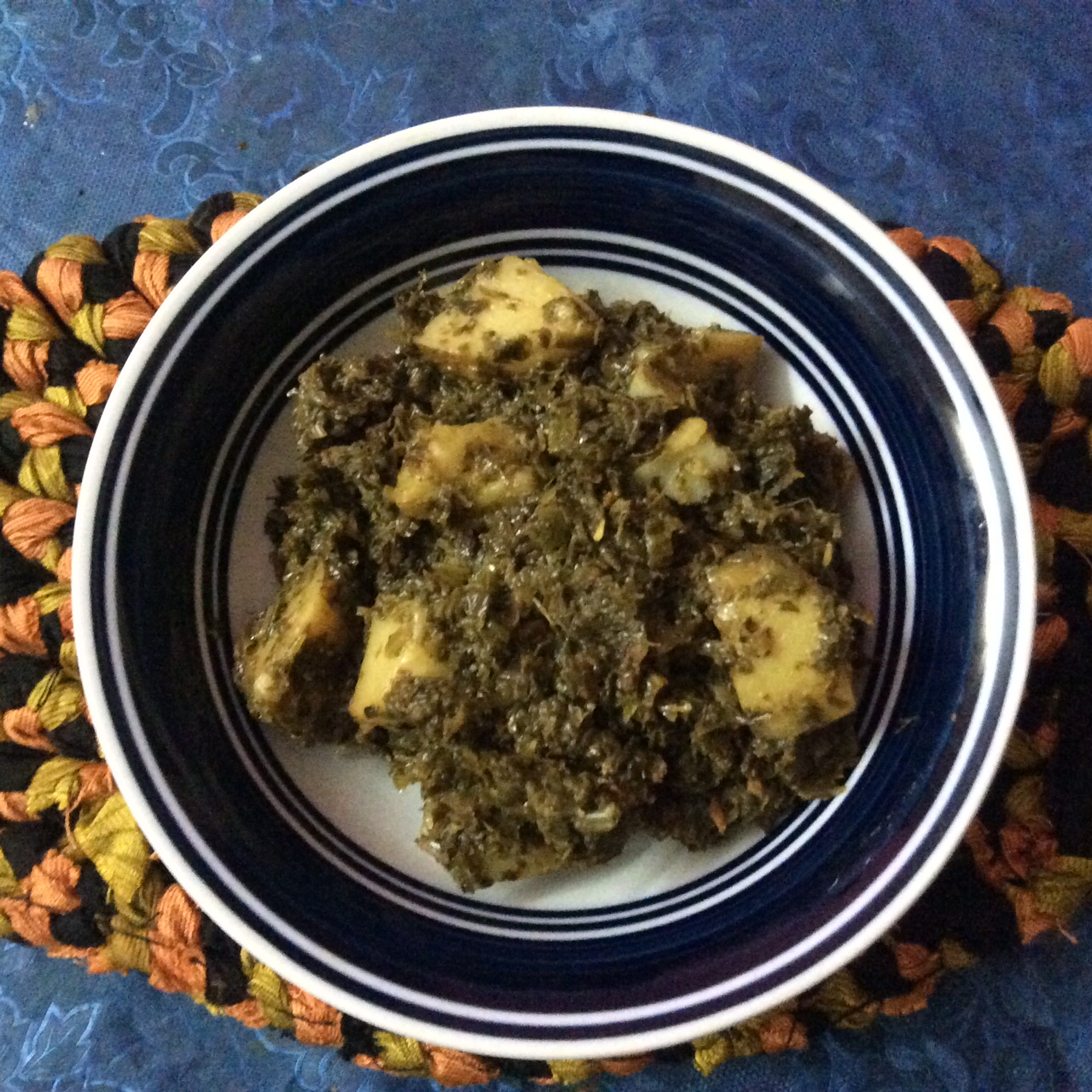 Cooking time – 30 minutes   Serve – 4
Ingredients –
Mustard leaves – 500 grams.
Potato – 1 (cubed)
Onion – 1 (finely chopped)
Garlic paste – 1 tsp.
Ginger paste – 1/2 tsp.
Tomato – 1 (chopped)
Salt to taste.
Sugar – 1/2 tsp.
Green chilly – 2 (chopped)
Oil – 4 tbsp.
Ghee – 1 tsp.(optional)
Wheat flour – 1 tbsp.
Instructions –
Wash the leaves and chop finely. I Chopped the leaves using a food processor. Keep aside. Heat oil in a frying pan, add chopped onion. Fry until light brown. Add cubed potato ,fry for 3 to 4 minutes. Add tomato,ginger,garlic and green chilly. Saute for 2 minutes. Add the chopped leaves,salt. Cover the pan. Cook over medium heat for 7 to 8 minutes. Stir in between.
Now uncover the pan. Add 1/2 cup of water and sugar. Stir and cook for 2 minutes. At last add 1 tbsp.of wheat flour,mix well. Keep cooking till all the water evaporates. Take out the pan from the heat, mix ghee. Cover the pan,give few minutes standing time.
Healthy Mustard Leaves Curry is ready. Serve with steamed rice.