Hi Friends,
Today I am sharing with you a very easy to make diabetic recipe made with lentils and winter vegetables. It is a traditional Bengali recipe and takes few minutes to prepare in pressure cooker. The dish is tasty,healthy and goes well with rice/roti. You can make it in a normal frying pan also.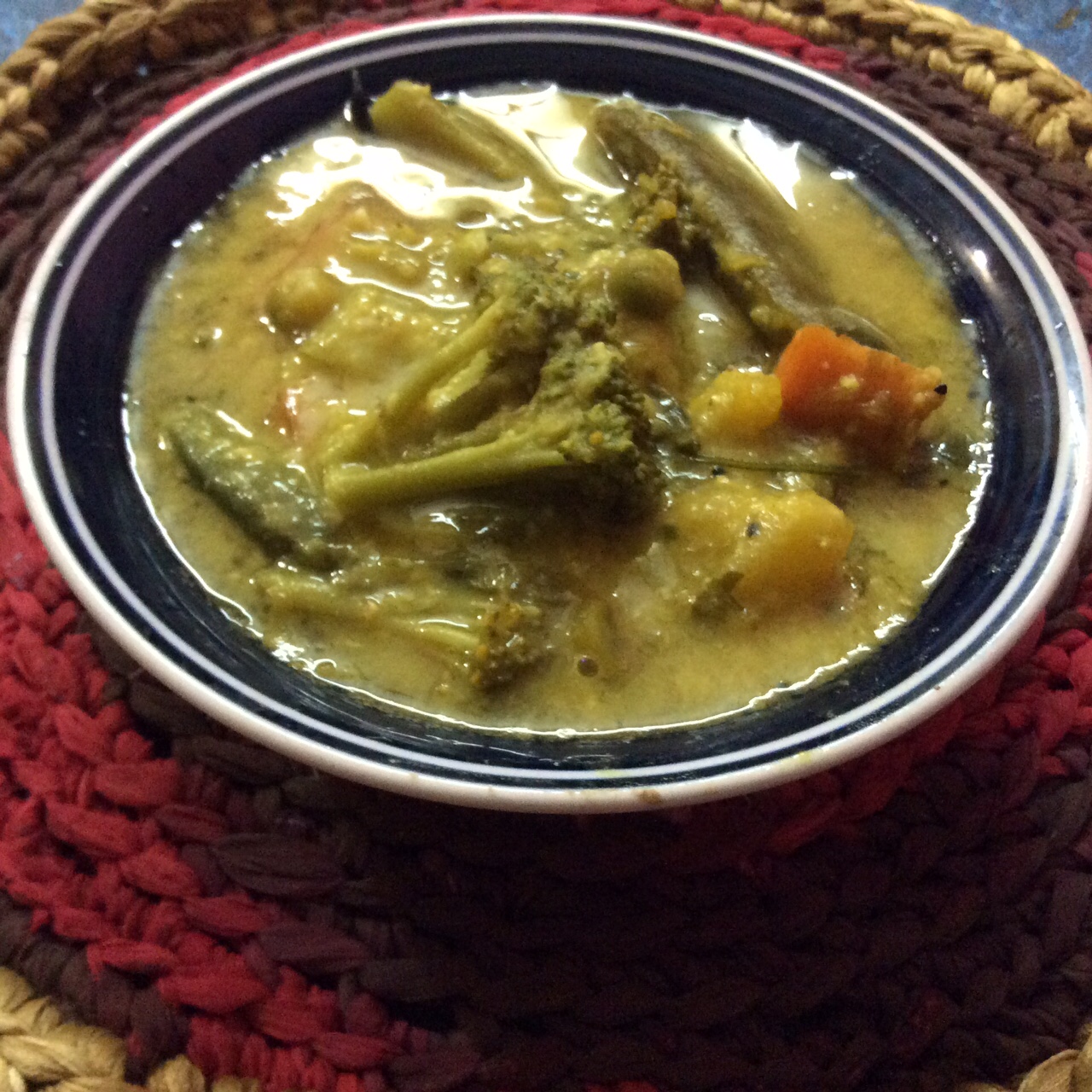 Cooking time – 40 minutes (in frying pan)/15 minutes (in pressure cooker)
Serve – 4
Ingredients –
Red lentils (masoor dal) – 100 grams.
Golden gram(mung dal) – 50 grams.
Tomato (large) – 1 (chopped)
Green peas – 2 tbsp.
Coriander leaves (chopped) – 4 tbsp.
Oil – 1 tsp.
Salt to taste.
Turmeric powder – 1/2 tsp.
Whole red chilly – 1.
Slit green chilly – 4.
Nigella seeds (kalojeera) – 1/2 tsp.
Chopped vegetables – 1 bowl.(Broccoli,Carrot,French bean,Flat bean,Beat root,Pumpkin,Sweet potato)
Instructions –
In a cooker put 2 types of dals,4 cups of water, turmeric powder and 1 tbsp.of salt. Place the cooker on medium heat and cook for 5to7 minutes (or up to one whistle). Allow to cool naturally. Open the cooker add tomato,green peas and chopped vegetables. Close cooker, place on medium heat and cook for 4 to 5 minutes (for one whistle). Remove cooker from heat,allow to cool naturally.
For tempering heat 1 tsp.of oil in a pan. Add whole red chilly and nigella seeds. When the chilly looks brown, add the dal, slit green chilly and little salt and water (if needed). Stir and cook for 3 to 4 minutes. Add the chopped coriander leaves. Remove pan from the heat,cover and give 10 minutes standing time.
Nutritious Vegetables Dal is ready, serve hot with Rice/Roti.
I