Happy New Year To All My Friends,
Today I am sharing with you a moist and fluffy fruit cake recipe made in microwave. It is very quick and easy to prepare and incredibly delicious. In this recipe I used egg, you can omit this. It is a nice cake recipe, you can make it any time In few minutes. (Depends the power of microwave).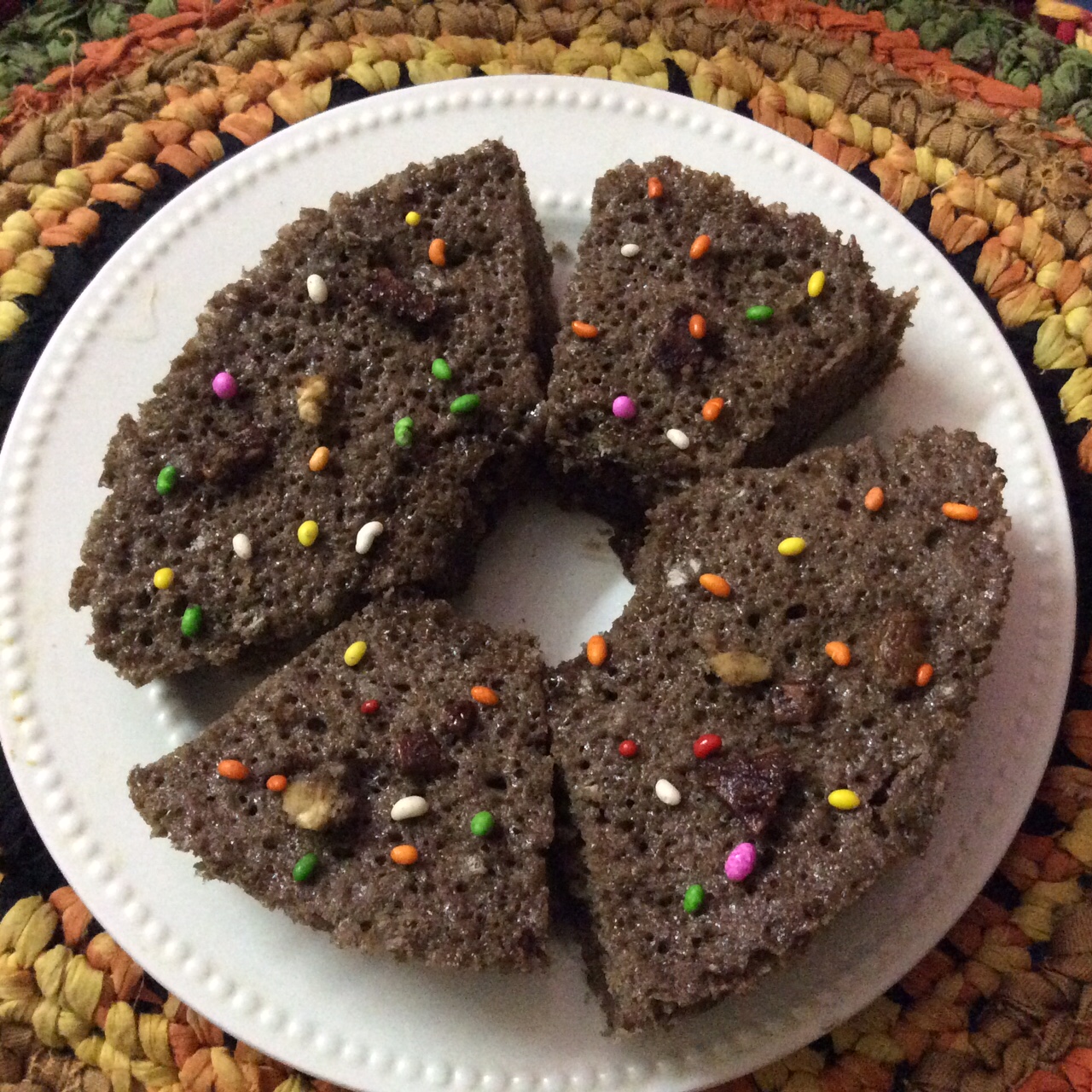 Cooking time – 5 to 8 minutes.   Serve – 4
Ingredients –
Flour (maida)  -( 1+1/4) cups.
Cocoa powder – 2 tbsp.
Baking powder – 1 tbsp.
Baking soda – 1/4 tsp.
Egg – 3
Sugar (powdered) – 1 cup.
Melted butter – 3/4 cup.
Milk – 1 cup.
Vanilla – 1 tbsp.
Dry fruits – 1/2 cup(chopped dates,raisins,cashew)
Chocolate chips – 2 tbsp.(optional)
Water – 1/2 cup.
Instructions –
Grease a microwave safe bowl with butter and dust with 1/2 tbsp.of flour. Take dry fruits,chocolate chips and 1/2 tsp.of flour in a small bowl. Mix them well, keep aside. Sieve flour,cocoa powder,baking powder and baking soda. Cover it, set aside.
Take sugar and butter in a large bowl and beat them for 5 minutes. To this add eggs and beat till fluffy(for 5 to 6 minutes). (Add the eggs one by one.)  Mix vanilla. Now add the sieved flour mixture, fold gently. The cake batter is ready.Pour the batter in the greased bowl and tap the bowl gently(3 to 4 times). Spread the dusted dry fruits and chocolate on top. Pour 1/2 cup of water in a small microwave safe bowl/cup. Now place the cake batter bowl and water bowl in microwave.( It helps to moist the cake.) Microwave at high power for 5 minutes. Insert a tooth pick in the cake. If it is comes out clear, the cake is ready. If the cake is not cooked,microwave for extra few minutes.
Take out the cake bowl from the microwave and place on a wire rack for 10 minutes. Run a knife around the bowl,invert on a plate. Delicious moist Fruit Cake is ready, garnish as per your choice and serve. Enjoy.