Hi Friends,
Today I am posting a very simple snacks recipe made with white bread and stuffed with minced chicken mix (Momo stuffing). It is a deep fried snacks. very quick and easy to prepare at home. This mouth watering snacks can be served as a starter or as a evening snacks with sauce/chutney. It is perfect as a first item for a party. I have made it with minced chicken, you can make veg. version also.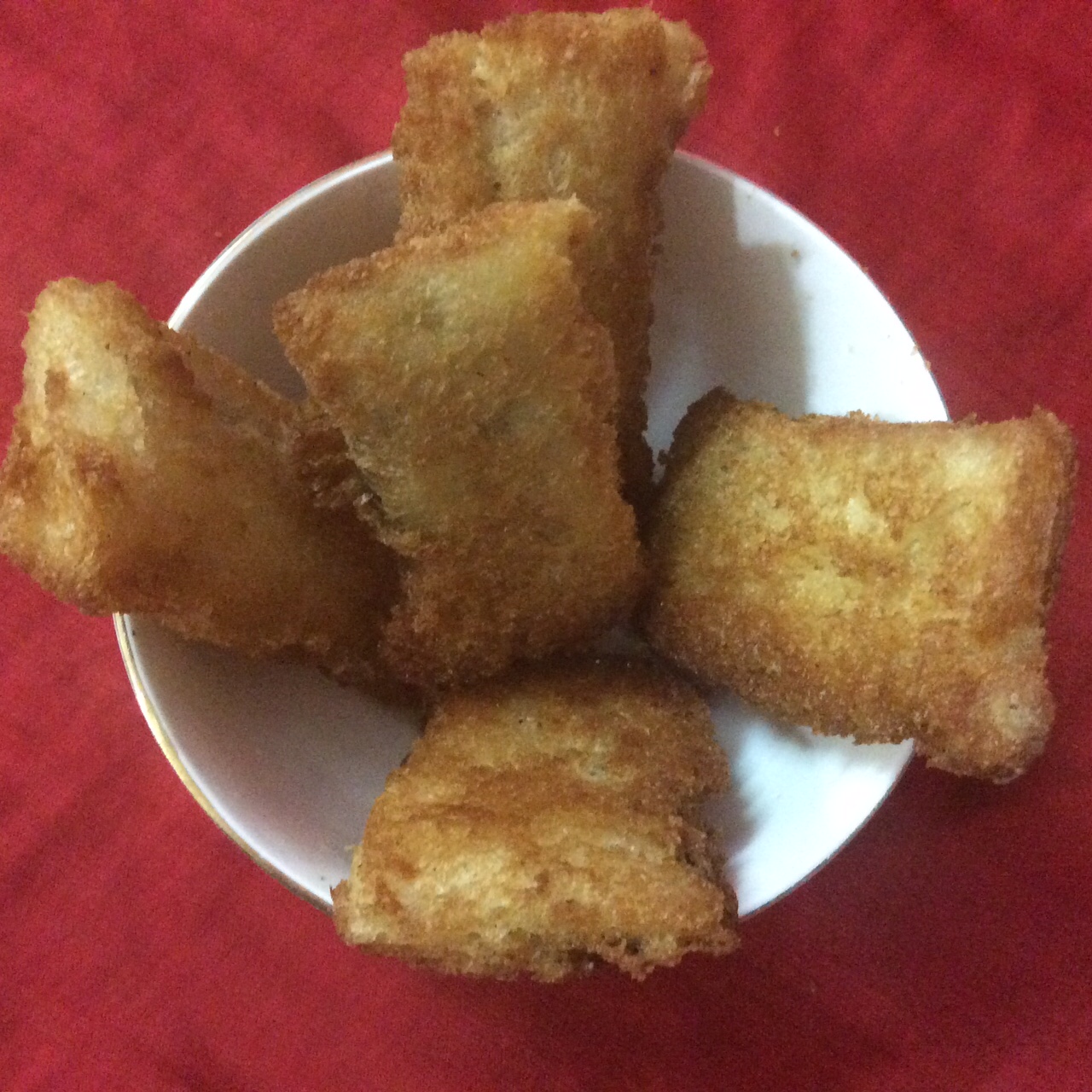 Cooking time – 45 minutes.   Serve – 4
Ingredients –
Bread slice – 8 nos.
Chicken keema(mince) – 200 grams.
Onion – 1 (finely chopped)
Ginger paste – 1/4 tsp.
Garlic paste – 1/2 tsp.
Spring onion (chopped) – 1/2 cup.
Pepper powder – 1/2 tsp.
Green chilly – 2 (chopped)
Soya sauce – 1/2 tsp.
Salt to taste
Sugar – a pinch
White oil.
Instructions –
By adding 3 cups of water boil the chicken keema with ginger-garlic paste, salt and pepper powder. Cook for few minutes to dry out the water completely. Remove pan from the heat.
Heat 1 tbsp.of oil in a frying pan. Add the boiled keema,chopped onion and fry for 2 minutes. Add spring onion,sugar,chopped green chilly and soya sauce. Mix well and saute for 1 to 1+1/2 minutes. The chicken mix should be dry. (you can mix a boiled potato). Remove pan from the heat, allow it to cool.
Cut the edges from bread slices. Take one slice, keep on a rolling surface and using a rolling pin roll it slightly. Put one tbsp.of filling on the slice. Fold the slice gently to cover the filling. Dip your finger in water and wet the open edges. Press gently to seal the open edges. Repeat the same process with rest of the slices.
Heat enough oil in a frying pan. Reduce the heat. Fry 2 to 3 stuffed bread slices till they become light brown on both sides. Now increase the heat, take the fried bread slices with a slotted spoon, keep on paper towels. Again reduce the heat and start the next batch.
Delicious Bread Snacks is ready, serve hot with ketchup/sauce/chutney. Enjoy.