Hi Friends,
Today I am sharing with you a very popular snacks – Dimer Chop recipe. It is a famous street food of Kolkata. The process of making this snacks is very simple. You can easily make it at home. It is a deep fried snacks, can be served as a starter/evening snacks.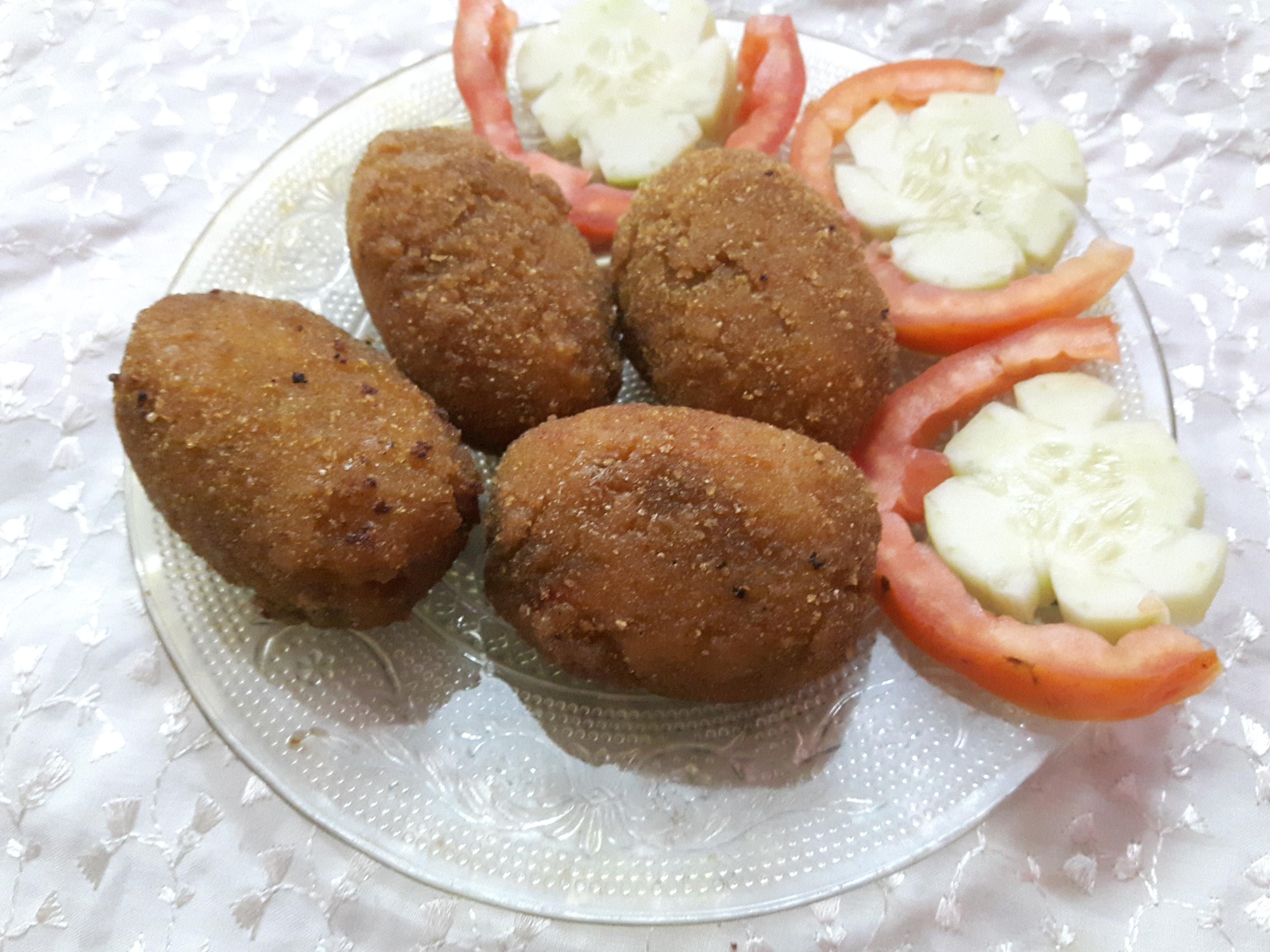 Cooking time – 40 minutes.  Serve – 4
Ingredients –
Egg (hard boiled) – 3
Potato – 500 grams.
Cumin seeds – 1/2 tsp.
Onion (large) – 1
Garlic paste – 1/2 tsp.
Ginger paste –1/2 tsp.
Turmeric powder – 1/2 tsp.
Chilly powder – 1/2 tsp.
Cumin powder – 1/2 tsp.
Salt to taste.
Sugar – 1/4 tsp.
Lemon juice – 1 tbsp.
Garam masala powder – 1/2 tsp.
Flour  – 1 cup
Corn flour – 2 tbsp.
Bread crumbs – 250 grams.
Veg. oil.
Instructions –
Using a knife cut each boiled egg into 4 pieces (lengthwise). Keep all the pieces in a flat dish. Sprinkle a pinch of salt over them.
Pressure cook the potatoes till soft. Peel the skin off. Using a grater grate them well. You can mash the potatoes with potato masher or hand. Heat 2 tbsp.of oil in a frying pan, add the cumin seeds. When the cumin looks brown add chopped onion. Fry till it become light brown. Add ginger,garlic, salt, sugar, 1/2 cup of water and masala powders(turmeric,chilly,cumin). Saute till oil separates. Reduce the heat, add grated potatoes. Mix very well. Stir the potato mixture for 2 to 3 minutes. Remove pan from the heat. Add 2 tbsp.of bread crumbs, garam masala powder and lemon juice. Mix all the ingredients properly. Allow to rest for 10 minutes. Divide the potato into 12 balls. Take one ball, flatten and place one piece of egg in the center. Cover the egg uniformly with the potato and shape it into a full egg.Repeat the same process with rest of the egg pieces.
Spread bread in a tray. In a bowl, add flour, corn flour, a pinch of turmeric powder and 1/2 tsp. of salt. Add water and beat well to make a thin batter. Heat enough oil in a frying pan, when it is hot reduce the heat. Take one egg ball, dip into the flour batter, roll on bread crumbs and drop slowly in the hot oil. Fry until golden brown on both sides. Increase the heat, take out the fried chop with a slotted spoon, keep in paper towels. Fry 3 to 4 balls at a time. Again reduce the heat and start the next batch.
Famous Kolkata Street food – Dimer Chop is ready, sprinkle rock salt and pepper powder and serve hot with salads/ketchup.