Hi Friends,
Today I am posting a popular Bengali sweet Goja recipe. Goja is a deep fried sweet snacks made with flour and dipped in sugar syrup. It can be found in in every sweet shop but not very difficult to make at home. You can easily make this delicious sweet, it takes few minutes to prepare and with few ingredients.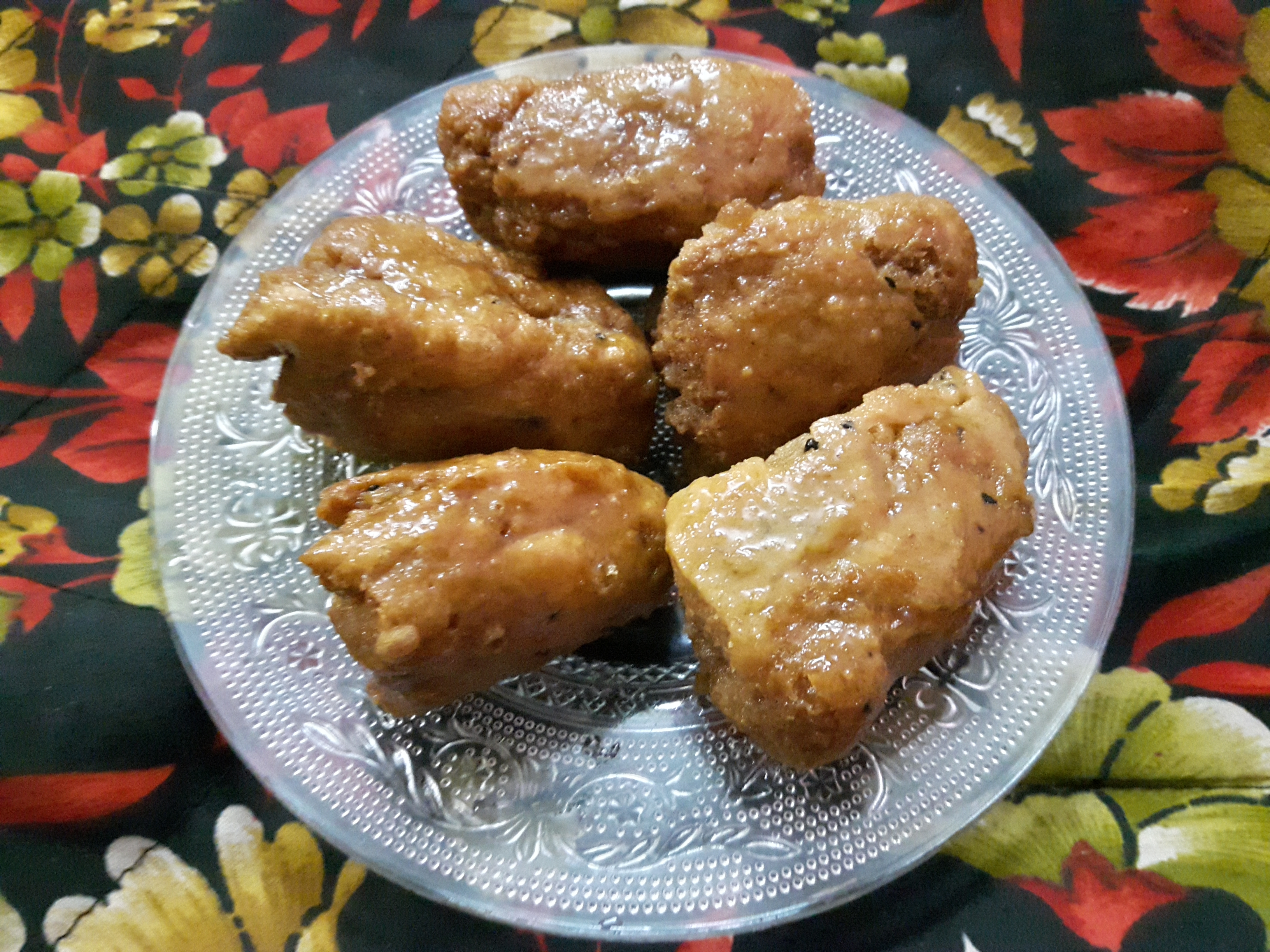 Cooking time – 45 minutes.  Serve – 4
Ingredients –
Plain flour – 1+1/2 cups.
Baking powder – 1/2 tsp.
Baking soda – 1/4 tsp.
Nigella seeds (kalojeera) – 1/4  tsp.
Black cardamom seeds – 1 tbsp.
Salt – a pinch.
Ghee/melted butter/veg.oil  – 1/3 cup. (For the dough)
Ghee + veg.oil  – for deep frying.
For the sugar syrup – Sugar – 2 cups. and water – 1 cup.
Instructions –
Take sugar and water in a pan, place the pan on medium heat. Stir till the sugar dissolves. Cook for few minutes till a thick syrup is formed. Keep it aside.
In a large bowl add flour,salt, baking powder and soda,kalojeera and black cardamom seeds. Mix all the dry ingredients properly. Now add ghee, mix well. With your fingers rub flour mixture for 5 minutes. The should be crumbly (like bread crumbs). Add little water and make a stiff dough. Cover the dough for 30 minutes. Place the dough on a greased tray and give it a thick square shape. Using a knife cut it into small squares. Heat oil and ghee in a frying pan, when it is hot reduce the heat. Add the flour squares, fry in slow flame until light brown on both sides. Now increase the heat and fry in medium flame till golden brown on both sides. Take out the fried goja with a slotted spoon and keep on paper towel to remove excess oil. Fry 4 to 5 pieces at a time.
Warm the sugar syrup, add all the fried goja  and mix gently. After 3 to 4 minutes take out the gojas with a slotted spoon, place on serving tray. Allow it to cool in room temp.
Bengali sweet Goja is ready, serve as a dessert. Hope you will enjoy it.