Hi Friends,
Today I am posting a delicious side dish recipe made with Bottle gourd peels. It is a traditional Bengali recipe, very quick and easy to prepare. It is very tasty to eat, non spicy and goes well with Rice/Roti. You can make the dish with Ash gourd peels also. So do not throw away the gourd peels, make a tasty side dish.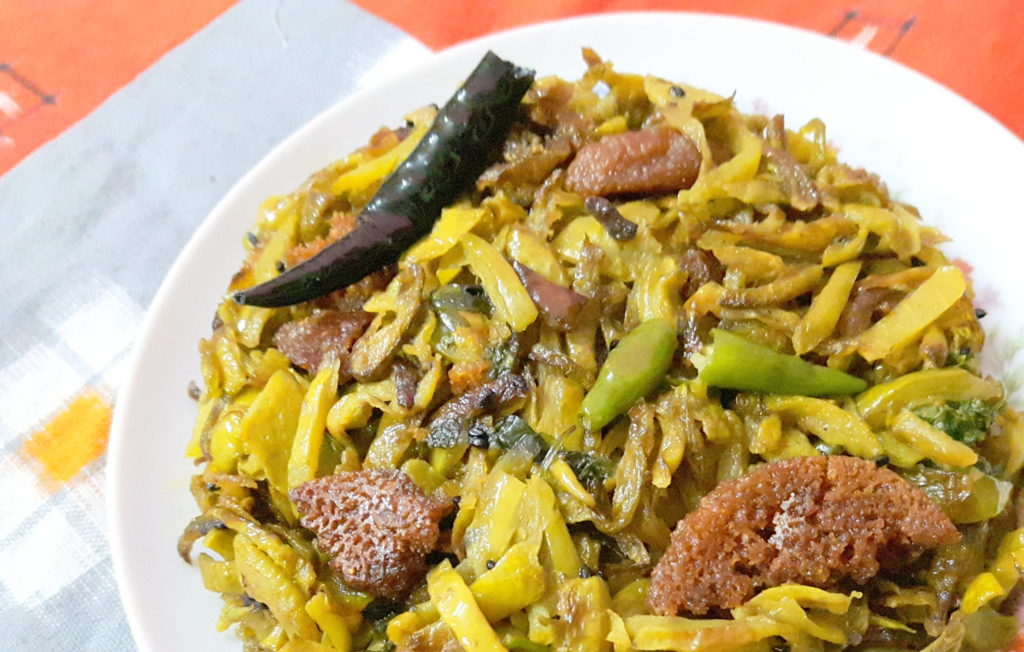 Cooking time – 30 minutes.  Serve – 4
Ingredients –
Gourd peels – From one gourd
Bori (sundried lentil dumplings) – 7/8
Dry red chilly – 1
Nigella seeds(kalojeera) – 1 tsp.
Turmeric powder – 1/2 tsp.
Salt to taste.
Sugar – 1/2 tsp.
Slit green chilly – 2
Chopped coriander leaves – 4 tbsp.
Oil – 3 to 4 tbsp.
Instructions –
Cut the gourd peels into julienne (or as thin as possible). Wash well. By adding 1 tsp.of salt boil it until tender. You can use pressure cooker also. Put them in a colander.
Heat oil in a frying pan,add the Bori and fry till brown on both sides. Take out them from the oil, keep in a bowl and crush slightly with hand. Keep aside. Add dry red chilly in the remaining oil, fry until brown. Add Kalojeera, fry for 30 seconds. Add the boiled peels,turmeric powder,sugar and little salt. Mix well. Fry on slow heat for 7 to 8 minutes. Add the crushed Bori and slit green chilly, stir well. Remove pan from the heat, Mix chopped coriander leaves, cover the pan and give 5 minutes standing time.
Delicious Gourd peels fry is ready. Serve with plain rice as a first item for lunch or as a side dish with dal or roti/paratha.