Hi Friends,
Today I am posting a very simple malpua recipe from Bengali cuisines – it is Banana Malpua. It is very quick and easy to prepare at home and with few ingredients. It is a dry version of malpua, You can soak the malpuas in sugar syrup for extra sweetness (in this case do not add sugar in the malpua batter).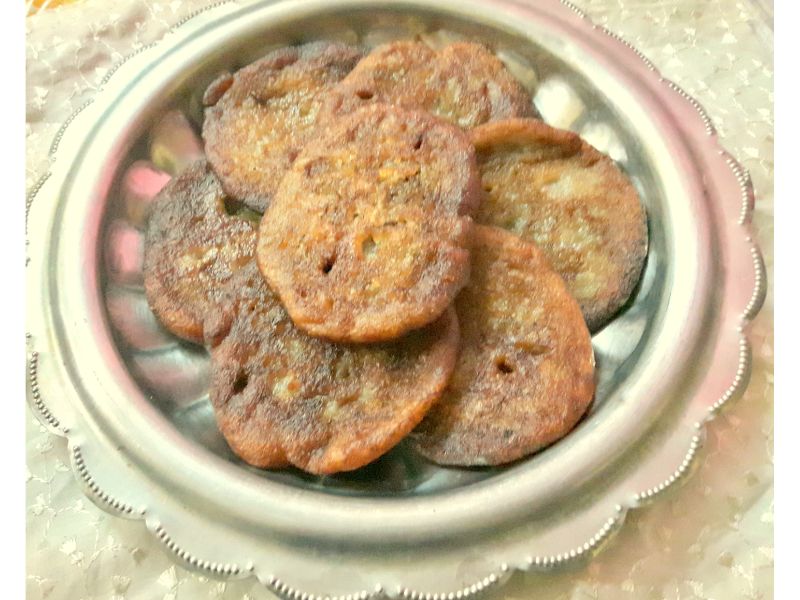 Cooking time – 30 minutes.  Serve – 4.
Ingredients –
Ripe banana (large) – 3 (for 1 cup banana pulp)
Flour (maida) – 3/4th cup.
Semolina (suji) – 1/2 cup.
Black cardamom seeds – 1 tsp.
Fennel (mouri) – 1 tsp.
Sugar – 4 tbsp.(depends on the sweetness of the bananas)
Milk – 3/4th cup.
White oil and ghee – for deep frying.
Instructions –
Take the bananas in a large bowl. Mash them well. To this add flour, semolina, sugar, black cardamom and fennel seeds. Mash all the ingredients very well. Add milk or water little by little ,mix well and make a thick smooth batter (without lumps). The batter should be thick pouring consistency (like cake batter). Cover the bowl, allow it to rest for 30 minutes.
After 30 minutes beat the batter. Heat white oil and 2 tbsp.of ghee in a frying pan. When it is hot reduce the heat. Take 1/2 cup of the batter,pour circular movement into the hot oil to form a small circle (like luchi).Fry on medium heat till light brown on both sides. Take out the fried malpua with a slotted spoon,keep on paper towels. Fry one malpua at a time. Fry all the malpuas in this way and arrange them in a serving bowl. You can garnish with dry fruits.
Bengali Home Made Malpua is ready, hope you will like the recipe.