Hi Friends,
Today I am posting a simple side dish recipe made with black chickpeas. It is a common recipe of chickpeas, healthy,testy and very quick and easy to prepare. It is a popular dish throughout India and can be served with Rice or Roti/Paratha.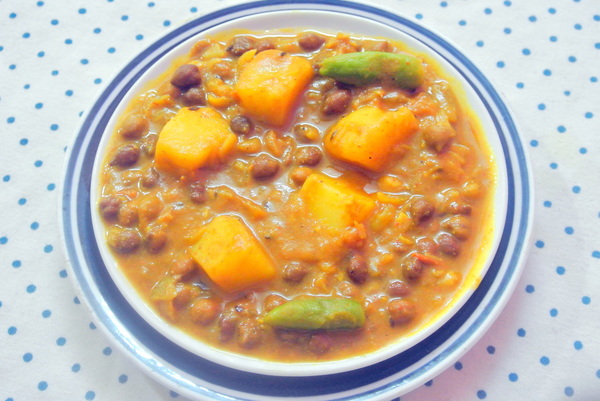 Cooking Time – 30 minutes.  Serve – 4
Ingredients –
Black chickpeas – 200 grams.
Potato (large) – 1(peeled and cut into cubes)
Tomato – 1 (chopped)
Cumin seeds – 1/2 tsp.
Bay leaves – 2.
Garlic – 6 flakes.
Ginger (grated) – 1 tsp.
Turmeric powder – 1/2 tsp.
Red chilly powder – 1/4 tsp.
Cumin powder – 1/2 tsp.
Salt to taste.
Sugar – 1/4 tsp.
Slit green chilly – 4.
Oil – 5-6 tbsp.
Ghee – 1/2 tsp.
Garam masala powder – 1/2 tsp(optional).
Instructions –
Add enough water and soak the chickpeas overnight to soften them. Discard the soaking water. By adding 4 cups of fresh water and 1 tbsp.of salt pressure cook the chickpeas until soft. Transfer the boiled chickpeas to a colander. Grind tomato,ginger and garlic into a paste. Put the paste in a bowl. To this add turmeric,red chilly,cumin powder and 1/2 cu of water. Keep the masala mix aside.
Heat oil in a frying pan. When it is hot reduce the heat, add the potato cubes. Fry on medium heat for 2 minutes. Take out them from the oil, keep aside. Add cumin seeds and bay leaves in the remaining oil. Fry for few seconds. When the cumin looks brown add the masala mix. Cook till oil shows separately. Add the boiled chickpeas, fried potato cubes and 1/2 cups of water. Saute for 2-3 minutes. Add 2 –3 cups of water,salt and sugar. Cover the pan and cook for few minutes. Stir in between. When the gravy starts thickening, remove pan from the heat. Add ghee and garam masala powder, mix well. Cover the pan, give 10 minutes standing time.
Delicious Kala Chana Curry is ready. Serve hot with Rice or Roti/Paratha.