Hi Friends,
Today I am sharing with you a veg. side dish recipe made with Ash gourd and golden gram(mung dal). It is a very authentic Bengali recipe, very simple to prepare and with few ingredients. It is one of the best recipe of Ash gourd, very tasty to eat and also nutritious. Hope you will like the recipe.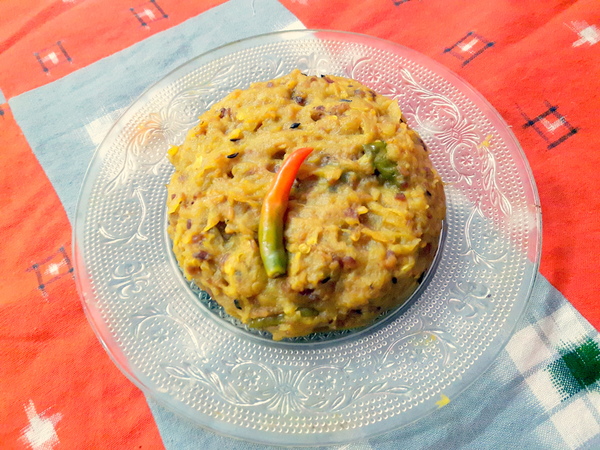 Cooking time – 40 minutes.   Serve 4
Ash gourd – 1 k.g
Mung dal – 200 grams.
Dry red chilly – 1.
Cumin seeds – 1 tsp.
Bay leaf – 1
Ginger paste – 1/2 tsp.
Turmeric powder – 1 /2 tsp
Coriander powder – 1/2 tsp.
Cumin powder – 1/2 tsp.
Green chilly (slit) – 4
Salt to taste.
Sugar – 1/2 tsp.
Ghee – 1 tbsp.
Oil – 4 tbsp.
Instructions –
Take the Ash gourd, peel the skin off and wash. Cut the gourd into 4 parts. Then cut into juliennes. You can use a potato grater also.
Heat 2 tbsp. of oil in a frying pan, Add the gourd, 1/4 tsp.of turmeric powder and 1/2 tsp.of salt. Mix well. Cover the pan and cook for 5 to7 minutes (stir in between). Remove pan from the heat,keep aside.
Place a frying pan on heat. Add the moong dal. Dry roast the dal in slow flame till light brown (stir constantly). Transfer the roasted dal in a bowl. Wash the dal and put in a strainer. Heat 2 tbsp.of in the pan, add dry red chilly and cumin seeds. When the cumin looks brown,add bay leaf. Stir and add ginger paste, turmeric – coriander –cumin powders and 1/2 cup of water. Saute on slow heat till oil separates. Add the roasted dal and 2 cups of water. Cover the pan,cook until the dal is half cooked. (Add little water if needed). Add the cooked Ash gourd, salt, sugar and green chilly. Mix all the ingredients properly. Saute for 3 to 4 minutes. Add 1 to 1+1/2 cups of water, stir and cover the pan. Cook until there is no liquid left.(stir in between).
Remove pan from the heat,mix ghee. Cover the pan,give 7 to 8 minutes standing time.
Delicious Ash Gourd Curry is ready. Serve with Rice/Roti.