Hi Friends,
Today I am sharing with you a popular dessert recipe for festive occasions, it is Kheerer Luchi. It is a home made Bengali sweet recipe and very easy to prepare at home and with few ingredients. It is a deep fried sugary sweet, made with flour and stuffed with mawa(kheer).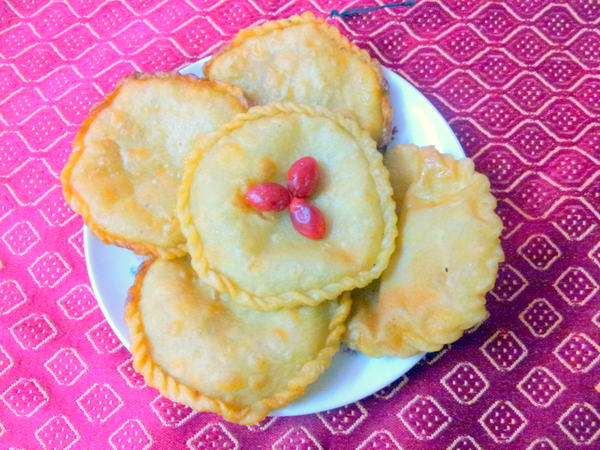 Cooking time – 50 minutes.  Serve – 4
Ingredients – (for the stuffing)
Mawa(kheer)  – 200 grams.
Powdered sugar – 2 tbsp.
Green cardamom powder – 1/4 tsp.
Instructions –
Place a non stick frying pan on slow flame. Add mawa and sugar, mix well. Stir till the mawa becomes soft(for 2-3 minutes). Mix cardamom powder. Remove pan from the heat, allow it to cool. Stuffing is ready.
Ingredients- for the Luchi
Flour (maida) – 2 cups.
Salt – a pinch.
Sugar – 1/4 tsp.
White oil/Ghee – 2 tbsp.
Enough white oil for deep frying.
Instructions –
Take flour,salt and sugar in a mixing bowl. Add 2 tbsp.of oil/ghee. Mix all the ingredients properly. Add water little by little,kneading the flour till a smooth dough is obtained. Cover the dough with a wet cloth for 30 minutes.
Divide the dough into small balls. Flatten each ball and roll into 4 –5 inch diameter circle. Use little oil for rolling. Repeat the same process with the remaining dough. Take one rolled dough(luchi), spread 1 tbsp.of mawa mix over it and cover with other rolled dough(luchi). Seal the edges.
Heat oil in a frying pan. When it is hot reduce the heat. Drop a stuffed luchi into the hot oil. Once it puffs up flip the other side. Take out the fried luchi from the oil when it is light brown in color. Keep it on a paper towel to drain out the excess oil. Fry one stuffed luchi at a time.
To make sugar syrup take sugar (1 cup) and water(1/2 cup) in a pan. Place the pan on medium heat. Stir for 2 minutes. As all the sugar dissolves and the syrup starts boiling, let it simmer for 3 – 4 minutes. Remove pan from the heat.
Take one fried stuffed luchi, dip in the sugar syrup (on both sides) and take out quickly, keep in a flat tray. Repeat for the other stuffed luchis.
Delicious Bengali Home Made Sweet Kheerer Luchi is ready, garnish with Cherry/Raisins. Enjoy.