Hi Friends,
Today I am Sharing with you Fish Rezala recipe. Rezala is a traditional Indian gravy recipe, rich in flavor and incredibly delicious. Generally Rezala is prepared with Mutton or Chicken pieces. But I prepared Rezala with Rohu fish. It is also very testy and very quick and easy to prepare. You can use any big carp (Katla/Mrigal), but the fish should be fresh.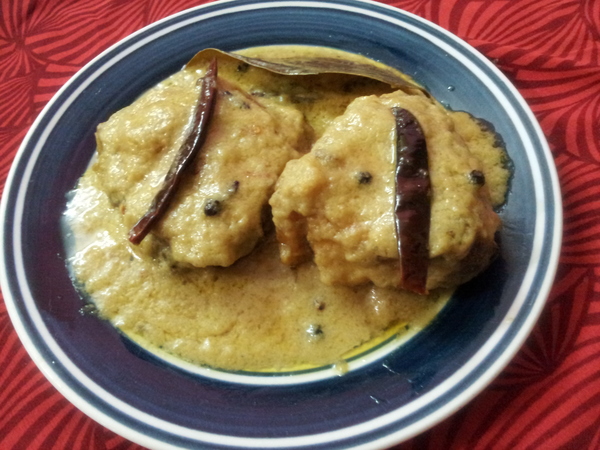 Cooking time – 40 minutes.  Serve – 4
Ingredients –
Fish  – 4 pieces.
Onion (large) – 1(chopped)
Ginger – 1/2 tsp(grated)
Garlic cloves – 4.
Cashew nuts – 8(soaked in water for 3 minutes)
Curd – 1 tbsp (beaten)
Bay leaf – 1
Whole red chilly – 2.
Black pepper corn (whole) – 1 tsp.
Cardamom – 4.
Cloves – 4.
Cinnamon – 1/2 inch.
Salt to taste.
Sugar – 1/4 tsp.
Ghee – 1 tbsp.
White oil – 1/2 cup.
Kewra water – 1/4 tsp(optional)
Instructions –
Wash the fish and marinate with 1/2 tsp.of salt, keep aside until use. Boil the chopped onion in 1 cup of water for 2 minutes and drain. By adding little water grind the boiled onion,grated ginger and garlic cloves into a paste. Keep aside.
Heat oil in a frying pan. When it is hot reduce the heat. Add the fish pieces and fry on slow flame till light brown on both sides. Take out the fried fish from the oil,keep aside.By adding 1/2 cup of water grind cashew nuts to a smooth paste.
In the remaining oil, add dry red chilly, pepper corn,bay leaf, cardamom,cloves and cinnamon. Allow them to splutter. Add onion-ginger-garlic paste. Saute till oil separates. Add the cashew nut paste and ghee, saute for 2 minutes. Add 3-4 cups of water, stir and let it bring to boil. Add salt, sugar and fish pieces. Cover the pan, cook for 4 to 5 minutes. Stir in between. Add the beaten card, mix slowly and cook for another 2 minutes. Add little warm water if needed. When the gravy starts thickening remove pan from the heat. Mix Kewra water, cover the pan and give few minutes standing time.
Delicious Fish Rezala is ready, serve with plain rice/pulao/fried rice.