Hi Friends,
Today I am posting a healthy side dish recipe made with Drumsticks and Potato. It is a Bengali recipe and very simple to prepare. The dish is non spicy and perfect for summer.It is a semi dry dish, can be served as a side dish with rice/roti or paratha.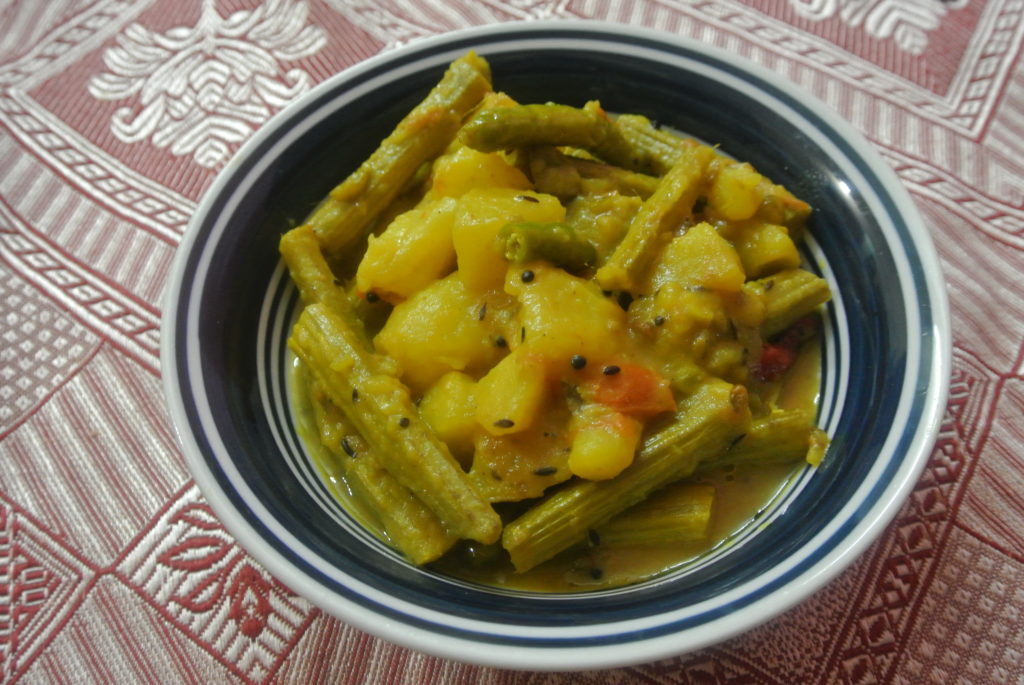 Cooking time – 30 minutes   Serve – 4
Ingredients –
Drumstick – 300 grams.
Potato (large) – 1 (peeled and cut into small cubes)
Boiled potato (medium) – 1
Nigella seeds (kalonji) /Cumin seeds – 1/2 tsp.
Turmeric powder – 1/2 tsp.
Slit green chilly – 4.
Tomato (medium) – 1 (chopped)/it is optional.
Salt to taste.
Sugar – 1/4 tsp.
Oil – 2 tbsp.
Ghee – 1/2 tsp(optional)
Instructions –
Take the drumsticks,peel the skin off and cut into long pieces. Wash the drumsticks and potato cubes separately, keep aside.
Take the boiled potato in a bowl. By adding 1 cup of water mash it well, keep aside.
Heat oil in a frying pan, add kalonji and fry for 30 seconds. Reduce the heat. Add the potato cubes and drumsticks, fry for 2 minutes. Add salt,tomato and turmeric powder, saute for 3 to 4 minutes. Add the mashed potato, mix well and stir for 2 minutes. Add 2 to 3 cups of water, sugar and slit green chilly. Cover the pan and cook over medium heat until the vegetables are cooked (stir in between). When the gravy starts thickening, remove pan from the heat. Mix ghee, cover the pan, give 5 to 6 minutes standing time.
Tasty and healthy Drumstick gravy is ready, serve as a side dish.