Hi Friends,
Today I am posting a testy Snacks recipe made with Chana dal Bora (fritters). It is a simple snacks recipe, very quick and easy to prepare and with few ingredients. To this recipe you can use Masoor dal also. You can take it as a side dish with rice and dal, but it is goes well as a evening snacks with a cup of tea.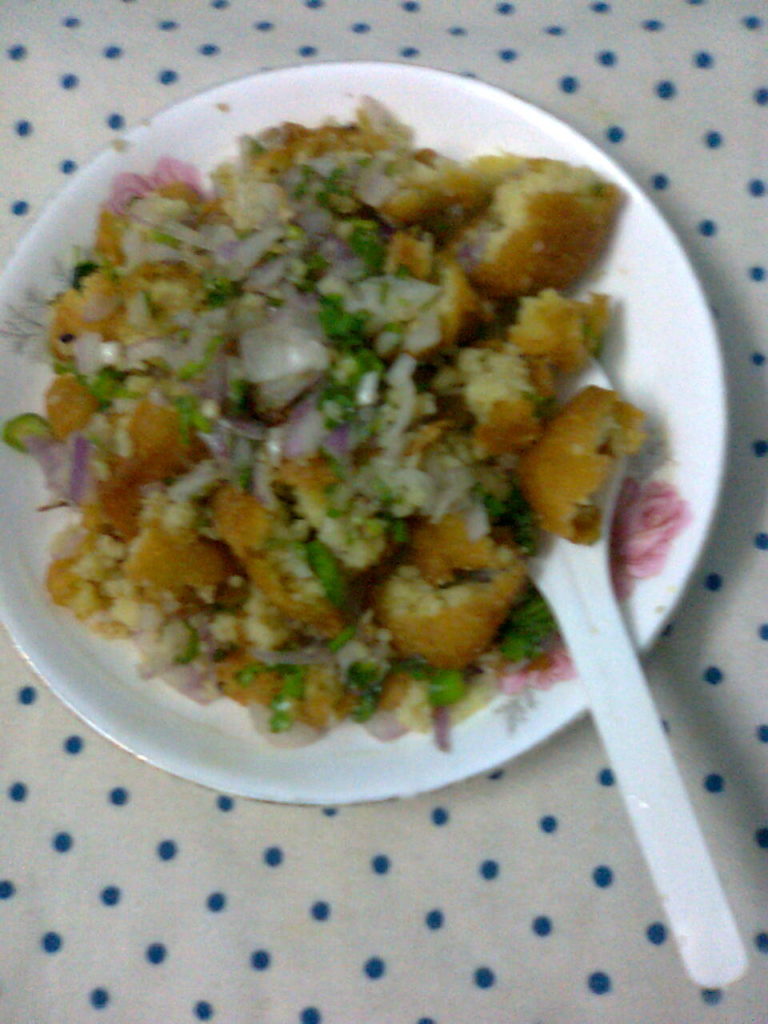 Cooking time – 20 minutes.  Serve – 4
Ingredients –(for the fritters)
Chana dal  250 grams.
Nigella seeds (kalonji) – 1/2 tsp.
Turmeric powder – 1.2 tsp.
Salt to taste.
Baking soda – a pinch.
Oil for deep frying.
Soak the chana dal for 3 to 4 hours and drain. Grind to a paste. Put the dal paste in a mixing bowl. To this add salt ,turmeric powder, kalonji and 2 tbsp.of water. Mix all the ingredients and beat the paste until fluffy. At last add baking soda, beat for 2 minutes.
Heat enough oil in a frying pan, when it is hot reduce the heat. Make small balls with the paste and drop into the hot oil. Drop 7 to 8 balls at a time. Fry on slow flame until brown and crispy. Increase the heat, take out the fried balls with a slotted spoon,keep on paper towels. Repeat the same process with rest of the dal paste.
Ingredients – (for the chat)
Onion (large) – 1 (finely chopped)
Grated ginger – 1 tsp.
Green chilly – 2 (finely chopped)
Finely chopped coriander leaves – 4 tbsp.
Lime juice – 1 tbsp.
Bhujia/Jhuri bhaja – 1/2 cup.(Optional)
Take all the fried balls in a flat bowls. Tear them into pieces. To this add onion,ginger,chilly and coriander leaves. Mix all the ingredients lightly. Mix lime juice. Finally spread Bhujia/Jhuri bhaja on top.
Delicious Dal Bora Chat is ready,Enjoy.