Hi Friends,
Today I am posting easy to make Jhuri Aloo Bhaja recipe. It is a traditional Bengali recipe and takes few minutes to prepare. It is very crispy and can be served as a tea time snacks or with steamed rice and dal.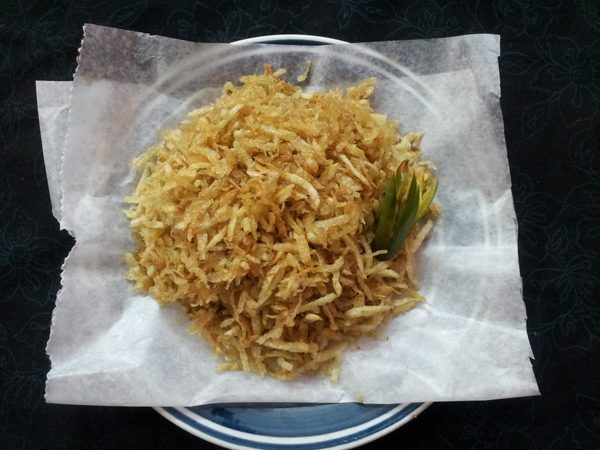 Cooking time – 20 minutes.  Serve – 4
Ingredients –
Potato (large) – 2
Oil for deep frying.
Salt and pepper – as per taste.
Instructions –
Take the potatoes,peel the skin off and shred very thinly (using a grater/knife). Rinse the potatoes until water is clean. Put the potatoes in a colander and squeeze dry. Then put them in a kitchen towel/cotton cloth and gather the cotton cloth in your hand, squeeze to release as much liquid as possible. Tie the cloth , keep it in a bowl and refrigerate it for some times(at least 30 minutes).
Heat oil in a frying pan, when it is hot reduce the heat. Group potatoes into 4 batches. Fry each batch till they become crisp and light brown (stir occasionally). Take out the fried potato with a slotted spoon and drain on paper towels. Season with little salt and pepper powder.
Crispy and crunchy Jhuri Aloo Bhaja is ready to serve. You can take it with ghee and hot rice as a first item for lunch.