Hi Friends,
Today I am sharing with you a unique fritters recipe made with Aam Ada (Mango-ginger/turmeric). It is a famous street food in Kolkata,delicious and very simple to prepare. You can make it easily at home and with few ingredients.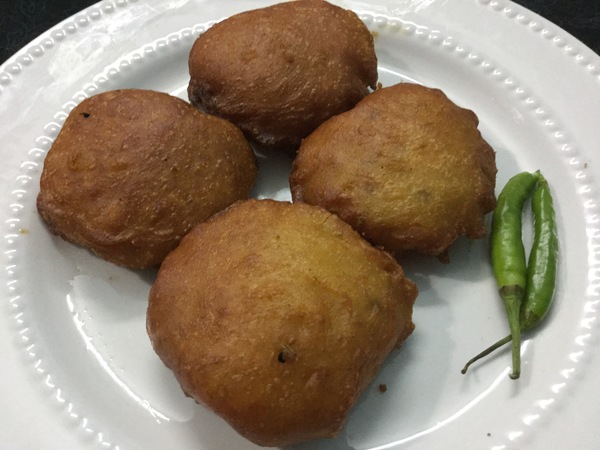 Cooing time – 40 minutes.  Serve – 4
Ingredients –
Aam Ada – 1 inch.
Potato (large) –2
Garlic paste – 1/2 tsp.
Red chilly powder – 1/2 tsp.
Salt to taste.
Sugar – a pinch.
Cumin powder – 1/4 tsp.
Coriander powder – 1/4 tsp.
Bread crumbs – 1 tbsp.
Oil for deep frying.
Instructions –
Using a grinder, grind Aam Ada into a paste or you can grate it also. Transfer it to a bowl and cover the bowl with a lid. Keep aside.
By adding 4 cups of water pressure cook the potatoes (with skin) till soft. Peel the skin off and mash well. You can grate the boiled potatoes also. Take the mashed potato in a large bowl. To this add Aam Ada, garlic, chilly,cumin,coriander,salt and sugar. Mix all the ingredients. Now heat 2 tbsp.of oil in a non stick frying pan. Add the potato mixture and saute for 3 to 4 minutes with stirring continuously. Remove pan from the heat, mix the bread crumbs. Allow it to cool naturally.
Divide the potato mixture into small balls (lemon size) and flatten. Keep them in a tray. You can keep the tray in a refrigerator.
Ingredients for the batter –
Gram flour (Besan) – 2 cups
Kalonji (Nigella seeds) – 1/2 tsp.
Turmeric powder – a pinch.
Red chilly powder – 1/4 tsp.
Salt to taste.
Oil – 2 tbsp.
Baking soda – a pinch.
Instructions –
In a large mixing bowl take all the ingredients for the batter and mix well. Now add cold water and make a thick batter (pouring consistency). Beat the batter for 7 to 8 minutes. The batter should be fluffy.
Heat 2 cups of oil in a frying pan, when it is hot reduce the heat. Dip one potato ball in the Besan batter, coat well and drop into the hot oil. Drop 2 to 3 balls at a time. Fry on slow flame until they turn golden brown in color on both sides. Increase the heat, take out the fried chop with a slotted spoon and keep on paper towels.
Aam Adar Co is ready, sprinkle rock salt and pepper powder and serve hot as a tea time snacks with a cup of tea.