Hi Friends,
Today I am sharing with you a mouthwatering dessert recipe made with orange. It is a popular Bengali dessert recipe, made in winter season. The recipe is very simple, quick and easy to prepare and needs very few ingredients. The dessert is refreshing and perfect for a party.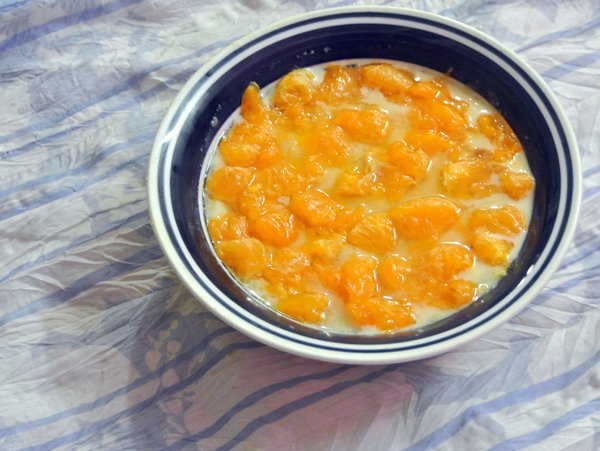 Cooking time – 40 minutes.  Serve – 2
Ingredients –
1.Orange – 2 nos.
2.Full cream milk – 1 liter.
3.Sugar – 6 tbsp (or as per test)
Instructions –
Take the milk in a heavy bottomed pan. Place the pan on medium heat and bring it to boil. Stir continuously to prevent it from burning at the bottom.Now reduce the heat. Simmer till 1/4th quantity is left. Add 2 tbsp.of sugar. Mix well.Once the sugar is dissolved and the milk is thick (kheer like consistency) remove pan from the heat. (You can use milk powder to thicken the milk). Transfer the milk in a glass bowl, allow to cool at room temp. Then refrigerate it for at least 1 hour.
Take 4 tbsp.of sugar and 4 tbs.of water in a pan. Place the pan on medium heat. Stir till sugar is dissolved. Boil for very few minutes till a thick syrup is found. Remove pan from the heat, allow it to cool. Keep the sugar syrup aside.
Take orange, peel the skin off. Discard all the white fibers. Separates the segments. Discard the thin skin from each of the segment and cut into small pieces. To this add the sugar syrup and mix them softly (to remove the sourness of the orange). Keep aside until use.
After 1 hour take out the milk bowl from the refrigerator. To this add the orange pieces and mix softly. Garnish with few pieces on top.
Delicious Orange Kheer is ready to serve. Enjoy.