Hi Friends,
Today I am posting very soft and easy to make Puli Pitha recipe. Puli Pitha is a famous sweet dessert, made in winter season and very popular throughout West Bengal and Bangladesh. This delicious sweet is made with rice flour and stuffed with coconut mix.You can easily make it at home. But here is a little twist. In this recipe I have used baking powder to soften the pithas.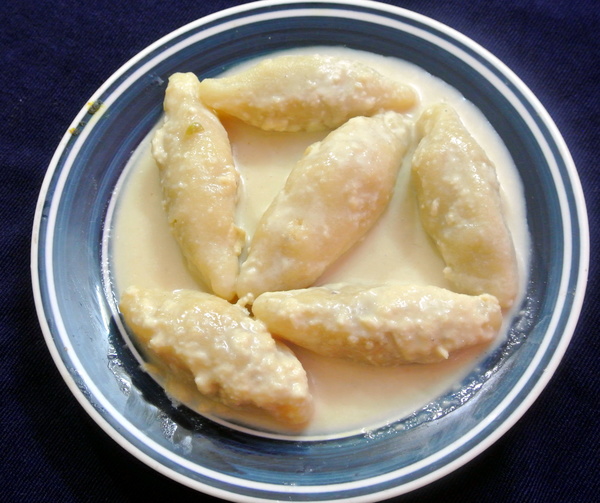 Cooking time – 45 minutes.  Serve – 4
Ingredients – for the fillings
Shredded coconut – 1+1/2 cups.
Palm date jaggery (khejur Gur) – 1/2 cup.(crushed)
Ingredients – for the Puli Pitha
Rice flour – 1+1/2 cups
Baking powder – 1/2 tsp.
Milk (full cream) – 1+1/2 liters.
Date palm jaggery – 1/2 cup.(Crushed)
Sugar – 1 tbsp.
Crushed green cardamom – 4   OR cardamom powder – 1/2 tsp.
Instructions –
Mix coconut and 1/2 cup of jaggery in a frying pan. Stir on slow flame till the mixture becomes sticky. Transfer it to a bowl, keep aside.
Take rice flour and baking powder in a bowl. Mix them properly. Add boiling milk or water and stir continuously with a ladle. After 3 to 4 minutes knead the flour with hand and make a nice soft dough. Cover the bowl with lid, allow it to rest for 10 minutes. After 10 minutes knead the dough again and divide into small balls. Take one ball,flatten on palm and fill little coconut mix on it. Cover from all sides. Seal the edges, make sure fillings does not come out, roll it slightly and give the shape of puli. Repeat the same process for the remaining balls. Cover the puli with a lid or towel, keep aside.
Boil the milk in a pan. Drop the Puli one by one in the boiling milk. When they start floating on the top of the milk (for about 4 to 5 minutes) add 1 tbsp.of sugar. Stir slowly and cook for 2 minutes. Add 1/2 cup of crushed jaggery, mix slowly and cook for 4 to 6 minutes.
Remove pan from the heat, mix cardamom, cover the pan. Allow it to cool at room temp.
Bengali Winter Dessert – Puli Pitha is ready. Enjoy.