Hi Friends,
Today I am sharing with you a delicious fritters/bora recipe made with fish oil. It is a typical Bengali recipe and very testy to eat. The recipe is very simple and takes few minutes to prepare. You can take oil from Hilsa/Rohu/Katla etc. But the fish should be fresh. It tastes well when served hot. So fry the fritters just before eating.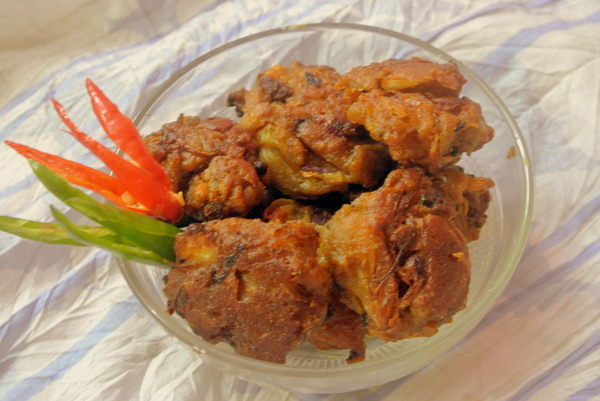 Cooking time – 20 minutes.   serve – 4
Ingredients –
Fish oil – 1  bowl.
Turmeric powder – 1/2 tsp.
Salt to taste.
Ginger paste – 1/2 tsp.
Garlic paste – 1/2 tsp.
Onion (large) – 1 (finely chopped)
Green chilly – 2 (finely chopped)
Garam masala powder – 1/4 tsp.
Wheat flour or Rice flour – 1 bowl.
Lime juice – 1 tbsp.
Oil – 2 tbsp.
Wash the fish oil well. To reduce the fishy smell from the oil marinate it with 1/2 tsp.of salt, 1/2 tsp.of turmeric powder and 1 tbsp.of lime juice. Keep it aside for 10 minutes. After 10 minutes again wash the fish oil and put in a colander. Chop the fish oil and put in a mixing bowl. To this add ginger-garlic paste, salt, Chopped onion and green chilly, garam masala powder and wheat or rice flour. Mix all the ingredients properly and make a thick paste. Add extra flour if needed.
Heat 2 tbsp.of oil in a frying pan. When it is hot reduce the heat. Take a little portion of the mixture, make 3 to 4 balls and place on the oil. Cover the pan (the fish oil tend to scatter). Fry on slow flame till golden on all sides. Do not add extra oil, because while frying the fish oil will release oil. Take out them from the pan and keep on paper towels.
Fish Oil Fritters is ready, serve hot with plain white rice.