Hi Friends,
Today I am posting a very easy to make snacks recipe made with bread. It is a deep fried snacks,stuffed with chicken keema and can be made very quickly. It can be served as a tea time snacks. They are less expensive, because you can use left over chicken/mutton pieces. (Take the meat pieces,shred them and mix with boiled potato,onion,chilly,pepper, capsicum and tomato sauce).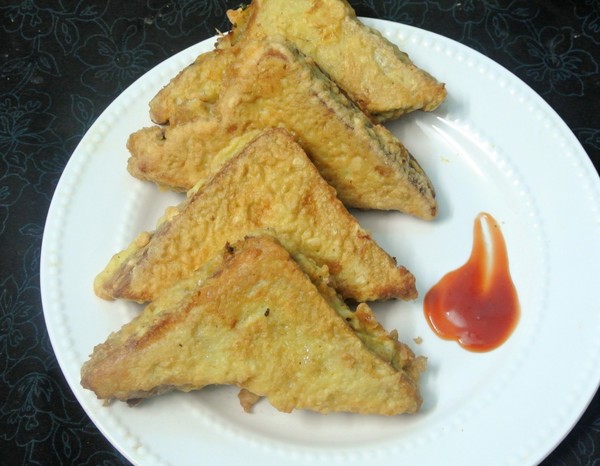 Cooking time  – 45 minutes.    Serve – 4
Ingredients –
Bread slice  – 8
Chicken keema – 250 grams.
Bay leaf  – 1
Ginger paste – 1/4 tsp.
Garlic paste – 1/2 tsp.
Garam masala powder – 1/2 tsp.
Salt to taste.
Butter/white oil – 1 tbsp.
In a pan add keema,bay leaf,ginger-garlic paste,salt,garam masala powder. Mix all the ingredients. Cover the keema with water.Cook on medium heat until the keema is tender and the water gets dried out. Add 1 tbsp.of butter and mix well. Saute for 2 to 3 minutes. Remove pan from the heat.Discard bay leaf and let it cool.
Ingredients
Potato – 1 (boiled and mashed)
Onion – 1 (chopped0)
Green chilly – 2 (chopped)
Capsicum – 1 (cut into thin slices)
pepper powder  – 1/2 tsp.
Tomato sauce – 1 tbsp.
Salt – a pinch.
In a large bowl add the cooked keema. To this add potato,onion,chilly,capsicum,pepper and tomato sauce. Add little salt. Mix all the ingredients properly. Stuffing is ready.
Ingredients (for the batter)
Flour (maida)- 1 cup.
Corn flour – 2 tbsp.
Salt to taste
In a bowl mix all the ingredients for the batter. Add water to make a batter (medium thick in consistency/like creps batter). Beat well. Take one slice of bread, spread the keema mixture and cover with another slice. Press slightly. Cut into halves (diagonally). Repeat the same process with all the slices.
Heat 50 grams of white oil in a frying pan. When it is hot reduce the heat. Take one stuffed bread, dip in the batter and drop in hot oil. Fry till light brown on both sides. Increase the heat and take out the fried bread from the oil, keep on paper towels. Fry 2 stuffed breads at a time.
Delicious Bread Snacks is ready, enjoy it with tomato ketchup.