Hi Friends,
Today I am posting Doi Potol recipe. It is one of the famous recipe of Potol and very tasty to eat. It is a traditional Bengali recipe, very popular throughout Bengal. It is a simple dish and very quick and easy to prepare. It can be served with rice/fried rice/pulao or roti/paratha. It is a veg. dish, but you can add onion and garlic also.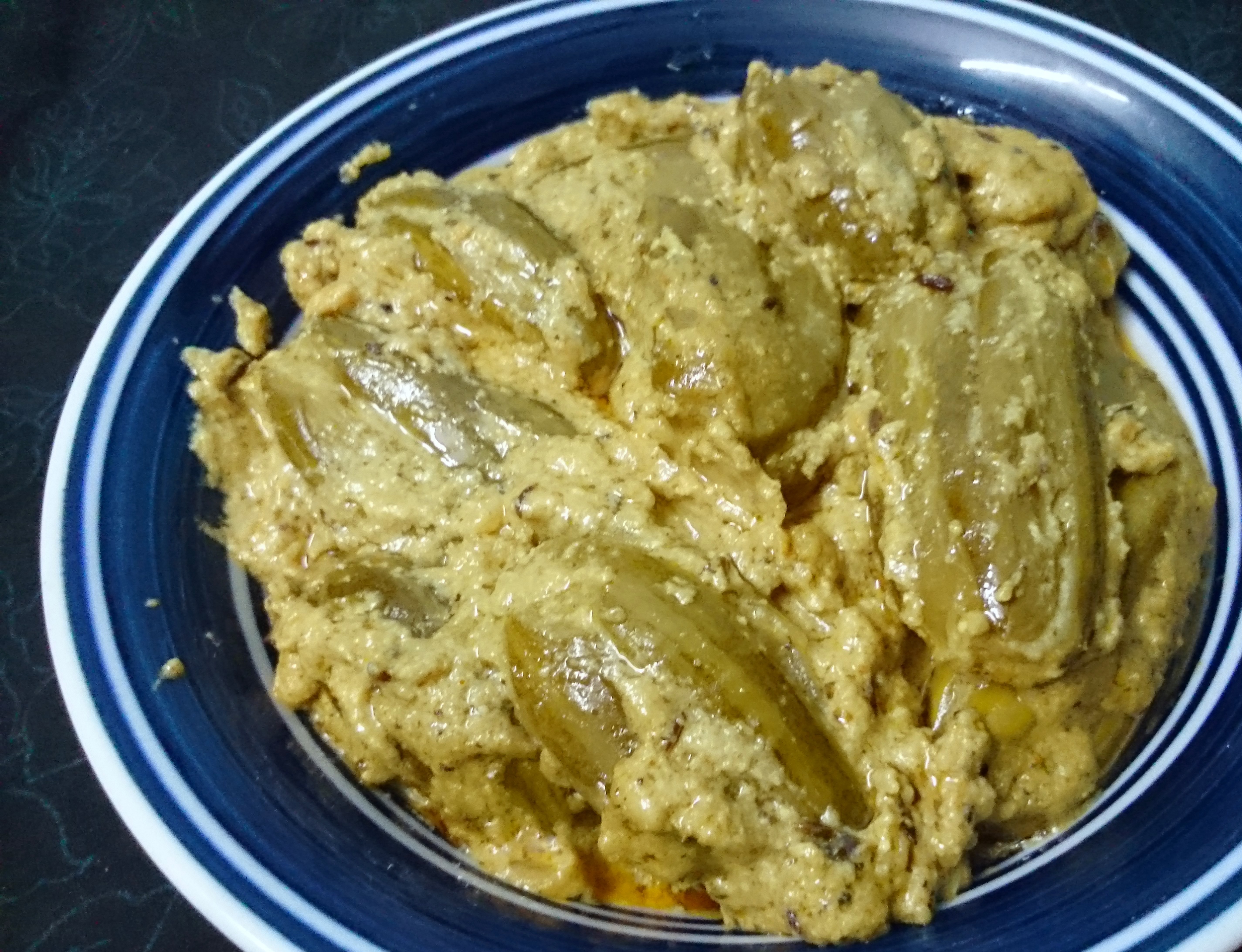 Cooking time – 40 minutes  Serve – 4
Ingredients –
Potol  – 500 grams.
Yogurt/Curd – 2 tbsp.
Cashew nuts – 10 nos.
Ginger paste – 1/2 tsp.
Cumin seeds – 1/2 tsp.
Coriander powder – 1 tsp.
Cumin powder – 1/4 tsp.
Chilly powder – 1/4 tsp.
Salt to taste –
Sugar – 1/2 tsp.
Oil – 1/2 cup.
Ghee – 1 tsp.
Garam masala powder – 1/2 tsp.
Raisins – 25 grams.
Green chilly – 4.
Slit green chilly – 4.
Instructions –
Scrape the Potols and wash well. (You can peel them also). Slit in two ends (do not cut into halves). Marinate with 1/4 tsp.of salt,keep aside. By adding little water grind cashew nuts and 4 green chilly into a paste. Transfer the paste to a bowl. To this add chilly-cumin-coriander powders, ginger paste and 1/2 cup of water. Mix well, keep the masala mix aside. Put yogurt/curd in another small bowl. To this add raisins,slit green chilly and 1/2 cup of water.Mix well, keep the yogurt mix aside.
Heat oil in a frying pan,when it is hot reduce the heat.Add the Potols. Cover the frying pan with lid. Fry the Potols on medium heat till light brown on both sides. Take out from the oil,keep aside. Add cumin seeds in the remaining oil and fry for few seconds. When the cumin looks brown add the masala mix. Saute till oil separates. Add 1 +1/2 cups of water, let it bring to boil. Add the fried Potols,salt and sugar. Cook till the Potols are soft. Add the yogurt mix and stir. Cook till all the water evaporates. Mix ghee and garam masala powder. Remove pan from the heat,cover and give 10 minutes standing time.
Delicious Doi Potol is ready to serve.
.