Hi Friends,
Today I am posting a nutritious sukto recipe made with vegetables and lal shak.It a traditional Bengali recipe and very simple to prepare. In East Bengal (now Bangladesh) it is called "Dhula Shak Sukto". Actually Dhula shak is a special variety of lal shak with pale red leaves and hollow stems. In this recipe I have used Dhula shak. You can use any variety of lal shak.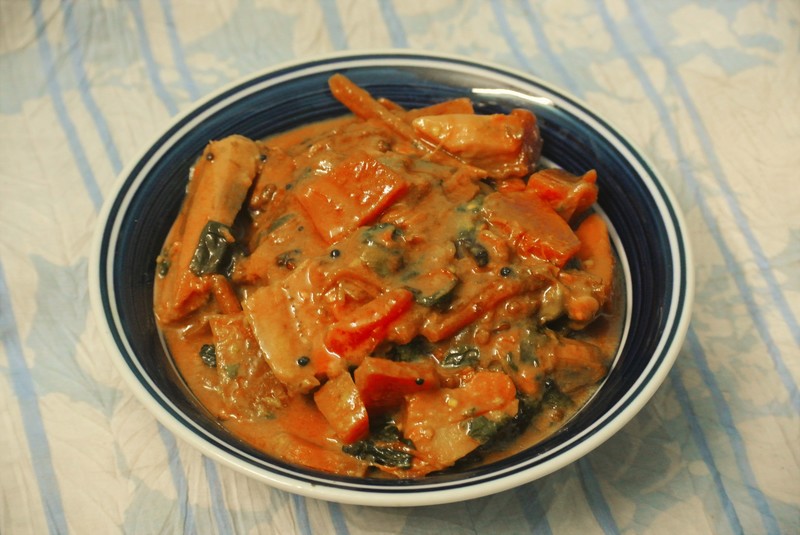 Cooing time – 30 minutes.  Serve – 4
Ingredients –
Lal shak – 400 grams.
Potato (small) – 1 (cut into cubes)
Eggplant (small) – 1 (cut into cubes)
Chopped raw papaya – 1/2 cup.
Raw banana – 1 (cut into pieces)
Ridge gourd – 1 (peeled and cut into cubes)
Pointed gourd (potol) – 2 (peeled and chopped).
Bay leaves – 2.
Ginger paste – 1/2 tsp.
Mustard seeds – 1 tsp.
Turmeric powder – 1/4 tsp.
Salt to taste.
Sugar – 1/4 tsp.
Oil – 1 tbsp.
Ghee  1 tbsp.
Instructions –
Take the good leaves and chop roughly. Remove the soft skin of the stems and cut into pieces. Wash and put in a colander. Keep aside. Wash all the vegetables.
Heat oil in a frying pan. Once it is hot reduce the heat, add mustard seeds. When crackling add all the chopped vegetables,bay leaves and 1 tsp.of salt. Stir and cover the pan. Cook for 2 to 3 minutes on medium heat. Add turmeric powder and ginger paste. Stir and cook for 2 to 3 minutes. Add the chopped lal shak and stems. Mix well. Cover the pan and cook for 3 to 4 minutes. Stir in between. Add 1+1/2 cups of water and sugar. Cook till vegetables become tender. Check the seasoning.
Remove pan from the heat,mix ghee. Cover the pan, allow it to cool at room temp.
Nutritious Lal Shak Sukto is ready. Serve as a first item for lunch with steamed rice.