Hi Friends,
Today I am posting a delicious sweet snacks recipe generally made during festivals. It is a traditional Bengali recipe and very popular throughout Bengal. It is a fried sweet made with flour and stuffed with Khoya mix. If you have less time in hand,you can use readymade sweets like Kalakand,Bundi Laddu,Besan Laddu etc. as stuffing. In this recipe I have used Kalakand.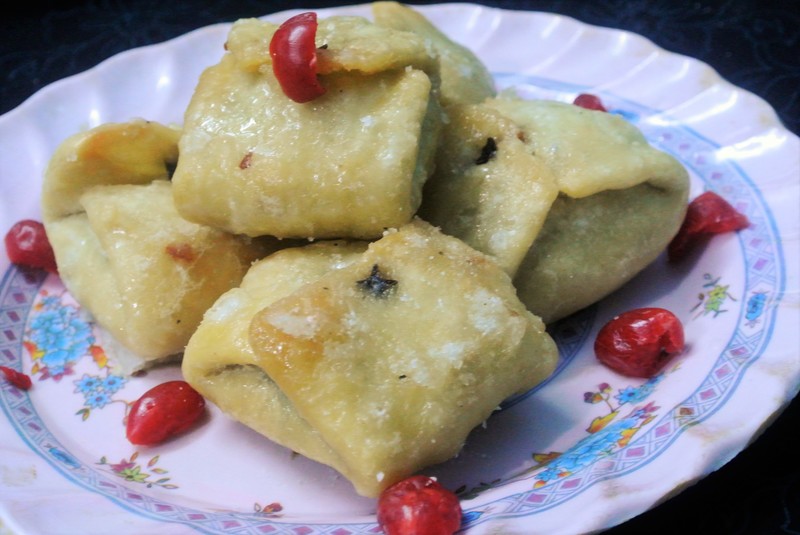 Cooking time – 45 minutes.  Serve – 4
Ingredients –
Flour – 300 grams
Oil – 3 tbsp.
Salt – a pinch.
Baking soda – a pinch
Put all the ingredients in a mixing bowl and mix them very well. Knead the flour mixture with water to make nice hard hard dough. Cover the dough with a wet cloth and let it rest for 30 minutes.
Kalakand – 8 (mashed)
Clove – 8 to 10 nos.
White oil for deep frying.
After 30 minutes divide the dough into small balls. Grease the rolling board. Take a ball on rolling board and roll out in thin circle. Place small amount of mashed sweet in the middle of the circle. Fold two sides to the center to cover the fillings. Then fold other two sides to center overlapping each other to form a square. Insert one clove on top. Repeat the same process with rest of the flour balls. Heat enough oil in a frying pan. When it is hot reduce the heat. Fry the labongalatika on slow heat until light brown on both sides. Increase the heat and take out them with a slotted spoon.Keep aside.
For the sugar syrup –
Sugar – 2 cups.
Water – 1 cup.
Boil sugar and water in a pan. Stir continuously (on slow heat) till a thick syrup is found.Dip the fried labongalatika one by one into the syrup and take out quickly. Allow them to cool at room temp.
Delicious Bengali sweet Labongalatika is ready. You can store it in a refrigerator in a sealed pack.