Hi Friends,
Today I am sharing with you a deep fried snacks recipe made with Fresh Bombay Duck.It is a simple recipe and very quick and easy to prepare. It is very tasty to eat. Now a days it is a popular street food in Kolkata. You can easily make at home. But the fish should be fresh.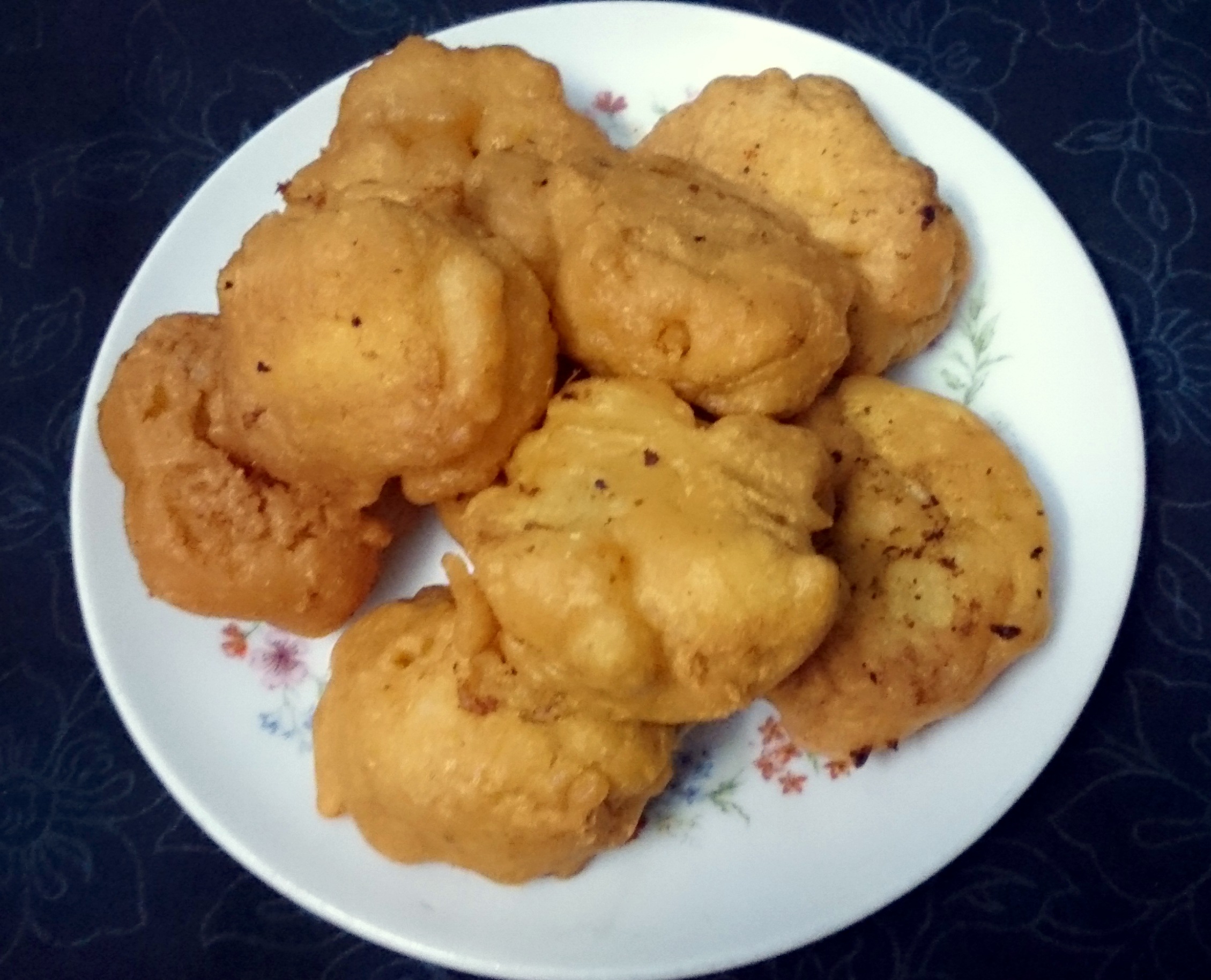 Cooking time – 40 minutes.  Serve  4.
Ingredients –
Bombay Duck (Loitta mach) – 500 grams.
Bengal Gram flour (Chana dal Besan) – 1 +1/2 cups
Onion – 1 (chopped)
Ginger (grated) – 1 tsp.
Garlic (clove) – 4 nos.
Green chilly – 4
Garam masala powder – 1/2 tsp.
Turmeric powder – 1/4 tsp.
Salt to taste
Sugar – a pinch.
Baking powder – a pinch
Pepper powder – 1/2 tsp.
Lime juice – 2 tbsp.
Vegetable oil.
Instructions
Take the fish, discard head and tail. Cut the fins, clean well. Wash well and pat dry. Slit the fish vertically and discard the bones. It is optional, you can make the dish with bones also. Cut the fish into medium pieces. Marinate with 1/2 tsp.of salt and lime juice. Keep aside for 20 minutes. After 20 minutes transfer the fish pieces to a colander. The fish will release water. Squeeze out all the water.
Grind onion,ginger,garlic and green chilly into a paste. Put the paste in a bowl. To this add gram flour, turmeric- garam masala powders, salt,sugar and 2 tbsp.of oil. Mix all the ingredients properly. Now add cold water to make a thick batter (pouring consistency). Beat the batter very well. Cover the bowl and keep aside for 10 minutes.
Heat enough oil in a frying pan, when it is hot reduce the heat. Take the bowl, add baking soda and beat. Dip the fish pieces into the batter and drop in the hot oil. Fry on slow flame until brown on both sides. Increase the heat and take out the fried fish with a slotted spoon and keep on paper towels. Fry 4 to 5 fish pieces at a time.
Delicious Loitta Macher Chop is ready to serve. Sprinkle pepper powder and serve hot as a tea time snacks/appetizer.