Hi Friends,
Today I am posting a very simple side dish recipe for roti/paratha made with potato. It is a Bengali style veg.curry recipe (without onion and garlic) and quick and easy to prepare and with few ingredients.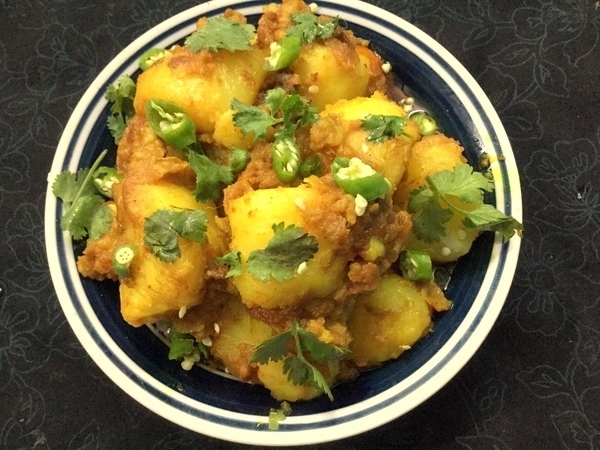 Cooking time – 30 minutes. Serve – 4.
Ingredients –
1.Potato – 500 grams (peeled and cut into cubes)
2.Cumin seeds – 1/2 tsp.
3.Tomato – 1 (chopped)
4.Ginger paste – 1/2 tsp.
5.Turmeric powder – 1/2 tsp.
6.Cumin powder – 1/ tsp.
7.Coriander powder – 1/2 tsp.
8.Green chilly – 4.
9.Chopped green chilly – 4.
10.Salt to taste.
11.Sugar – 1/4 tsp.
12.Oil – 1/2 cup.
13.Curd – 1 tbsp.
14.Garam masala powder – 1 tsp.
15.Chopped coriander leaves – 4 tbsp.
Instructions –
1.Boil 1 liter of water in a frying pan, add the potato cubes. Boil for 3 to 4 minutes and drain. Keep aside. Grind 4 green chilly and tomato into a paste.
2.Heat oil in a frying pan,add cumin seeds. When the cumin looks brown add the boiled potato cubes and fry for 2 to 3 minutes. Add chilly-tomato paste, ginger paste, turmeric,cumin and coriander powders, sugar and 1/2 cup of water. Saute till oil separates. Add 1/2 cup of water and curd, mix well. saute for 2 minutes. Add 2 cups of water and salt,let it bring to boil. Cook until the potato cubes are cooked and there is no liquid left.
Remove pan from the heat, mix garam masala powder. Cover the pan,give 5 minutes standing time. Delicious veg.potato curry is ready, garnish with chopped green chilly, coriander leaves and serve with Roti/Luchi/Paratha.