Hi Friends,
Today I am sharing with you Chicken 65 recipe. It is one of the most famous chicken preparation. It is a popular deep fried snacks made with boneless chicken cubes. The process of making the dish is very easy. It can be served as a tea time snacks or starter/appetizer.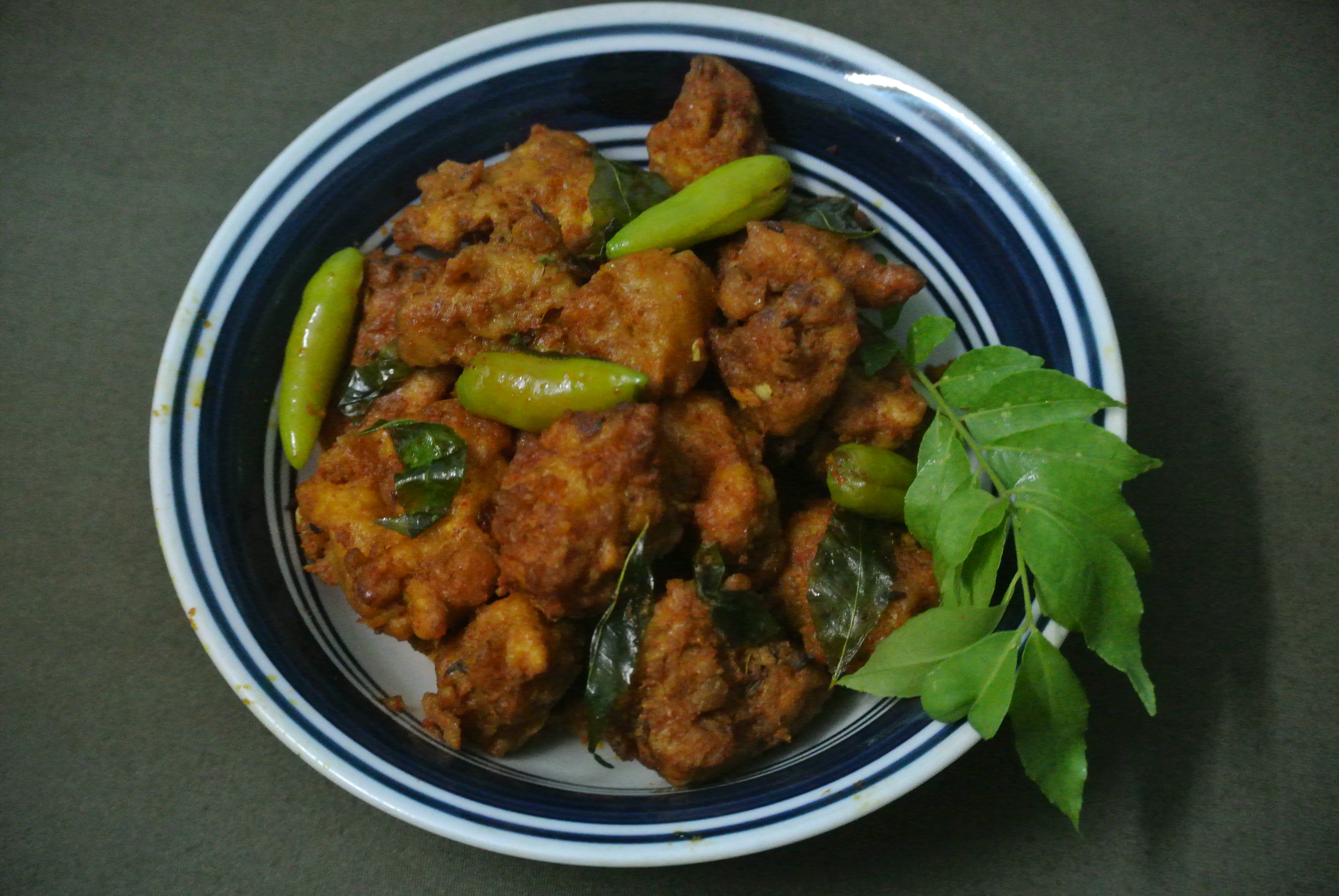 Cooking time – 45 minutes.   Serve – 4.
Ingredients – (for the chicken nuggets)
1.Boneless chicken – 300 grams(cut into cubes)
2.Lemon juice – 2 tbsp.
3.Onion paste – 2 tbsp.
4.Ginger paste – 1/2 tsp.
5.Garlic paste – 1 tsp.
6.Red chilly powder – 1/2 tsp.
7.Turmeric powder – 1/2 tsp.
8.Coriander powder – 1/2 tsp.
9.Garam masala powder – 1/2 tsp.
10.Corn flour – 1/2 cup.
11.Flour (maida) – 2 tbsp.
12.Salt to taste.
13.Egg – 1 (beaten) /It is optional.
14.White oil for deep frying.
Instructions –
1.Wash the chicken cubes and pat dry. Marinate the cubes with 1/2 tsp.of salt and lemon juice. Cover the pan and allow it to rest for 30 minutes. After 30 minutes marinate the chicken cubes with onion,ginger,garlic,turmeric,chilly,coriander,garam masala and 1/2 tsp.of salt. Cover the bowl and keep in refrigerator for at least 2 hours or until use.
2.After 2 hours take out the chicken from refrigerator. To this add corn flour,flour,egg and little salt. Mix all the ingredients properly. Heat enough oil in a frying pan. When hot reduce the heat. Group the chicken cubes into 3 to 4 batches. Fry each batch until golden brown. Take out the fried cubes from the oil with a slotted spoon and keep in paper towels.
Ingredients( for the sauce) –
1.White oil – 2 tbsp.
2.Cumin seeds – 1 tbsp.
3.Curry leaves  – a handful.
4.Garlic (finely chopped) – 1 tsp.
5.Ginger (grated) – 1tsp.
6.Green chilly – 4 (slit or chopped)
7.Kashmiri red chilly powder – 2 tsp.
8.Pepper powder – 1/2 tsp.
9.Sugar – a pinch and salt to taste.
Instructions –
1.Heat 2 tbsp.of oil in a non stick frying pan,add the cumin seeds. When the cumin looks brown and sugar, ginger,garlic,curry leaves and green chilly. Saute for 1 minute. Dissolve Kashmiri red chilly in 4 tbsp.of water and add to the pan. Saute for 1 minute. Add the fried chicken cubes,pepper powder and little salt and saute for few minutes to coat the masala completely.
Delicious snacks Chicken 65 is ready,serve hot.