Hi Friends,
Today I am sharing with you a delicious sweet – Taler Bora recipe. It is a famous Bengali sweet made from fresh Palm (Tal) pulp. Taler Bora is very popular in West Bengal and Bangladesh. In Bengal it is generally made during Janmastami utsab.The process of making Taler Bora is not very difficult. You can make it easily at home.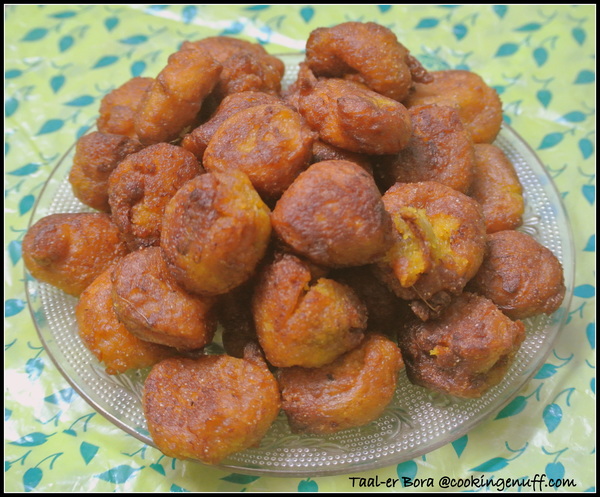 Cooking time – 45 minutes.  Serve – 6.
Ingredients –
1.Ripe Palm – 1 (3 seeds)
2.Ripe banana – 2 to 6 (depends on the size of bananas)
3.Shredded coconut – 1 to 1+1/2 cups.
4.Maida – 1 cup.
5.Semolina (suji) – 1/2 cup.
6.Sugar – 3/4 to 1 cup.
7.Veg.oil /white oil for deep frying.
Instruction –
1.Remove the skin of the Tal. The Tal has 3 (sometimes 4) seeds. Separates the seeds with hand. Soak the seeds in a bowl of water for 5 to 7 minutes. Take the seeds from the water and using net/sieve or potato grater scrap out the juicy pulp from the seeds. Collect the juicy pulp and keep in a cotton cloth. Keep it in a strainer. Place a bowl under the strainer to collect the juice. Keep the strainer and bowl in a refrigerator for 2 to 3 hours.
2.After 2 to 3 hours you will get a thick pulp. Take the pulp in a mixing bowl. To this add all the ingredients (except cooking oil) and mix very well. Keep it aside for 10 minutes. The pulp mix should be thick. Add little maida or suji if required.
3.Heat enough oil in a frying pan. When hot reduce the heat. Make small balls with the pulp and drop into the hot oil. Deep fry till golden brown. Increase the heat and with a slotted spoon take out the fried bora from the oil and keep in paper towels. Fry 7 to 8 boras at a time. follow the same with rest of the pulp mix.
Bengali Home made sweet – Taler Bora is ready. Serve hot or cold.